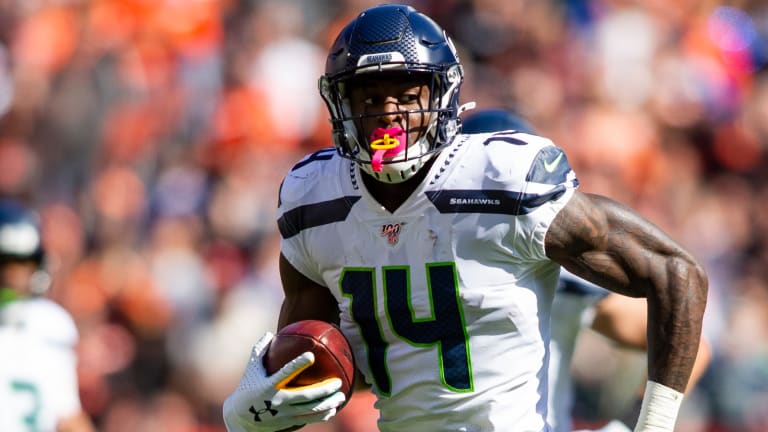 Off to Fast Start, Seahawks WR DK Metcalf 'Just Getting Warmed Up'
Receivers often take several years to develop in the NFL, but Metcalf hasn't had a problem adjusting as a rookie in Seattle's offense and he may be in line for a huge second half.
After trading up to select him at the end of the second round in April's NFL draft, coach Pete Carroll and the Seahawks had a hunch DK Metcalf would be a perfect fit in their offense.
Admittedly, given the nuances of the receiver position, Carroll thought it would take time before the former Ole Miss standout found his footing and became an impact contributor for Seattle. But the rookie hasn't played or behaved like a rookie so far, acclimating to his new surroundings far faster than expected and providing a dynamic threat to compliment star receiver Tyler Lockett.
Speaking with Danny and Gallant on ESPN 710 on his Monday radio show, Carroll spoke at length about Metcalf's surprising production through the first eight games of the season.
"I had no idea it would come to him so easily." Carroll said. "I had no idea that he would be able to fit right in. So often, the young guys, they come from other places and they gotta learn their ball, they gotta get all the discipline stuff about the routes, concepts, the splits, and everything that takes place."
"He hasn't had a problem, so he's been able to express his ability."
Despite possessing a rare blend of size (6-foot-3, 230 pounds) and speed (4.33 40-yard dash), Metcalf fell in the draft in large part due to concerns about his route running proficiency, lateral quickness, and durability. So far, while he has plenty of room to improve, the 22-year old receiver has made his critics eat crow with excellent production.
Building an instant rapport with quarterback Russell Wilson, Metcalf already has 23 receptions, ranks second among NFL rookie receivers with 402 receiving yards, and is tied for first among rookies with four touchdown receptions. Consistently burning opponents downfield, he's also averaged a staggering 17.5 yards per reception, sixth-best in the NFL.
As indicated by his low 51 percent catch rate, Metcalf still has a long way to go in his development and chemistry with Wilson remains a work in progress. But for those who questioned his ability to run more than one or two routes, a particular play during Sunday's win in Atlanta should dismiss those trepidations.
Late in the second quarter, Metcalf lined up as the right outside receiver in a 2x2 set. With the cornerback giving him eight yards of cushion, he ran a well-executed sluggo route, a double move in which the receiver initially looks to be running a slant before turning upfield vertically.
The cornerback bit on the slant and Metcalf was able to create separation on a deep fade route. Wilson wasn't able to fully step into the throw and the rookie couldn't maintain control of the catch as he fell out of bounds, but Carroll was still fired up about the quality of the route.
"The double move he did yesterday, you just gotta love that one. He killed 'em and unfortunately, he caught the ball and it hit the ground and he couldn't hang on to it. Russ had to put it out there because of the rush and it made it hard, but it would've been a beautiful play to execute off the whole thing."
Showing his mental fortitude, Metcalf didn't let the drop deter him and caught his second touchdown of the game moments later, giving the Seahawks a commanding 24-0 lead going into halftime.
Interestingly, despite his lofty numbers for a first-year player, Carroll doesn't think Seattle has utilized him as much in the passing game as anticipated. After his first two-touchdown performance, he expects Metcalf will only become a bigger focal point alongside Lockett as the team pushes for an NFC West division title over the next few months.
"I think he's just getting warmed up." Carroll commented. "We haven't used him nearly as much as we hoped to because there's so many good things he can do… He's going to continue to be a factor."