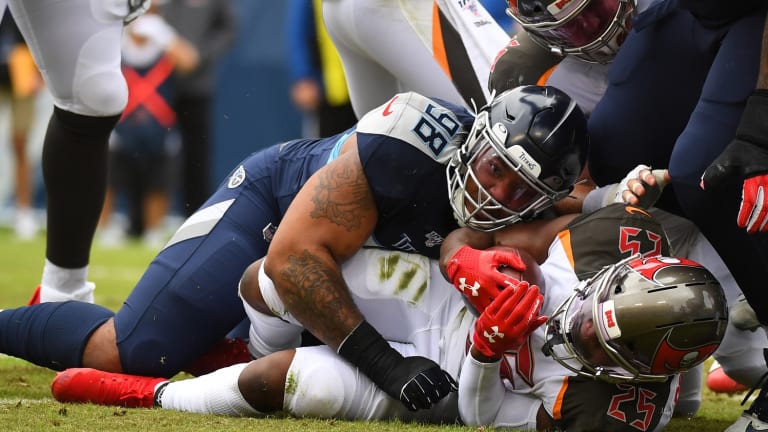 Snap Judgements: Drawing Conclusions Based on Playing Time Versus Tampa Bay
Jeffery Simmons increases his workload and shows he can handle even more
Less is more? Not in the case of Tennessee Titans defensive lineman Jeffery Simmons.
The first-round draft pick out of Mississippi State played 34 snaps in Sunday's victory over the Tampa Bay Buccaneers. That was roughly 50 percent more than he played in his NFL debut a week earlier against the Los Angeles Chargers. Not that it showed, of course.
"I would say that he felt better (this Monday) than he did last Monday," coach Mike Vrabel said at the start of the week. "So, that would be probably the most positive thing that I would take from that, that after his second NFL game coming back from what he came back from that he feels better. So, that just means he's getting used to it and understanding that there's going to be some bumps and bruises, or soreness."
Simmons was credited with the first start of his career against the Buccaneers and was credited with an assisted tackle on the first play. When all was said and done, he had been on the field for 44 percent of the Titans' total defensive snaps (83). That was third among the team's offensive linemen behind Jurrell Casey (64 snaps) and DaQuan Jones (44 snaps).
He finished with four tackles and two quarterback pressures, which actually was down from the previous week when he had six tackles, one sack, one tackle for a loss and two quarterback pressures.
Vrabel, however, dismissed the idea that Tampa Bay was looked for Simmons and focused on stopping him when he was out there.
"I don't know if they would have known consistently where he would have been based on 21 snaps [against the Chargers]," Vrabel said.
It is clear, though, that Simmons has not reached his limit in the amount of work he can get in a game.
Other observations based on playing time against the Buccaneers:
• Back to work: Jayon Brown is fully recovered from the groin injury he sustained early in the loss to Denver, which also caused him to sit out the victory over the L.A. Chargers. The inside linebacker was on the field for 80 of the defense's 83 total snaps.
The only other members of Tennessee's defense who logged at least 70 were the four starters in the secondary, cornerbacks Logan Ryan and Malcom Butler and safeties Kevin Byard and Kenny Vaccaro. Brown's prowess as a pass defender was part of why he was on the field so much. He set a career-high with three passes defensed and registered seven tackles as Tampa Bay attempted 43 passes, the second most by a Tennessee opponent this season.
• Staying busy: Speaking of inside linebackers, Rashaan Evans could not have been much more productive in his 69 snaps. He made a career-high 14 tackles, which meant he was in the on the stop on better than one out of every five of the Buccaneers' plays.
Evans now has 77 tackles for the season, which is more than he had all of last season, when he appeared in 15 games.
• Division of labor, Part I: For the first time this season Corey Davis did not lead all wide receivers in playing time. None of the other players at that position logged more snaps but one, rookie A.J. Brown, logged just as many. Both got 39, which was 62 percent of the offense's total.
Neither put up big numbers with all that playing time but one made a big impact. Davis finished with two catches (on six targets) for nine yards and Brown had two receptions for 11 yards, the second of which was for eight yards and the game-winning touchdown.
It might not be long before Davis is not the most used wide receiver.
• Division of labor, Part II: It takes more than one player to replace Delanie Walker. All three tight ends who played – Jonnu Smith, MyCole Pruitt and Anthony Firkser – were on the field for more than 50 percent of the offense's snaps, which suggests that all three picked up some of Walker's responsibilities while the Pro Bowler sat out with an ankle injury. Firkser and Pruitt, in fact, played the same number of snaps, 36, which were 10 fewer than Smith.