Women's soccer evolution a product of pre-World-Cup-era resolve
Roots of women's soccer go far beyond the first Women's World Cup in 1991. A brief history of the sport's evolution and how it has gotten to where it is.
This is the first in a series of stories from the Women's World Cup, which will span different nations, teams, aspects and elements of the competition. An array of accomplished writers and scholars will be filing regularly from Canada with an eye on bringing a wide-ranging scope to the 2015 tournament. 
Sepp Blatter and other leaders at FIFA have, in recent years, prided themselves on their support for women's soccer. But the sport lags far behind the men's game; no federation in the world offers equal financial support to the women's and men's programs, and neither does FIFA. This is true notably in the United States, where the women's team has had far more international success than the men's, bringing home two World Cup trophies in their history. 
In justifying this, soccer's governing bodies often presented women's participation as if it is a recent phenomenon, chalking up the inequalities in support for men and women's soccer to the fact that the latter is just a more recent development. But as Jennifer Doyle has noted, if it is a child, it is a very old one: about 150 years old, in fact.
The current inequalities stem from the fact that the football institutions around the world stifled, rather than encouraged, the women's game. That has, thankfully, largely changed. The 2015 World Cup, the seventh of its kind, is getting unprecedented media attention in the United States and around the world.
But the legacies of that history weigh on the present. 
Women's soccer has many antecedents going back to Asia, the Americas and Europe, and the sport began to be played in earnest starting in the 19th century. 
Moments of class separate USA from Australia in Women's World Cup win
In the August 1869 edition of Harper's Bazaar, a group of fashionably dressed young women were shown kicking a football about, suggesting that 'kick-abouts' or 'pick-up' games could involve girls and women at this time. Indeed, between 1881 and 1897, over 120 organized matches were recorded and women's football grew in popularity.
These early matches were played on large enough grounds to draw crowds of 10,000 spectators.
The first women's 'international' match took place in 1881 between England and Scotland, and may not have been an international at all: promoters may have called it that in order to draw larger crowds.  Still, the sport existed, and, because the British Football Association (FA) saw itself as regulating only male players, until the late 1960s women's soccer was largely unregulated sport, pursued by female players and their fans.
In the 20th century, women began to play more regularly. During the First World War in Britain, as women were drawn into munitions factories and into the professions, they emerged on the field as well. Female matches took center stage between 1917 and 1921, with teams playing in front of large crowds—usually between 25,000 and 55,000 people. Players like Lily Parr became household names. On Boxing Day, 1917, the first England vs. Ireland international took place in Belfast with representative female players from each country. An England versus Scotland match took place in 1918, and England played France in 1920.
Women's soccer, in fact, got too popular. In response to the large crowds and continued support of mainly working men, in 1921 the Consultative Committee of the Football Association passed a resolution expressing "their strong opinion that the game of football is quite unsuitable for females and ought not to be encouraged."
The FA requested that "the clubs belonging to the Association to refuse the use of their grounds for such matches." In other words, it effectively banned women's soccer, stopping the sport's development in its tracks. Though not all national federations put such bans into place, many did. It took nearly 50 years for this process to be reversed. In 1969 European federation began to integrate women's soccer into the existing systems of soccer's governance, but it was a piecemeal and uneven process that depended on extensive lobbying and organizing on the part of women's players and the attitude of each national association.
Gradually, however, a whole new generation of young women begin playing football more extensively than ever before. In 1970, a Women's World Cup was organized independently in Italy, and in 1971 a second took place in Mexico City. Matches were played in the 100,000-person capacity Estadio Azteca, which was filled to capacity for some of the games. In the United States, the 1972 Title IX legislation was a game-changer, spurring on the development of women's soccer programs at universities, which became the foundation for successful national teams.
USWNT team doctor: Artificial turf takes toll on recovery time, bodies
The first FIFA Women's World Championship, sponsored by M&Ms, was held in PR China in 1991 with 12 national teams. There were 26 matches in total, with five double-headers. FIFA used the symbolic phoenix, indicating beauty in Chinese culture, as the key theme for the opening ceremony and the trophy. Not convinced of the public appetite for the competition, FIFA gave away 124,000 of the total 310,000 tickets.
The U.S. team won the tournament, bringing home the country's first World Cup. But while they were celebrated in China, there was almost no coverage back home, where their exploit went largely unnoticed and uncelebrated.
Sweden hosted the second Women's World Cup in 1995, and the Olympic Games first showcased women's soccer in Atlanta in 1996. The United States has held two Women's World Cup competitions in 1999 and 2003, and the tournament returned to China in 2007. The level of media and corporate interest in the tournament expanded considerably with the 2011 tournament in Germany, when all games were broadcast in the United States for the first time.
This was also the first time Panini stickers were issued for women's international players. And the event created a new high for Twitter traffic for the final at over 7,100 messages a second: more than world-events like the Royal Wedding, the death of Osama Bin Laden or the Japanese Tsunami the same year. The success of this tournament helped propel the expanded media and corporate attention being given to the 2015 tournament, with a substantially expanded plan for media coverage on Fox.
This year's tournament has expanded to include 24 teams. Europe has eight berths (England, France, Germany, Netherlands, Norway, Spain, Sweden and Switzerland), and there are more representatives from every other confederation: Africa has three, (Cameroon, Côte d'Ivoire and Nigeria) Asia five (Australia, China PR, Japan, Korea Republic and Thailand); CONCACAF four (Canada, Costa Rica, Mexico and the United States); South America three (Brazil, Colombia and Ecuador), and Oceania one (New Zealand).
But what does increased representation mean? National associations routinely under-fund their women's national teams and success at previous tournaments is no guarantee of continued success. China, for instance, after finishing second in 1999 and making the quarterfinals in 2003 and 2007, failed to qualify for the tournament in 2011. Moreover, there is incredible variation in the players' preparation.
Some countries have developed increasingly strong professional leagues – Sweden's, for instance, is one of the oldest and most established – and this contributes to the quality of their national teams. But many teams have struggled mightily on their way to Canada, suffering from chronic under-funding and a lack of support at home.
Hope Solo's legal trouble complicating World Cup coverage
This is also the first FIFA World Cup played entirely on artificial turf.
As Megan Rapinoe, who along with Abby Wambach and many other players launched an unsuccessful law suit to force FIFA to reverse this decision, has noted: "FIFA made a $338 million profit on the 2014 men's World Cup. To say that it's not logistically possible to install real grass at all the stadiums is not acceptable."
And amid scandal and bribery arrests at FIFA it remains to be seen if Blatter will even go to Canada. If he does, will the corruption charges overshadow the sport?
Today there are an estimated 30 million female players globally. The evolution of football as a sport and as an industry over the last 25 years has been dramatic. As we watch the best of these players take to the pitch, we should remember that their very presence is the result of a long, often forgotten, struggle on the part of generations of women to insist that they have a right to play at the highest levels of the game.
GALLERY: 2015 WWC opening day
2015 Women's World Cup: Defining images from the opening day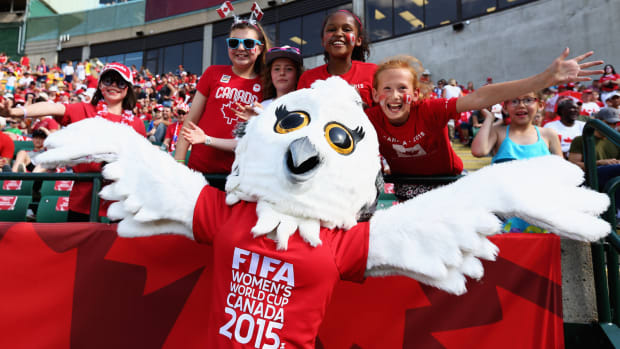 Jean Williams is the leading global scholar of women's football. She is the author of four books: A Game For Rough Girls (2003), A Beautiful Game: (2008), Globalising Women's Football: Europe, Migration and Professionalization (2013), and most recently A Contemporary History of Women's Sport, Part One: Sporting Women, 1850-1960 (2014). She teaches at DeMontfort University in Leicester, England. Follow her on Twitter at @JeanMWilliams.