USA stays focused, sets tone to rout Cuba and advance to Gold Cup semis
Jurgen Klinsmann challenged his team to stay focused against Cuba. Clint Dempsey and the U.S. men's national team responded with a 6–0 win to advance to the Gold Cup semifinals vs. Jamaica.
BALTIMORE—The World Cup record book reads Germany 5, United Arab Emirates 1, but Jurgen Klinsmann—then Die Mannschaft's star striker, now the U.S. national team coach—recalls that 1990 rout with a bit of regret.
"I didn't take it so seriously. I scored only one goal in that World Cup game. I should have scored five. By the time after two games into the World Cup, I would have been already the top scorer of the tournament. But I didn't do it," he said at M&T Bank Stadium after watching his heavily favored team dismantle Cuba, 6–0, in the CONCACAF Gold Cup quarterfinals.
"That's what I told them," he continued. "Take it seriously. Make sure you're kind of not wasting anything here, and I think throughout the 90 minutes, the whole team was focused … they deserve a real compliment."
• MORE GOLD CUP: Full results, schedule | Analyzing USMNT's roster
After an uneven group stage, during which the Americans labored to wins over Honduras and Haiti and a draw against 2013 Gold Cup runner-up Panama, the U.S. needed to negotiate three do-or-die games in nine days. It was time to hit the gas pedal. It was time for a complete performance. And the prospects for putting one together improved when the results of this unpredictable, often counterintuitive Gold Cup handed the U.S. a quarterfinal matchup with Cuba. It was a 1-2-0 team that qualified for the last eight despite a minus-7 goal differential, the late arrival of several players and its coach because of visa issues and five subsequent defections.
USA, Dempsey rout overmatched Cuba in easing to Gold Cup semifinals
Klinsmann called the obstacles "unthinkable."
Yet Cuba survived the group stage and surely was growing in confidence following Wednesday's win over Guatemala. The last thing the U.S. wanted was to provide the visitors with a glimmer of hope. It was broiling in Baltimore, and for the sake of the Americans' knockout-stage momentum, putting away Los Leones early and easing into the semifinals was the goal. Take Cuba seriously. Be ruthless.
"That was something that we were talking about during our pregame meal," said U.S. defender Omar Gonzalez, who scored his first international goal on Saturday. "You know we can make this game really difficult on ourselves if we don't come out here the right way. So everyone was ready. Everyone was accountable."
Said Klinsmann, after lamenting his wasteful World Cup performance 25 years ago in Milan, "We didn't want to kind of fool around and kind of show off or anything like that. I made it very clear to somebody on the field that takes it lightly that I'm going to take him off after 10 minutes. So you have to be on your toes in these types of games and you can't kind of have the wrong body language or be a little bit arrogant. There's no reason for that at all. [Cuba] deserved to be in the quarterfinal."
CONCACAF powers USA, Mexico find frustration in Gold Cup group play
So, after three slow starts in the group stage, the Americans indeed were on their toes before 37,994 fans in Baltimore. Clint Dempsey scored his fourth goal of the tournament in only the fourth minute, rising to head home a cross from right back Timmy Chandler. The U.S. doubled its lead in the 15th when Gyasi Zardes, the squad's breakout player at this tournament, finished off a feed from Fabian Johnson. In the 32nd, Aron Jóhannsson got on the scoresheet with a gorgeous goal. Michael Bradley hit a high pass from deep inside his own half that Jóhannsson collected before chipping Cuba goalkeeper Diosvelis Guerra from the edge of the penalty area. The U.S. refused to coast toward halftime, and it was 4–0 before intermission. This time it was Gonzalez's turn. Jóhannsson smartly headed Bradley's long corner kick back in front of the Cuba net, where Gonzalez was able to slide his shot through the Cuban defense.
His celebration was muted. Gonzalez pointed at Jóhannsson, gave him a hug and headed back toward the center circle.
"I was really tired! Hopefully I can get another goal and I can celebrate even crazier," Gonzalez joked after the game.
Domination doesn't necessarily come easy, even against an overmatched opponent. It requires focus and energy. If the Americans were too tired to celebrate, then they expended their energy in the right place.
"The biggest thing we wanted to do was up the tempo. We wanted to get an early goal, get the fans involved, so a lot of things we looked to do before the game we were able to do," said midfielder Kyle Beckerman, who started and played the first half.
"These are always dangerous games, no matter what. If you approach them lightly, they tend to bite you," defender Brad Evans said. "The guys had a great attitude moving forward and I thought hat the guys turned it on from minute one and you could tell from warmups that they were eager to score. … If you score early enough, it puts a lot of pressure on the other team and after a certain amount of time, they start to collapse."
​Both teams slowed in the second half—the temperature on the field surpassed 90 degrees—but the U.S. commitment to attack remained. In the 64th, Dempsey tallied his second of the game on a penalty kick. He then completed his first international hat trick in the 78th, turning acrobatically on an unselfish pass from Bradley.
For Klinsmann, Dempsey personifies the killer instinct required to put games like Saturday's out of reach.
Brad Guzan bets on himself, seizes long-awaited chance as USMNT No. 1
"What we like and really enjoyed the last couple of weeks is his energy. His energy also to come back, to help out, to constantly stay in the game," the manager said. "He's not switching off at all. He's hungry. He's hungry for goals, first of all. And that helps us. He has two more meals ahead of him."
Said Dempsey, "We just started better. I think we put the game to bed earlier. When you start well and you get goals, you play with more confidence and the game has to open up and the other games [in the group stage], it wasn't the case. And we knew [Cuba was] a team that grows in confidence as the game goes on."
It would be a mistake to read too much more into the result. Cuba was a spent force, unable to keep up technically or athletically. It was nowhere close the U.S. in terms of talent or experience. Any assessment of the Americans' performance must be made with those discrepancies in mind. But as Gonzalez said, it could have been harder than it was, and that was a testament to the hosts' professional approach. Klinsmann didn't have to pull anyone off after 10 minutes.
• USA'S GOALS: Dempsey hat trick | Zardes | Jóhannsson | Gonzalez
Next up is Jamaica, which advanced to Wednesday's semifinal against the U.S. with a 1–0 win over Haiti later Saturday night. The Americans can't afford to take the Reggae Boyz' lightly either. Jamaica defeated Klinsmann's team, 2–1, in a World Cup qualifier three years ago.
"For us, it's very simple. You come into the tournament knowing that its going to take six games all out to lift the trophy. There was no expectation on our part that these games were easy. That's not reality. You're dealing with so many different things and it all comes together in a way where these games are dogfights. Even today, OK, we win 6–0. But the feeling on the field is not of a game where you're just going through the motions and it's a walk in the park. It's hot as can be, the field is heavy as can be, and in their own way, it's still a physical team," Bradley said.
"It's not been easy. All you have to do is look around the tournament to see the other results. We've taken care of things in a good way and we're pretty damn proud of ourselves," the captain continued. "There's still more for us. We know we have to keep getting better, and we will."
The Year in Photos: U.S. Soccer in 2015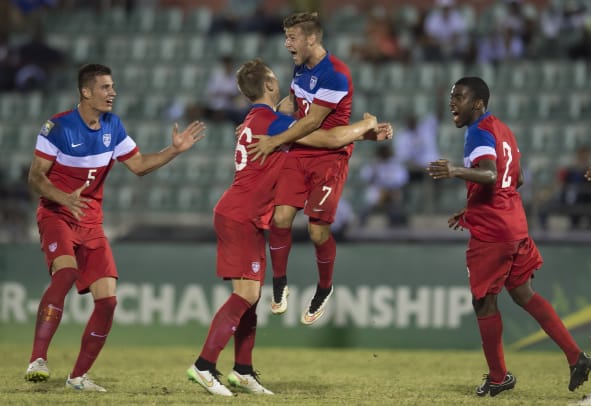 ​