Messi's new Barcelona contract appropriately makes him a one-club player
Messi will see out the remainder of the prime of his career with Barcelona, and in an era of replaceable and interchangeable superstars and diminished loyalty, it feels right.
Let's be honest: It would have been awfully awkward watching Lionel Messi terrorizing Premier League defenses while wearing the sky blue of Manchester City.
Messi's contract renewal with Barcelona, which will be signed in the coming weeks according to an official club announcement, will keep him wearing the blaugrana through 2021. By that time, Messi will be 34 and (most likely) on the downside of his career–one spent entirely at Camp Nou.
In many ways, it's always seemed like Messi would be a one-club player, the threat of him leaving not really all that plausible. Whereas it's not all that difficult to picture Cristiano Ronaldo bolting Real Madrid for either a return to Manchester United or a new adventure at another of Europe's elite clubs, there'd be an astonishing quality to a Messi departure from Barcelona. That his re-signing comes amid the background of Ronaldo's will-he-leave, won't-he-leave saga with Real sharpens the contrast.
Why Ernesto Valverde is a non-flashy, but potentially effective hire by Barcelona
In speaking to Sports Illustrated last summer, before he dazzled at Copa America, then retired from Argentina, then returned soon after, Messi lauded Barcelona for becoming his home and providing the opportunities he would have never had if he hadn't made the journey as a young teenager. 
"Imagine moving with your family to a new continent at age 13 with everyone's future riding on you. It was a complicated time," Messi told SI's Grant Wahl. "On the one hand, it was spectacular to come play at Barcelona. On the other, leaving everything behind in Rosario was tough: my friends, the rest of my family, my childhood, arriving in a country where I had nothing. I started practically from zero. My first year was hard. I was shy and quiet with my academy teammates, and then I got injured. My sister, María Sol, had a difficult time adjusting, so she and my mother, Celia, decided to return to Rosario with my brothers. The only question was whether my father and I would go back to Argentina with them for good. As always, we made the decision as a family. I chose to stay in Barcelona because I saw I would have chances there. I was confident I would make my dream come true, and my family stuck with me, even though it was tough being apart from my mother and siblings.
"Barcelona gave me everything. I grew up here. I made myself here. I lack nothing, and I'm very happy to be in this remarkable city."
Best photos of Lionel Messi throughout the years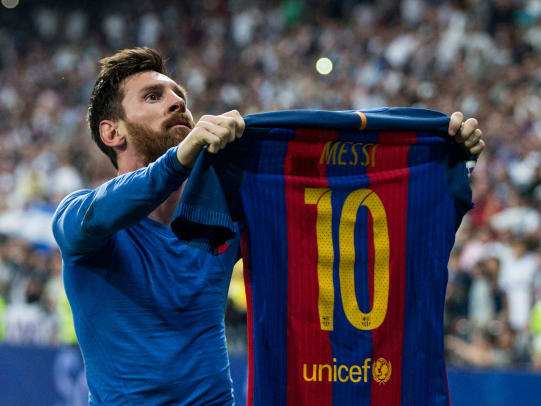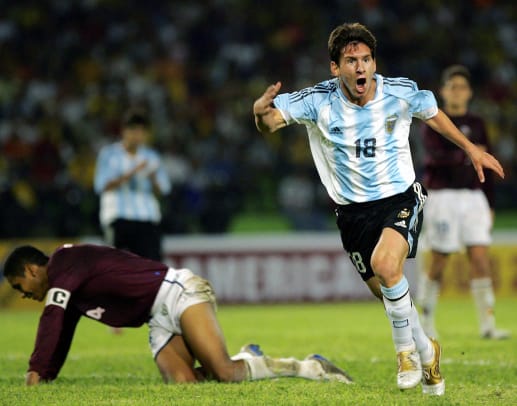 While Messi feels indebted to Barcelona, Barcelona surely must feel compelled to return the favor (which, if reports of his £500,000-per-week wages are accurate, it is most certainly doing).
Over 14 years and 583 matches Messi has scored 507 goals, led Barcelona to four Champions League titles and filled the club's trophy case with eight La Liga crowns, five Copa del Rey trophies and a series of other trophies that most clubs would yearn to have the opportunity to win, let alone consider secondary prizes.
"Leo Messi will not stop there–the Argentinian is in one of the best moments of his career and still has a lot more left to give, which is music to the ears of all Barça fans who will get to continue marveling at his greatness for at least another four years," the club wrote in its announcement of his renewal.
The fervent public support Barcelona has shown for Messi (it has at times been over-the-top, as evidenced by its hashtag of support ... after a tax fraud conviction) is that of a club committed to its transcendent talent.
Despite all the Barcelona stars, both homegrown and bought, who have come and gone since his arrival (Thierry Henry, Ronaldinho, Samuel Eto'o, Zlatan Ibrahimovic, Xavi, Carles Puyol, David Villa, Alexis Sanchez to name just a selection), Messi has remained the constant during the club's current golden era.
If Barcelona's goal was to skate by, continue to clinch Champions League places and rake in the cash, then it could let Messi go with a clear conscience and be fine. A club can feel mighty secure with Neymar and Luis Suarez leading its attack and spending a massive Messi windfall on reinforcements elsewhere. But Messi is worshiped at Camp Nou like few players can be at any place around the world, and the feeling is quite clearly mutual.
FC Barcelona plants roots in USA with growing youth academy presence, motives
Barcelona's motto is "Mes Que Un Club" (more than a club), and for Messi, it certainly appears to ring true. There's no guarantee that he'll sign on for another extension beyond 2021, and perhaps he ultimately ends his career back at Newell's Old Boys in his native Rosario once he feels his time at Barcelona has reached its appropriate conclusion. But the remainder of his prime days won't be spent in another shirt playing for Pep Guardiola. They'll be spent wearing the familiar colors, playing in front of the familiar crowds of nearly 100,000 whose "MES-SI! MES-SI!" chant is one of the more distinct sounds in all of sports. In this era of diminished loyalty, something about that feels absolutely right.