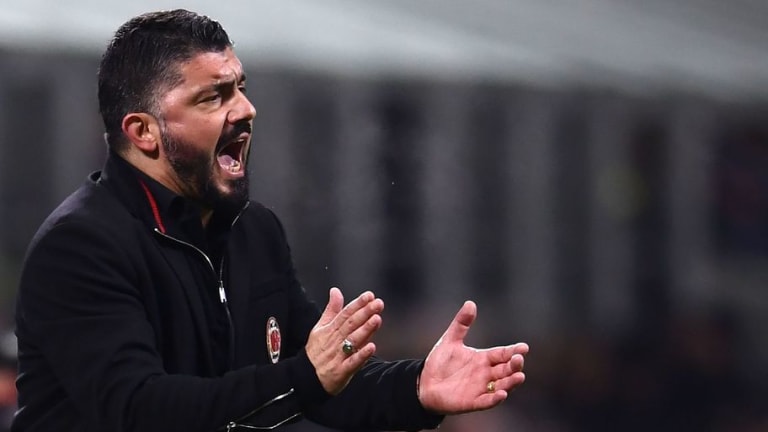 Milan Boss Gattuso Says His Team Are 'Good at Suffering Against Good Sides' Despite 2-0 Win at Roma
Milan manager Gennaro Gattuso praised his team's performance after their superb 2-0 win at Roma, saying they are "good at suffering against good teams."
The first half was a dull affair before excellent second half goals from Patrick Cutrone and Davide Calabria put Milan to within six points of their opponents and gave their Champions League hopes a major boost. 
Gattuso spoke highly of his side's tactics after the outstanding win in Rome, their first away success against Roma since October 2011.
In quotes picked up by Sky Sport, he said: "In the second half the game changed, we had some free field. We knew how to suffer against a great team, I had to work mainly on the defensive phase, I can see right away, I left it because my team has skills and quality, but now we defend better than the department."
Milan's derby with city rivals Inter next Sunday now has extra importance, as victory would take Gattuso's side to within four points of a Champions League place. Looking ahead to the derby, the 40-year-old said: "Tomorrow we start the processions on the tools we have to evaluate our athletes, then we'll see if we make some changes or not."
He finally spoke about Patrick Cutrone, who scored the opener and played well before being subbed off for Nikola Kalinic, who assisted Milan's second goal. On the pair, Gattuso said: 
"He [Cutrone] has to improve, he has important characteristics but he has to play clean as he did in the second half, I also liked Kalinic, I did not see him so long, he played clean and he gave a great ball to Calabria on the goal. The rest has it in nature."