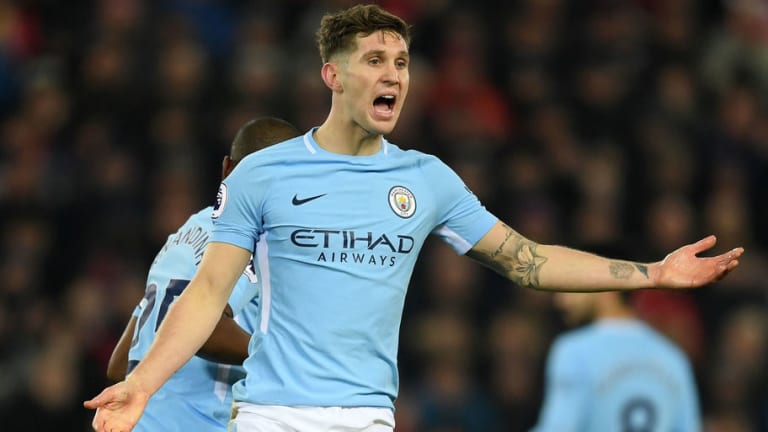 Publish date:
FanView: Why Man City's John Stones May Need to Leave the Premier League to Fulfil His Potential
John Stones is one of those precious rarities - a technically accomplished English defender. Yet there is still a yawning gap between his obvious talent and his maddeningly inconsistent performances on the pitch.

In the first half of this season, the Manchester City centre back finally began to vindicate his £50m price tag. Poised, elegant and capable of advancing up the pitch and playing intelligent forward passes, he showed why Pep Guardiola had shown such faith in him.
Stones also formed a watertight partnership with Nicolas Otamendi, which gave the Sky Blues' much-vaunted attacking stars the freedom they needed to express themselves.
It was all going so well - and then, in City's 2-0 win away to Leicester last November, Stones suffered a hamstring injury which ruled him out for the rest of 2017.
Since his return in January, he has looked a pale shadow of his former self - never more so than when he was contemptuously brushed aside by Roberto Firmino for one of Liverpool's four goals in City's first Premier League defeat of the season at Anfield.
The England man's embarrassing vulnerability in that one-on-one with Firmino now looks like a defining moment of his season, which has ultimately proved to be a false dawn rather than a coming of age.

There have been conflicting reports in the media about Stones' future. According to an article in the Sun, City will be willing to let him go in the summer, as he has fallen behind Vincent Kompany, Otamendi and January signing Aymeric Laporte in the pecking order of centre backs.
Yet according to the Manchester Evening News, this claim has now been contradicted by the club, who insist that they intend to hang on to Stones. The defender has also claimed he is still happy at the Etihad.
However, even assuming Stones is still there next season, he's unlikely to put up with a bit-part role for very long.
If he does leave, where will he go? The Sun article mentions Arsenal and Liverpool as potential destinations. These two both sound plausible - they could afford him, and they need to reinforce their porous central defences.
Yet maybe Stones would be better off not joining another Premier League club at all. Maybe he needs to move to Serie A or La Liga. Not one of the very best sides like Juventus or Real Madrid - where he might have at least as much competition for a starting berth as he does at City - but definitely a top four contender like Sevilla or Roma.
Going by Roma's defensive displays in their Champions League away games this season, they could do with a centre back of Stones' calibre.

Yes, there is a long and ignominious list of British players who thrived in England but struggled abroad. Strikers Ian Rush and Mark Hughes failed to impress at Juventus and Barcelona respectively in the 1980s, while even the great Paul Gascoigne only shone fitfully during his troubled spell at Lazio the following decade.
Yet when English players have thrived in Italy or Spain, it has sometimes added a new dimension to their game. In the 1990s, for example, England midfielders David Platt and Paul Ince both became more technically and tactically sophisticated at Sampdoria and Inter respectively.
Also, while David Beckham didn't exactly take La Liga by storm in his four-year spell at Real Madrid in the 2000s, he did become more versatile, enjoying some success in central midfield as well as in his more familiar right-sided role.
Unlike most English players, John Stones has already proved that he has the requisite skill, intelligence and versatility to cope with Italian or Spanish league football. It's even possible that the slower pace and less intensive physical demands of Serie A or La Liga might suit Stones better than the Premier League.
If this is the case, a move to Italy or Spain wouldn't just be beneficial for Stones - it could ultimately benefit England, too.
For decades, England teams have struggled to switch from the physical, direct approach of English domestic football to the more cautious tactical battles of international football. Even with the influx of foreign players and coaches since the 1990s, the old 'blood and thunder' mentality still hasn't been eradicated from the Premier League. 
If England's most talented defender spent a season or two pitting his wits against Italian or Spanish opposition on a regular basis - playing intelligent tactical football week in, week out - he could potentially develop into the kind of calm, authoritative defensive linchpin that the Three Lions haven't had since...well, arguably since Bobby Moore.
That may be tad overoptimistic, admittedly. Still, if it turns out City don't want to keep Stones after all, it couldn't hurt for him to test his mettle overseas.

Whatever he chooses to do, something needs to change if he is to make the most of his exceptional talent. Seeing as he'll turn 24 in May, there's only so much longer we can keep talking about John Stones' potential.