Mailbag: The debate over Serena Williams's SI Sportsperson honor
Jon Wertheim answers reader questions about Serena Williams and the SI Sportsperson of the Year award, Roger Federer and Martina Hingis and more in his weekly Mailbag. 
Have a question or comment for Jon? Email him at jon_wertheim@yahoo.com or tweet him @jon_wertheim.
This week's Mailbag….
She wasn't even the tennis player of the year. Novak was. 
—Dominic Ciafardini
• This of course pertains to this week's announcement that Serena Williams is Sports Illustrated's Sportsperson of the Year for 2015. Variations of this question came up countless times. It's a valid question and one that was considered internally. In the end, though, "Sportsperson" is loosely defined by design, so it encompasses more than mere excellence during competition. None of what I am about to say is meant to discredit Djokovic in any way. He would have been an unassailable choice. But to my mind, it was Serena's year to win. In part, it was her three majors, her run for history (in her mid-30s) and her peerless tennis. But it was also the way in which she handled pressures and issues—race, gender, body-shaming—that most athletes never encounter. Read Scott Price's excellent story and reach your conclusion.
In the interest of consensus building…what a strong year for tennis. Given how seldom the sport gets its due, personally, it was heartening that tennis provided two of the strongest candidates in recent years.
Watch: Serena Williams accepts SI's 2015 Sportsperson of the Year award
​Serena is SI's Sportsperson of the Year, and thoroughly deserves the recognition. I was a bit taken aback to see that she was the first individual woman to earn the honor since 1983. You mean to tell me Steffi Graf wasn't given the same recognition when she completed her shiny Golden Grand Slam??? How does that even make sense?! Merry Christmas :)
—Sheba
• There are a lot of factors beyond simply athletic excellence. If you look at the list, it's hard for a sport to repeat. (Bad omen for Djokovic.) In Olympic years, Olympic athletes often carry the day. But yes. I was in high school at the time so I feel no personal guilt in saying this: Orel Hershiser over Steffi Graf in 1988 is a heavy-duty head-scratcher.
Behind the Scenes with Serena Williams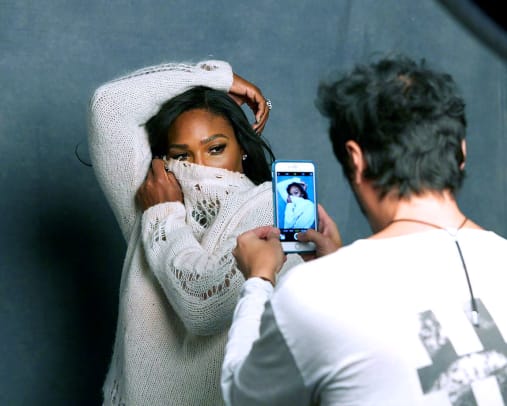 ​Roger Federer and Martina Hingis will play mixed doubles for Switzerland at the 2016 Olympics, and will no doubt be the No. 1 team as far as charisma and fan interest goes. I was trying to think of another "must see" Olympic mixed doubles team, and came up with John Isner and Serena Williams. The more I think about it, those two would not only create huge fan interest, but they'd also be awfully tough to beat. What do you think?
—Rich, New York
• Interesting question. The lost-items team of Sock and Keys is another interesting American option. If Tomas Berdych and Lucie Safarova—Czech mates if you will; I hope you will—can overcome the aca-awkwardness, they can also win gold. Raonic and Genie Bouchard is an interesting pairing. Nishikori and Kimiko Date (Kei-Date, as opposed to J-Date?) is an inter-era mash-up.
Way back in the fall of 2011, I sent you a question asking which of ATP's next generation (Milos Raonic, Kei Nishikori, Grigor Dimitrov, Bernard Tomic, Donald Young, and Ryan Harrison) would have the highest 2015 year-end ranking. Your top pick was Raonic. Close enough, as he only trails Nishikori (No. 8) at No. 14. By looking at how they stand now, which player(s) surprised you in good or bad way?
Serena Williams is Sports Illustrated's 2015 Sportsperson of the Year
​​My second question is, now that finally some younger players started climbing up the rankings, which of the new next generation players (Dominic Thiem, Nick Kyrgios, Borna Coric, Hyeon Chung, Thanasi Kokkinakis, Alexander Zverev and Andrey Rublev) will have the highest year-end ranking in 2019?
—Aki, Seattle
• The first generation reminds me of the Enqvist/Rios/Philippoussis/Kiefer/Haas generation that followed Sampras/Agassi/Rafter and predated Hewitt/Federer/Nadal/Safin and won no majors. Of the names you mention, Harrison has obviously achieved the least. (He's currently at No. 113.) But Dimitrov is the real enigma. So much talent; so little to show for it.
As for the next cluster, there's a lot to like. For all his drama, Kyrgios is undeniably talented. Coric carries those irresistible comparisons to Djokovic.  
Hi Jon, when was the last time that the SI Sportsperson of the year was your Sportsperson of the year? I remember all the rallying from your end, for Roger, Rafa, Novak and Serena as well in years prior, only to be smacked down again and again. So you must be really happy this year. I know I am. And to all the people who I am sure are otherwise extremely clever, NO American Pharoah is NOT a SportsPerson. Can we end it there?
• With the statute of limitations lapsed, I can say that the choice of Dwyane Wade over Roger Federer was—for me, anyway—deeply regrettable. In retrospect, I wish I had done more to advocate for tennis. Since then, while often lobbying for tennis players, I haven't been deeply disappointed. Peyton Manning, LeBron James, Derek Jeter, etc. All valid. I'm thrilled to see the sport get its day, though.
Why Serena Williams is SI's 2015 Sportsperson of the Year
​There is one case I know of when a player played for her country and then against that country. Martina Navratilova was part of the team that won the Fed Cup for Czechoslovakia in 1975. Then in 1986, the team of Navratilova, Chris Evert and Pam Shriver won the Fed Cup for the USA beating Czechoslovakia in the final (played coincidentally in Czechoslovakia during what was her first trip back after defecting to the U.S. in 1975. I recall reading that it was a very emotional experience for Navratilova).
—From a life-long tennis fan in the Philippines
• Others of you wrote in with similar thoughts. Reader Neea: "C'mon Jon, you just had Mary Carillo talk about Martina Navratilova going to Czech republic as a U.S. citizen and playing against Hana Mandlikova." Several of you mentioned Greg Rusedski. Neil of London wrote: "Martina Navratilova won three Fed Cup titles as part of the US team (1982, 1986, 1989) and on all three occasions the U.S. team defeated Czechoslovakia (as it was then known) en route to the title, at semifinals stage in 1982 and 1989 but most notably in the 1986 event, held in Martina's birthplace Prague, where the two nations met in the final when Navratilova defeated Hana Mandlikova to clinch the title for her adopted nation."
I interpreted the question to mean that a player, a la Favre, left his initial tribe for a rival tribe and then returned to the original. In the case of Martina or Rusedski, they would have to live in the Czech Republic or Canada now (which they, of course, don't) for the analogy to work.
I'm a longtime Mailbag fan who has been offline for a few months… maybe you covered this before and I missed it, but as I'm watching the IPTL on Tennis Channel and getting my off-season tennis fix, I wonder… What's the selling point for the players here? I know about the push to get promote tennis in Asia, and I'm guessing a few bucks will always sway some folks to play in a 'league' that is basically a long exhibition, but wow, they really got all the biggies out for this!  Roger? Serena? Rafa? Maria? Andy? It has to be more than money. Have the WTA and ATP somehow made this mandatory for certain players? And what's in it for the lesser-known and retired players? Is this a one-time thing or an ongoing annual league? I'm having trouble buying the 'team camaraderie' cheering going on amongst the players looking on from the bench, but they do look like they're genuinely having fun and the tennis has been fairly high quality.
—Shayne Hull, Louisville, Ky.
Roger Federer will play mixed doubles with Martina Hingis at Rio Olympics
• First, the Willie Sutton answer: "That's where the money's at." Most players have the self-awareness to know that their prime earning years comprise a short interval. If someone is going to pay you a seven-figure guarantee for a few days of your time, you are going to consider that offer. The team environment is probably a selling point. Tennis is this fiercely individual sport and I am always struck by how willingly and enthusiastically players take to teams. This is just speculation but I also think the location is a draw. If I see myself as a global brand and I have any concept of emerging markets and potential for growth, the prospect of penetrating markets like the IPTL's holds great appeal to me (and to my sponsors.)
The IPTL is a classic disruptor, and it's caused more than a little hand wringing among the entrenched institutions. But I struggle to see this as anything other than a force of good. Players have an opportunity to earn some extra income. The gospel of tennis is being spread. Fans—often in market that the ATP and WTA doesn't accommodate—get to see Federer and Serena and Nadal in person. Sure, there's a chance that a player (see: Marin Cilic) gets injured playing these unsanctioned matches and it undercuts his season. Sure, players who complain (not without justification) about the length of season, undercut their position when they spend December on the exhibition circuit. But, overall, I think the "P" really outstrips the "L" here.
We lost the question here, but a reader watched Halep play Sharapova and was struck by the similarities with Arantxa Sanchez Vicario.
The history of natural gut strings and why they're still used in tennis today
​​• I think that's fair. ASV predated my covering the sport, but I think of her as the consummate defender. Halep strikes me as more offensive, more willing to play first-strike dictates-the-rally tennis. (Perhaps Sharapova is the wrong opponent.)
I feel like we've been here before, but it strikes me that ASV is terrifically underrated. She never quite panned out as a Graf foil. Her tennis wasn't necessarily eye-pleasing. She preceded the glam era of early Williams, tart-tongued Hingis, Kournikova-mania, etc. But look at the numbers: four majors, 29 titles, more than 750 wins, finals of each of the four Slams, six major doubles titles (irony: the French is the one to have eluded her). That, friends, is a hell of a career.
Sportsperson of the Year Celebration
Quick question about the SI award generally but do winners have to agree to participate in interview/photoshoot when they win?
—@rosso_neri
• No. I can't think of a case a winner NOT participating. But it's not a formal prerequisite or anything like that.
The history of tennis umpiring: How Hawk-Eye changed the game
​I'm a tennis fan and player AND a pool fan and player. This week, I lovedwatching Mosconi Cup on ESPN3, a 9-ball tournament where the rules called for alternating breaks.  The commentators often suggested that the player who did not break on a rack needed to "break the serve" of his opponent. My worlds have collided! 
Too bad the U.S. did not carry the day. But the drama was intense. I wonder why pool as a sport is so poorly followed and funded, incomparison to golf and tennis. 
—Mary Ann Royse, Champaign, Ill.
• Mary Ann, you and I are kindred spirits. Is UFC a guilty pleasure of yours as well? Not sure how to answer your question. If you think tennis is a dysfunctional clan, it is the Cleavers to pool's Pfeffermans. Talk about a sport that can't get out of its own way.
Pool isn't especially telegenic. The same nits and sweaters and railbirds and unsavory types that infuse pool with so much flavor are concerns for corporate sponsors. I mostly think raw numbers explains a lot: you and I like pool. But there millions upon millions of golf and tennis players. There are teams at most high schools and colleges. I suspect that for every 10 people who own a racket (or set of clubs) one owns a pool cue. Some of this is chicken-and-egg, of course. More exposure would mean more recreational players, which would mean more exposure.
Dear Jon: In a world where women who keep their maiden names are "punished" and they must have the top qualities to be passed up for promotions by average men, how is it that Serena Williams runs against a horse for the title of SportMAN of the Year? It took very few years for a horse, without any leveled field legislation, to gain "man" status.   
—L. Pereira, Burnaby, British Columbia, Canada
• Fair question. From here on out, the award will be known as "Sportsperson of the Year." When a horse wins, we'll have to consult the folks in branding.
Shots, Miscellany
• This week's Beyond the Baseline Podcast guest is Noah Rubin. Stay tuned for a new episode on Thursday and continue to send in your suggestions for guests for the new year.
• Beaming with pride for the SI Films team over this effort congratulating Serena.
• The SI Longform team also did a fantastic job with this tribute to Serena's 21 Grand Slam titles.
• We've often say that Tennis Karma owes Brian Baker big-time. It can start paying its debt in January. Using his injury-protected ranked, Baker intends to play the main draw of the Australian Open.
• Kelsey Anderson, blowing up.
Mailbag: How will Serena fare next season? Plus more 2016 projections
• Don't look for the Australian Open on the BBC.
• Madison Keys will not be working Lindsay Davenport in 2016. Jesse Levine takes over. 
• The International Tennis Hall of Fame has announced that John Arnhold has been elected as Chairman of its Board of Governors and Michael Goss has been elected as Vice Chairman, effective January 1, 2016.
• Reader Thomas P. Sawatzki writes: Love the reference in the Mailbag to the international collegiate team competition….I can never see too much coverage of college tennis…. But you left out a mention to Boise State Coach Greg Patton who has coached the college team to victory for the last several years. Coach Greg is a terrific supporter and representative for college tennis. 
• Here's an eloquent piece in praise of Novak Djokovic.