Wimbledon Day 3 results: No. 1 Djokovic advances to third round
On a rainy Day 3, Novak Djokovic beat Adrian Mannarino to make the third round; Agnieszka Radwanska and Tomas Berdych advanced to the second round.
A recap of the action on Day 3 on Wednesday at Wimbledon 2016, including results, tweets, hot shots, photos and more.
Results Roundup
• With the roof closed on a rainy at Wimbledon, Agnieszka Radwanska and Kateryna Kozlova opened up the day's play on Centre Court. No. 3-seed and 2012 Wimbledon finalist Radwanska played a solid match, dominating 97th-ranked Kozlova to win 6-2, 6-1 and advance to the second round.
Radwanska will play the winner of Karin Knapp vs. Ana Konjuh, the first round match that was stopped due to weather on Tuesday. At the time of Radwanska's win on Wednesday, Knapp and Konjuh had not yet returned to Court 15 to resume play. After the match, Radwanska was asked if she thought Grand Slam tournaments such as Wimbledon should have more roofs on outside courts.
• No. 1 Serena starts Wimbledon title defense with straight sets win
"Yes, of course, especially in the beginning of the tournament, we have so many matches, the draw is big," she said. "So, of course, why not? I know it's big thing to build a roof. It's not easy. But, of course, more roofs, better. I think in Australia at the moment, it's the best."
• No. 1 Novak Djokovic keeps on winning. The defending champion beat Frenchman Adrian Mannarino 6–4, 6–3, 7–6 (5) on a roof-covered Centre Court on Wednesday to advance to the third round and mark his 30th consecutive win at the majors. 
"I have to be very grateful to have the opportunity to make history of the sport," Djokovic said. "Of course, every single record that I manage to achieve in last couple of years is important and is unique to me. Every next one that I have a possibility to achieve is motivation more. That's how I look at it."
• With story of Marcus Willis, Wimbledon brings surprises on Day 1
• Due to inclement weather on Tuesday, only 33 of 65 schedule matches were completed on Day 2, leaving more than 30 men's and women's matches to be completed on Wednesday. But once again, weather caused matches on the outside courts to be delayed. Ultimately, tournament cancelled 50 matches on Day 3 due to weather. 
In the matches that were completed on Wednesday before the rain, Evgeniya Rodina beat Lesia Tsurenko 6-3, 7-5 and Andrea Petkovic defeated Nao Hibino 3-6, 7-5, 6-2. Both winners advanced to the second round.
• At Wimbledon, Andy Murray will set his place in British sports culture
• No. 10-seed Tomas Berdych was able to finish his first round match that was suspended on Tuesday, beating Ivan Dodig 7-6 (5), 5-7, 6-1, 7-6 (2) on Court 18.
"It's always a challenge," Berdych said of having his match continue the next day. "But with all the years on the tour, I mean, you get used to it. So really it's just something that you just have to keep your focus that you don't have a day off after the day that you play the match or that you've been scheduled to play a match."
Berydch will next face Benjamin Becker, who defeated Facundo Bagnis 6-3, 6-3, 6-1 on Tuesday. 
• No. 3 Roger Federer vs. No. 772 Marcus Willis. The result? A standard, straight-sets, 6-0, 6-3, 6-4 win for Federer. The match? That was something else. Federer's second rounder against Willis on Centre Court turned out to be one of the most entertaining matches of the tournament, filled with an engaged crowd (who surprisingly cheered for someone other than Federer), an amazing lob (see below) and a smiling Marcus Willis.
"I must tell you, I was quite a bit intrigued even before he was in my section of the draw. After he qualified, I was reading a lot about his story. And then next thing you know, he's like one match away from me if I win. Of course then it happened. More and more stories build up," Federer said after the match. "I felt very well prepared. I enjoyed it. I thought he played very well. My approach going into the match was that I was playing a top‑50 guy, because that's how he is now, after just this particular week."
Here's Willis after the match: "It was all just a blur. It was amazing. I did enjoy myself even though I was getting duffed up. I loved every bit of it. Not the duffing bit. I loved getting stuck in, fighting hard. Nothing in particular, just the whole experience was incredible."
• In the fourth match moved to Centre Court following the Federer-Willis match, Belinda Bencic took the court to play Tsvetana Pironkova. The seventh-ranked Swiss played a strong match against Pironkova, winning 6-2, 6-3 in 72 minutes.
In the second round, Bencic will face 24-year-old American qualifier Julia Boserup, who beat Tatjana Maria 6-4, 0-6, 6-2 on Wednesday. Boserup, a California native ranked No. 225, won two qualifying matches before earning her first main draw match at Wimbledon. The pair has never faced each other.
• Federer ends No. 772 Marcus Willis's cinematic run at Wimbledon
• Britain's Johanna Konta earned her first-ever win at Wimbledon on Wednesday, taking out a strong opponent in Puerto Rico's Monica Puig, 6-1, 7-5.
A player more familiar to success at Wimbledon, No. 10-seed and two-time Wimbledon champion Petra Kvitova wasted no time over on Court 18, beating Sorana Cirstea 6-0, 6-4 in just 53 minutes. Kvitova will play the winner of Ekaterina Makarova-Johanna Larsson, who have yet to start their first round match.
No. 16-seed Konta will move on to play Eugenie Bouchard, who defeated Magdalena Rybarikova 6-3, 6-4 in a match that was put on the cancellation list (already resuming from Tuesday's schedule) and then moved to Centre Court after Bencic's match. Bouchard resumed the match leading 6-3, 2-1 and ultimately earned the win in 72 minutes. Konta and Bouchard have never met in their careers.
• The nine best things about Marcus Willis's match with Roger Federer
• Doubles note: On Wednesday, Wimbledon organizers decided that all first round men's doubles matches will be played in the best-of-three sets format instead of best-of-five, due to the weather and the delays it's caused on all courts thus far.
• Key stat: While Djokovic and Federer are already into the third round, 28 men's and women's first round matches are still incomplete. 
• More results: Radu Albot d. Gastao Elias 3-6, 6-2, 7-5, 6-4; Anastasia Pavlyuchenkova d. Su-Wei Hsieh 7-5, 1-6, 6-1; Alexander Zverev d. Paul-Henri Mathieu 6-3 6-4 6-2; Dominic Thiem d. Florian Mayer 7-5, 6-4, 6-4; Bernard Tomic d. Fernando Verdasco 4-6, 6-3, 6-3, 3-6, 6-4; Dominic Thiem d. Florian Mayer 7-5 6-4 6-4
Tweets of the Day
Hot shots of the Day
The Day in Photos
Wimbledon 2016 Day 3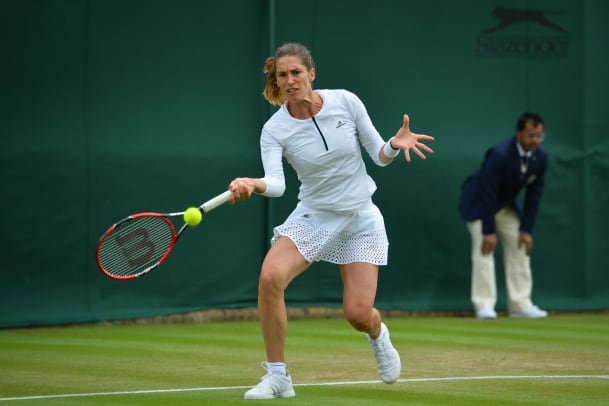 ​
Daily Data Viz
Each day, SI and IBM will bring you data-driven infographics based on the top storylines and stats from Wimbledon. Click the image to view the graphic.

Novak Djokovic currently holds all four major titles, completing the Djokovic Slam. Now he's halfway to the calendar Grand Slam.
This post will be updated.