50 Parting Thoughts from the 2017 U.S. Open
Wrapping up two weeks of tennis in New York at the 2017 U.S. Open, where Rafael Nadal won his 16th major title and Sloane Stephens took home her first major trophy.
NEW YORK – Fifty parting thoughts from the 2017 U.S. Open, where Sloane Stephens captured her first Grand Slam title and Rafael Nadal won his 16th career major title.
• Rafael Nadal is your 2017 U.S. Open men's singles champ, winning his second major of the year, playing some breathtakingly strong hard court tennis while—speaking of respiration—breathing life back into the GOAT discussion. In the spirit of uniting not dividing, Nadal and Roger Federer—both in their 30s—splitting the four majors of 2017 is equally poetic and absurd.
• In the first week of August, Sloane Stephens had yet to win a match in 2017. On Sept. 9, she won the 2017 U.S. Open women's title. Back from a foot injury, Sloane 2.0 is something to behold, a mix of slick defending, sneaky power and organization. And perhaps better still, having been through the marketing/media ringer, she will not be rattled by the off-court changes that await.
Sloane Stephens's 2017 U.S. Open Title Run Marks Reemergence of American Tennis
• Though he fell short in the final, Kevin Anderson turned in a breakthrough Slam, winning six rounds with poised power tennis. Anderson was the only player to serve more than 100 aces for the tournament. (Discussion for another time: what happened to the narrative "bionic serve robots are going to ruin tennis?") But he also shows that professionalism pays off. Here's a guy gives himself every chance to succeed.
• Madison Keys may have scar tissue on her wrist; she shouldn't have much scar tissue from this event. She played six terrific matches, including a come-from-behind semi-classic in the quarters and a near flawless semifinal against CoCo Vandeweghe. She then couldn't find the court in her final. Next time, she'll be better prepared.
• Another Slam, another title. Martina Hingis and Jamie Murray won the mixed doubles title, beating Hao-Ching Chan and Michael Venus in the final. (Insert Hingis d. Venus joke here.) Two decades after winning the singles title, Martina Hingis teams with Latisha Chan to take the doubles beating Lucie Hradecka and Katerina Siniakova in the finals. We always said, "Hingis' hands and court sense are so strong, when she retires from singles, she could rule doubles." And she has.
In the men's doubles, Jean-Julien Roger and Horia Tecau won the men's doubles, beating the law firm of Lopez and Lopez (Marc and Feliciano) in the finals.
• In the third consecutive all-American Grand Slam girls' final in 2017, 16-year-old Amanda Anisimova defeated 13-year-old Cori 'CoCo' Gauff for her first junior Slam victory. In the boys' final, China's Wu Yibing beat Argentina's Axel Geller 6-4, 6-4 to win the title. For all your junior coverage, Colette Lewis has you covered.
Perfect Partnership: Hingis, Murray Win U.S. Open Mixed Title
• Let's take a step back. On Jan. 1 if you had said, "Roger Federer will win two Majors, sweep Indian Wells/Miami, and will challenge Nadal for the No. 1 ranking," you'd would've dismissed as the most exuberant of optimists. Yet, when Federer lost that quarterfinal match to Juan Martin del Potro—depriving the U.S. Open of a Federer-Nadal match—it took some air out of the event. The good news: Federer will play out the fall, and shows no sign of retiring. Not unlike….
• For five rounds, Venus Williams looked the part of a contender. (Her quarterfinal win over Petra Kvitova was the women's match of the tournament.) Then in her sixth round, she looked like a 37-year-old woman, fighting with her serve. As it stands, she has won more Grand Slam matches this year than any other WTA player.
• Juan Martin del Potro's joyriding came to an end against Nadal in the semis. But what a run for Delpo who a) won the best men's match of the tournament, surviving a winner-less, flu-addled first two sets to beat Dominic Thiem b) knocked off Roger Federer in the quarters c) established his forehand as the most fearsome weapon in the men's game. A player you might consider DelPo's female analog—Petra Kvitova—did herself proud as well, knocking off favorite Garbine Muguruza and battling Venus 7-6 in the third set. Want stocks to buy on the dip? Delpo and Kvitova in advance of 2018.
• Pablo Carreno Busta is an excellent player, whose praises we have canted for quite some time. (He gets bonus points for excellent doubles play.) But how much can we read into his run to the semis? He beat four qualifiers and then Diego Schwartzman. "You can only beat the players put before you" is the rejoinder to "he had an easy draw." But P.C.B. should be tithing to the Church of the Draw.
The Power of del Potro: Argentina's Gentle Giant Brings Rare Magic to U.S. Open
• Denis Shapovalov announced himself this summer, beating Rafael Nadal in Montreal. He then brought his megaphone to the U.S. Open, qualifying and reaching the Round of 16, beating the likes of Daniil Medvedev and Jo-Wilfried Tsonga along the way. Who said teenagers can play with the big boys? Here's an exception. That he relies of speed and flair and not brute power only makes this story richer.
• As you likely suspected, both on social media and via the Mailbag, Maria Sharapova was a topic in heavy rotation. As I've written before, I'm astonished by how Sharapova—the endorsement queen, which, by almost definition, suggests a middle-of-the-road inoffensiveness—has become this hyper-polarized figure.
As we take inventory of this entire, unfortunate saga, let me throw a throw out a counterintuitive suggestion: After the initial shock, there was something assuring and confirming about this story. What do I mean? Responses in bold below.
+ A player is caught using a prohibited substance, a few weeks after the substance goes on the banned list. (This indicates that the testing is effective.)
+ That player is Sharapova. (So much for the notion that the system protects the stars.)
+ Sharapova offers her side of the story. (Some of it is perceived as sympathetic and mitigating; other parts don't add up and the contradictions are noted accordingly.)
+ Sharapova is suspended for 18 months. (Again, extinguishing suspicions that stars are treated leniently.)
+ Sharapova is extended her right to an appeal. (Due process, a critical part of any disciplinary protocol, is accommodated.)
+ The CAS appeal reduces the Sharapova suspension to 15 months. (The appeal panel raises some procedural questions and asks about the performance-enhancing qualities of meldonium. At the same time, you can hardly call Sharapova's treatment a whitewash.)
+ The media covered this with balance asking the right questions to both sides, even when answers were slow in coming. (To the ITF and WADA: there may have been a high concentration of Soviet athletes using meldonium, but where is the evidence it actually enhances performance? To Sharapova: Now that meldonium is banned what drugs, if any, are you now taking for the heart and diabetes concerns you referenced?)
+ After her ban lapses, Sharapova returns to action and the reception is split. (Some tournaments give her wild cards, others don't. There are reasonable points to be made on both sides. Yes, she's done her time and should be entitled to full rights and privileges. Yes, it doesn't send a great message when a player coming off the banned list is given the red carpet.)
+ At the U.S. Open, she beats Simona Halep, the second seed in round one. (Great first night match to christen the tournament. And, objectively, it's nice to see an athlete take time off and still return to competing at a high level. When an athlete returning from doping struggles, cynics inevitably ask, "Were the magic pills and potions responsible for the success?" Sharapova put this to rest.)
+ Sharapova triggers strong reactions pro and con. She has ardent supporters; there is also an army of haters. (I couldn't help thinking about the Williams sisters. Not wrongly, some of their supporters have, through the years, questioned whether there are double standards, whether as African-American women, they are judged more harshly. You're inclined to wonder if that suspicion is now at least somewhat doused. Venus is an absolute crowd favorite; Sharapova splits public opinion.)
+ Sharapova wins more matches (She ought to take pride and satisfaction in her physical recovery, a strong indication she has plenty of time left.)
+ Sharapova ends up losing in round four. (Sharapova wins the tournament and it doesn't look great for the WTA that a player absent for 19 months can swoop in and win a major.)
+ She leaves the tournament encouraged, but motivated. (She's made inroads in regaining both her toehold and her reputation. But still has work to do on both fronts.)
This was an unpleasant story. To some extent, this is still an unpleasant story. To a (vocal) minority, Sharapova has been wronged, the victim of a vendetta and a cover-up and a conspiracy. To another (vocal) minority, she is beyond redemption. But to those of us in the middle, this story is breaking about as well as possible. As on the People's Court, justice has been tempered with mercy. The structures have held up just fine. And so has fate. And so has Sharapova's game. Now let's see where she goes from here.
No. 1 Rafael Nadal Is Back at the Top with 2017 U.S. Open, 16th Grand Slam Title
• A quick word on food. The choices are great. Whether it's desensitization after attending games at Madison Square Garden or a conscious effort, the prices no longer seem so extortionate. ($20.50 for a lobster roll? That the same price you'll pay at a Cape Code seafood shack.) This year's revelation—the Sloane Stephens of comestibles, if you will, and I hope you will—is Joju, a modern Vietnamese sandwich spot that gets locavore bonus points.
• In what might (or, we're told perhaps might not) be his last major coaching his nephew, Toni Nadal wins another Grand Slam with Rafa at the 2017 U.S. Open. It's always tough assigning credit/blame to coaches given that it's the players who are ultimately in the arena. But Uncle T., as Christopher Moltisanti would say, was in the box for 16 majors. That has to mean something. Over to you, Carlos Moya….
• Congrats to Serena Williams, who, of course, became a mother during the tournament. Assuming all goes as planned, she'll head to Melbourne to defend her title. While she gave birth over Labor Day Weekend, is it an oversimplification to suggest that the women's final featured "daughters of the Serene effect" as well? Note her first tweet post-motherhood:
• Full stop to say this about Novak Djokovic: a tournament without him feels diminished. Hopefully this is a one-off.
• Story to follow: the seedings at the 2018 Australian Open. Murray will likely be outside the top 16. Same for Djokovic. And Wawrinka will be out of the top 8 as well. Then again, Federer was seeded No. 17 in 2017 and look how that worked out.
• Spare one thought for Dominic Thiem, a vastly talented player who might need some time to dislodge the memory of his loss to del Potro, leading 2-0, holding match points, and up a fourth-set break. Then spare another one for Elina Svitolina who couldn't put away Madison Keys up 4-2 in the third set. Rough sport, this one.
• From the every-match-tells-a-story-don't-it department: Thai-Son Kwiatkowski, the NCAA champ from Virginia, was up 2-1 sets and fourth-set break of serve against Mischa Zverev in round one. The match turned. (When Kwiatkowski saved a match point he did this.   
Zverev would win the match, go on to win again, outlasting his brother in draw. He would beat John Isner and then lose to Sam Querrey. But if Kwiatkowski holds on to that break, it's a much different tournament.
• If you're Sascha Zverev, you're not covering your face in the manner of perp walk after losing a tight second round match to Borna Coric. But it stings, especially after your successful summer. And especially when it amplifies concerns about your record in best-of-five matches. We keep hearing Zverev and Nick Kyrgios are the two players under 25 destined to win Slams. Their combined record at majors this year? 8-8.
Best Moments from the U.S. Open 2017 Women's Final
• A hat tip to Stephen Amritraj at the USTA, whose job entails easing the transition from college to the pros. From big Chris Eubanks to spectacularly unlikely qualifier JC Aragone to Kwiatkowski (to Kevin Anderson a decade ago), a lot of players are transitioning gracefully. And this figures to be an increasingly busy intersection as average ages go up.
• Five players that didn't survive week one but impressed us nonetheless: sneaky good Elise Mertens, forgotten American Jared Donaldson (who could finish the season inside the top 40), Zhang Shuai (who had match point against Karolina Pliskova during the middle weekend), Jen Brady and Frances Tiafoe.
• From time to time you guys send "player anecdotes." I tend not to print them when they seem invasive or when they paint the player in an unflattering light. But I think this one falls on the right side of that baseline. And I love the larger point. Over to you, Ivan of New York:
"My flight from JFK to Barcelona was a red-eye, departing on Saturday evening. The check-in lady said that I had to get a seat assignment at the gate because this was going to be a flight full of families... somehow I knew that was an ill omen. I get to my seat on the Boeing 747 and who do I see sitting down in front of me but World No. 24 Albert Ramos-Vinolas. Calmly going about his business. Cramming his big Babolat racket bag into the overhead.
Halfway through the flight, a baby starts crying. At first, it's just a low, steady, plaintive kind of crying. But slowly it crescendos into a dry-heaving, grating, gasping sound, like a banshee short on breath. Least anyone could do was to put on headphones and zone out. I felt both deep hatred, in my exhaustion, and stress for the mother, who must have been hearing the same thing only 20dB louder.
Tennis Players Congratulate Sloane Stephens on U.S. Open Title
But I look up ahead through the seats, and I see Albert Ramos-Vinolas, sitting calmly, watching a movie, talking with his girlfriend. Not a glance in the baby's direction. Even from four rows away I could tell he was mentally rising above this whole ordeal. I double checked his U.S. Open results: a first round five-hour, five-set win over Denis Istomin, then a three-hour, five-set loss to Nicolas Mahut two days later. Then a loss in doubles a day later. Then a red-eye flight home with a crying baby a day later. He must have been exhausted. But he kept cool.
All this just reminded me of the incredible grind of the ATP World Tour. We civilians know well how badly jet lag hobbles us for several days, and how stressful flying coach generally is. Now imagine, you land at your destination, then two days later you have to play a tennis match! I know it's too far-fetched to propose reorganizing the ATP calendar to minimize travel, so we just have to continue to remind ourselves that the 24th best tennis player in the world still has to fly economy with the wailing baby and gets no sympathy for it if he loses because of it. So hats off."
• It's difficult to report on the Victoria Azarenka situation without descending into an ugly and contentious personal matter, with vastly diverging narratives—one that centers around a nine-month-old child. At the same time, the absence of a two-time major champion and former No. 1 is a relevant, newsworthy sports story. And ignoring it seems, to me, a dereliction of duty. So let's land here for now: by delivering her child in California, not Belarus, Azarenka appears to have subjected herself to a much different—and for her, less favorable—set of family laws and custody standards. The next date on the docket is Oct. 12, and barring an unforeseen court order or settlement, it's hard to imagine Azarenka playing again in 2017. The pity of all this: the 2017 U.S. Open was an event she could have won.
• Rule of thumb to the young players out there: if you are going to "blow off steam"—as we kids euphemize it—by getting sloppy drunk after a singles loss, be sure you don't have a doubles match the next day. When you are so intoxicated you barely recall which end of the racket contains the grip, you implicate your partner as well.
• More friendly, if unsolicited, advice to young players: invest in media training. There are a number of young players who are dynamic and likable and cool but it doesn't necessarily get conveyed on camera. They could really improve their presentation—and come into vast sums of wealth—if they learned a few tricks. Don't mumble. Make eye contact. Don't speak in monotones. Try to surgically remove the word "like." An hour or two with an expert media trainer—there's a woman in California a number of celebrities use—would pay for itself many times over.
Serena WIlliams Praises Madison Keys, Sloane Stephens Ahead of U.S. Open Final
• What's that? You want more free advice! The day after Roger Federer practiced in Central Park, assorted other players—including Gael Monfils and Elina Svitolina—asked how they could avail themselves of the experience. Here's what the USTA should do: every day at an appointed time during the tournament, a new player practices in the park. One day it could be Federer. Another day it could be a young unknown. Fans in Manhattan get a taste of the tennis. The player gets the experience. Give away some t-shirts and tickets. Everyone goes home happy. Boom.
• Story to follow: the World Team Cup. There's a big pile of money on the table. There's a small window of available dates. (Though I'm hearing the first week of January is the likely start.) Now it becomes a question of which tennis alphabet soup members will oppose this challenge and which play the if-ya-can't-beat-'em-join-'em card through support (if grudging) behind this disruption.
• Garbine Muguruza, the Wimbledon champ and favorite here in the eyes of many, lost during the middle weekend to Petra Kvitova. And you know who saw this coming? Garbine Muguruza. Check out this pre-tournament exchange with my colleague Sean Gregory.
Q: So are you the favorite?
A: Oh my goodness. No, not really. People say the last champion's going to win the next tournament. It's the classic way to see it. And it never happens.
• Like most journalists, we're partial to athletes/subjects/people who don't go in for social norms. So when Jelena Ostapenko sniffs her responses, blames defeat on her own shortcoming (not the opponent's superior play) and demands the court assignments that reflect her status as a Grand Slam winner….we say "so what?" Likewise, Nick Kyrgios comes in for plenty of criticism for some of his choices. Here, he lost his first round match, complaining that his shoulder was numb. He also took treatment for a hip injury. Then he went out and played two matches of doubles, honoring the commitment he made to his partner. With the exception of one regrettable episode, most of his indiscretions have been self-directed, acts of self-sabotage. On balance, we'll take him and his disdain for convention.
• For a player who has disgraced himself numerous times in the past, Fabio Fognini outdid himself with a vulgar first-round outburst that—curiously, five days later—earned him a $24,000 fine and provisional suspension from the tournament. Quickly: 1) We ought to give some latitude to athletes in height of competition. But there's a difference between self-directed anger and anger at someone else. This was the latter. 2) Reputation and track records matter. If this is a player with a less checkered past, do they get treated more leniently? Probably. Who cares? 3) In the time between Fognini's breach of decorum and the announced suspension, he played two doubles matches, knocking four players out of competition. Why the delay? A quick session with "Google translate Italian-to-English" would have revealed his unacceptable language. 4) Unlike doping and matching-fixing, there is no "full faith and credit" between the ITF and ATP with respect to a sportsmanship suspension. That is, per the ATP, Fognini will be able to play tournaments this fall. Whether he'll be permitted to play the Australian Open is another matter.
• Love this note from a reader who id'ed only as "Taylor":
"Hey Jon, that roof really saved us today. Getting nosebleeds was worth it. While I like roaming the grounds, it "forced" me to see Rafa play! I do however have a beef with the "fans" in the best seats in the house who failed to show up. In the era of car-sharing, bike-sharing, and house-sharing isn't it time for a seat-sharing program at the Open? Here's my idea: A person realizes they can't make it to their amazing seat that day or is stuck on Wall Street until the bell rings. They log in to the app and transfer their ticket to someone with a grounds pass or Ashe nosebleed either for the whole day or a specified period of time. A common fan gets a once-in-a-lifetime opportunity to see Rafa or Fed up close and the original buyer gets some extra perk, like Amex points or a free beer when they eventually show up. And there are fewer empty seats on TV (drooling fans in the upper decks)."
• When players complain about their court assignments it can sound like an act of vanity. But there is a serious competitive advantage that comes with being assigned the show court. Especially so, now that there's a roof. If you are, say, Sharapova, you know that an assignation on Ashe means that a) you will play no matter what, rain or shine. And you can schedule accordingly. b) your court assignment will not change, so you know the exact dimensions. c) you can walk directly from the locker room to the court. If you are, say, Caroline Wozniacki, and assigned to the boonies, you are subject to delays, switches, an unfamiliar backdrop, etc.
• Congrats to James Blake who will be taking on a role with the Miami Open akin to Tommy Haas' position in Indian Wells. Much as we like James, here's the real reason to smile at this announcement: this hire is a signifier that the event will remain in south Florida and there will be significant investment when it moves to a new site in 2019.
Rafael Nadal and Uncle Toni, One Last Time Together at the U.S. Open
• Love the unlikely friendship between Sloane Stephens and Denis Shapovalov. Long story short: while rehabbing in Toronto in February, Stephens thought she saw Shapovalov and his family in a restaurant. When she Googled Shapovalov and saw that he was from Toronto, it validated her suspicions. Or so she thought. She sent over a round of drinks. (It's Canada; he's 18.) When no gushing thanks were forthcoming, Stephens Googled Shapovalov again and realized that she had mistaken his identity. Oops. She later told him the story and they've become pals.
• Bravo to Canada, a nation one-tenth the U.S. population that has, in the last few years, furnished a top five male (Milos Raonic), a conqueror of a World No. 1 (Vasek Pospisil) a top five female (Genie Bouchard), the best current player under 18 (Felix Auger Aliassime) and Denis Shapovalov. But—and I hope this comes across as neither bitterness nor pejorative—let's go easy on using this as a reason to rip USTA player development. We're talking about a small data set. Great for Canada (and Switzerland a decade ago) but I'm not sure we can assess an entire system on the basis of a few players. Speaking of Canada….
• Correlation doesn't, of course, equal causation. But Eugenie Bouchard's results since announcing her lawsuit against the USTA have been one order of magnitude worse than dismal. Once a top-5 player, she started this event at No. 76 and lost her first match. (Still, if you think her litigation is unrelated to her otherwise strange Arthur Ashe court assignment, I have a bridge in Saskatchewan to sell you.) Bouchard may be struggling with her ranking but she remains an appealing draw. This fall, she will be paid appearance fees to attend events; yet she'll need a wild card just to get into the main draw because her ranking is insufficient.
• It's a small visual, but one of the more endearing images of the U.S. Open every year: Robbie Federer wearing that cheap plastic Amex earpiece as he watches his son, Roger, play on the big court. What messages does this send? I'm just a normal guy, preferring function to form….I still have a sense of curiosity and capacity for awe about this whole experience….I haven't lost my fan sensibilities. Small touch but, to me, it reveals so much about the man. And, by extension, his son.
• I was surprised that the story of Alex Dolgopolov didn't get more attention, especially as he played until Labor Day before capitulating against Nadal. Though under investigation by the Tennis Integrity Unit— triggered by curious patterns betting on one of his matches last month—Dolgopolov was adamant he'd done nothing wrong. He's owed all the usual presumptions; and yet he had to expect inquiry. Long as we're here: a law review article waiting to be written: North Carolina (state where the match in question was held) has a sports fraud statue. Might this be a criminal matter, concurrent with the TIU?
The Summer of Sloane: Into U.S. Open Semifinals, Stephens's Remarkable Rise Continues
• Like putting premium fuel in a rental car, there is something stunningly unnecessary about the pre-match interview. You could devise your own drinking game around this cliché festival.
Questions:
1) What do you need to do to have success?
2) What are your expectations tonight?
3) You have beaten/have lost to your opponent 743 times in a row. What do you have to do continue/reverse that trend?
4) What does it mean to play a big match like this?
Answers:
1) I just need to be aggressive and play my game.
2) I'm excited for this opportunity to play on a big stage like this.
3) I need to make the most of my chances and play one point at a time.
4) The Antifa—while unquestionably violent and often encompassing anarchic sensibilities—is in no way the moral equivalent of white nationalism.
Fashion at the 2017 U.S. Open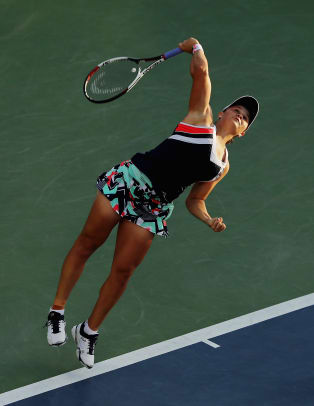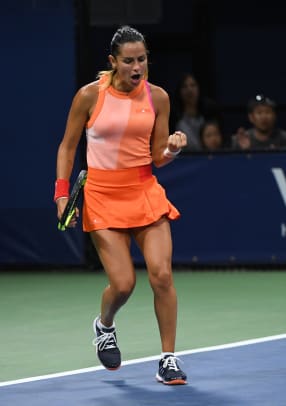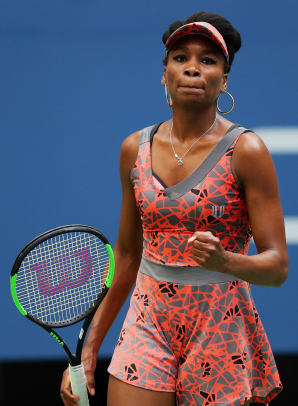 • The injury-mania dispatch. The absence of five of the top 11 was an embarrassment but it enabled others to come to the fore. Meanwhile the USTA has a partnership with the world-renown Andrews Institute and I'm told this could be an avenue to investigating the "why."
• A few of you noted this at different points over the two weeks. But during this tournament, we got vivid demonstrations of why tennis is greater than the sum of its parts and why equal prize money at mixed events makes sense. Thanks to the top-heavy draw, on the first Friday the men's match on Ashe featured Kyle Edmund against Denis Shapovalov, a Brit ranked outside the top 40 against a Canadian up-and-comer who brims with potential but had to qualify. Worse, Edmund injured his shoulder so the match ended with a retirement. It was sandwiched, though, between wins by Petra Kvitova and Venus Williams. Those two played Tuesday night and combined for the Match of the Year, if not the tournament. A slugfest between Kevin Anderson and Sam Querrey (neither in the top ten, neither having reached a Grand Slam final) followed. Some days the men carry the day. Some days the women do. On balance each tour is better for the presence of the other.
• Again, here's where I stand on equal prize money: men's tennis might be worth more as a standalone product. But when the tours come together, there's a real virtue—and real value—in the interchangeability of men and women. Equal prize money at Slams is simply the right thing to do. And the public relations hit (and internal division) created by a disparity would outstrip whatever cost savings might come.  
That said, how does the USTA square this—and its persistent talk of equality—with its ticket pricing? For the women's semifinal session, low bowl seats were available for $1,468. For the men's semifinal session the price went to $2,318. Like any business, pricing depends on the market. But if you're going to play the "supply-and-demand/respect-the-market" card when it comes your own profiteering, how do you then deny that right to the players? If you're the ATP, aren't you calling the USTA on this contradiction?
• Depending on whose numbers you use and whether you account for production costs, ESPN is paying the USTA between $80 million and $90 million to broadcast this event. (Yes, those are crazy figures, redolent of a different era in media.) Still keep that figure in mind, the next time you see a gushing report about the prize money increases. This year the U.S Open purse was $50.5 million. It sounds like a lot. And, as a percentage increase, it is. (Prize money has doubled since 2012.) But we're still talking about a purse that represented barely half of one TV contract. All the suites and sponsorships and naming rights and tickets and hospitality…
• The Battle of the Sexes movie opens next weekend and it's a clean winner.
• Hurricane Harvey, Tornado Black, Whirlwind Johnson. Consider contributing.
Tennis World Congratulates Serena Williams on Birth of Her Child
• Favorite press room exchange was an interview that was fairly straightforward until it took the most bizarre turn imaginable:
Q. You just said that your mind sometimes wanders during a match. Where does it go?
NAOMI OSAKA: Oh, G-d. Well, you know, once I was practicing, right, and my whole practice —you know, there is that commercial that says, "If you or a loved one has been diagnosed with mesothelioma," that's all I could think about for the whole practice. I was, like, why do I keep thinking this? Then, like, during the breaks, all I could see was like that commercial where this woman was running in a field. I mean, it was a good practice. It's just my mind wasn't there. Like, I think it was just muscle memory and stuff. That was a weird day.
• Thanks as always for your Tennis Channel mail. I say this with no objectivity whatsoever but each morning Tennis Channel put together a pregame show. Three Hours. Live television. Every Day. A skeletal staff and little in the way of a publicity push. And it's one of the more challenging—and ultimately gratifying—media experiences I've been part of. Ross Schneiderman, Mark Houska and Ro Das were the brains in the truck. Shelby Campbell, Nitin Varma and the feature team deserve heaps of praise for the long-forms and Unstrung pieces.
• And Jamie Lisanti and Stanley Kay deserve raises, days off and name checks for their work on SI.com.
• The opening night performance of Shania Twain—whom we'll take any day over over Phil Collins—was an augur (Aliassime) for the Canadian theme that would echo. But the real anthem of this tournament?
And here's the LCD Soundsystem cover version. Take us out, James Murphy:
AS ALWAYS, IT'S FUN GEEKING OUT ON TENNIS WITH YOU GUYS. BACK TO THE DAY JOB, BUT WE'LL DO IT AGAIN IN MELBOURNE….