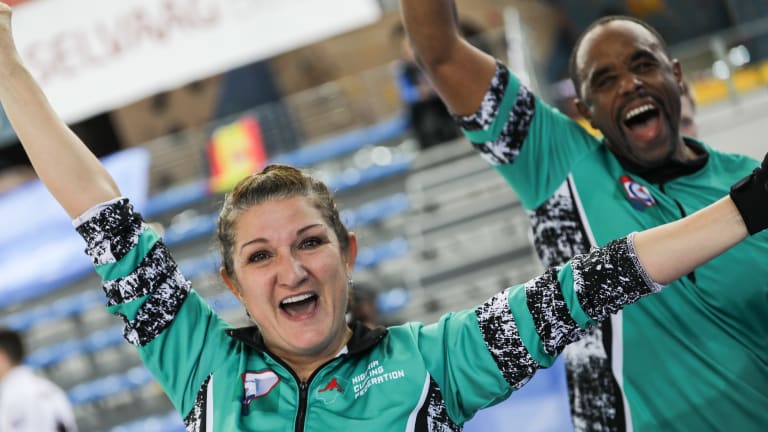 A Brief History of African Curling
Kenya has been named a full-fledged member association of the World Curling Federation, the second African nation to be certified since Nigeria in 2018.
Not much is known about Kenyan curling efforts, but that country's federation first introduced themselves online in September of 2020:
Meanwhile, Nigeria's learning curve has been impressive. A men's team has already been competing at recent Pacific-Asia Championships and as the main photo shows, their mixed doubles team—Colorado-based Susanna and T.J. Cole—made history by winning a game at the 2019 world championships in Norway.
The Coles even appear in the 2021 Curling Cares Fundraising Calendar, with their share of proceeds going toward the construction costs of Nigeria's first-ever ice sport facility.
But the first African nation to actually host curling is believed to be Cote d'Ivoire, and its coastal city of Abidjan. Curling was played at the Hotel Ivoire's ice rink as of 1970 and in 1973, the Abidjan Curling Club was accepted into the Royal Caledonian Curling Club, i.e. Curling Scotland. The "First Bonspiel in Africa" was also held at the Abidjan rink that year.
We reported on the Abidjan rink and a specific 1982 curling account back in 2006.
There was also an apparent curling "club" of sorts in Johannesburg, South Africa, from approximately 1981 through 1996, again recognized by Scotland's RCCC. There's no word on an actual facility backing this organization up.
That reminds us of a bizarre South African restaurant advertising campaign we reported on in 2007. The Nando's television spots, aired in their home country, were admirable spoofs of the Roaring Game.
Kenya Curling Federation president Laventer Atieno Oguta said: "Kenya curling is delighted to be the second African country to become World Curling Federation member. This is big achievement for Kenya and Africa, and this going to motivate more African members. The Kenya Curling Federation is going to work hard to help promote and support other African countries and promote curling in both Kenya and Africa."
Congratulations are already heading Kenyan curling's way, with folks hoping to hear word of an inaugural bonspiel. Best of luck to the 67th WCF member nation.