Lindsey Vonn closes in on all-time World Cup wins record
Sometime in the coming hours, days or weeks, and barring injury (an important and resonant disclaimer in this case), Lindsey Vonn will win her 62nd, and then her 63rd World Cup alpine ski race, thus surpassing 1970s vintage Austrian racer Annemarie Moser-Pröll's record for the most career World Cup victories by a woman. The record-tying win could happen as early as Saturday morning in a downhill race in Bad Kleinkirchheim, Austria, or it could happen the following week in Cortina, Italy, or the week after that in St. Moritz, Switzerland. But there's little doubt at this point that it will happen somewhere soon. (But again, that disclaimer, because ski racing is fast and dangerous, which Vonn knows better than most. No record is in the books until it's in the books).
Vonn, 30, will pass Moser-Pröll for a number of reasons. First and most importantly, because Vonn is the strongest and fastest women's speed skier in the history of the sport, and has revolutionized the downhill and Super-G disciplines with her power, technique and aggressive use of evolving equipment.
"Physically, super-dominant,'' veteran U.S. racer Bode Miller told reporters at a press conference in the first week of January. "She was able to put the edge [of her skis] on snow in ways that changed the sport.''
U.S. skier Lindsay Vonn considering dropping slalom due to injuries
Second, because Moser-Pröll's and Vonn's records are apples and oranges, separated by multiple generations of training advancements, equipment design changes and the addition of an entire racing discipline -- the Super-G -- that didn't exist until 1983. It's not entirely a fair historical fight, though that diminishes Vonn's accomplishment only a little. (More on this; keep reading).
And third, because for 15 years, since making her World Cup debut in Utah at the age of 16 (barely) in the fall of 2000, Vonn has kept showing up. And she hasn't just kept showing up. Every "career'' record in sports demands skepticism and scrutiny, because a good hitter can collect a lot of doubles just by sticking around and hacking. Baseball has a name for such performers: compilers. Vonn is no compiler. She brought transcendent game to 330 (and counting) starts on the World Cup, a relentless October-to-March test of not just ski racing, but ski racing six time zones from home against European racers on their home turf; ski racing on conditions that vary from slush to bulletproof ice; ski racing in a world that offers nonstop parties one night, soul-sucking boredom the next. It is the 162-game season of ski racing, where the best racers will win most often. (Even this weekend, Vonn is in Austria, having told reporters that she's weakened by a cold and spent two days without her luggage; it's never easy over there, although Vonn was third in downhill training Friday morning so she's clearly feeling better).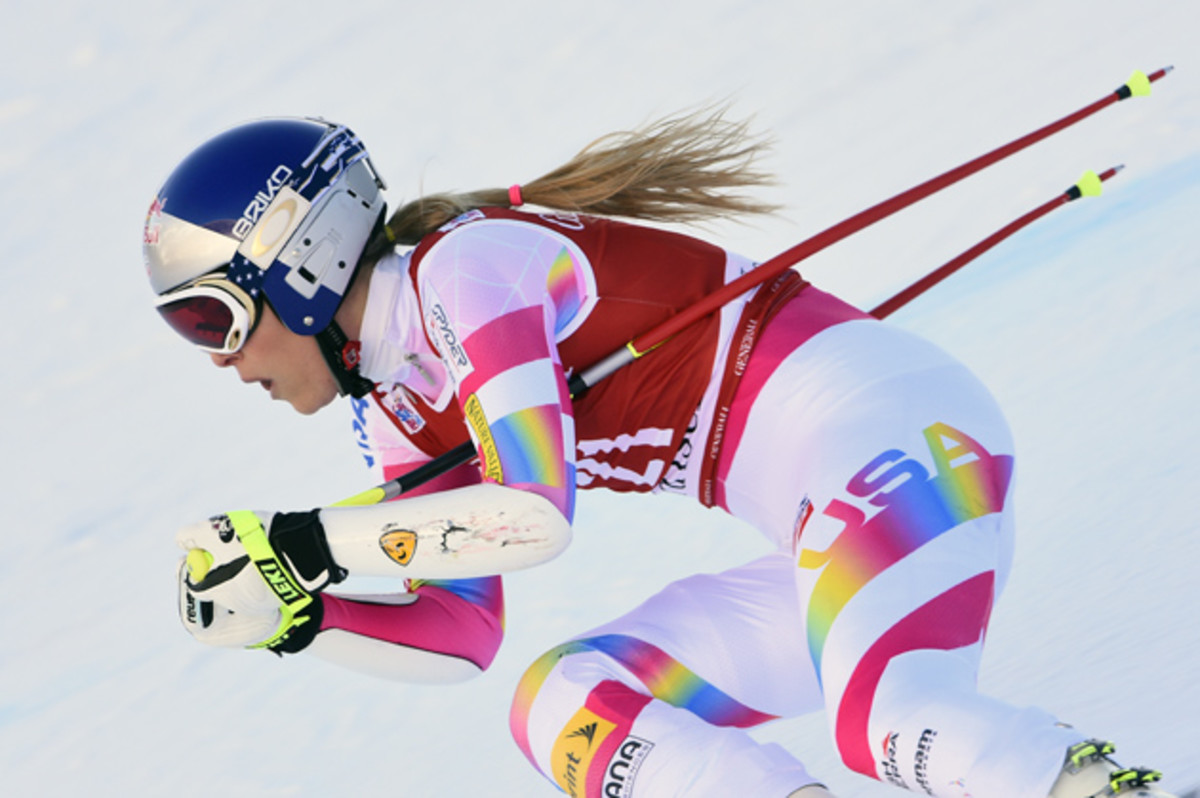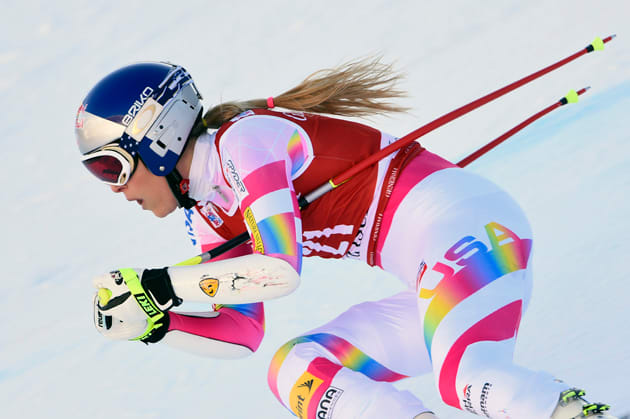 ​Also consider this: Other very good racers have started more World Cup races than Vonn; U.S. Ski Team rival Julia Mancuso, also 30, has 387 starts; Tina Maze of Slovenia, 31, has 382. Each of these women also has four Olympic medals to Vonn's two (there is a reason for this), but Mancuso has only seven World Cup wins and Maze 26. Vonn has won a remarkable 18.8 percent of her World Cup starts; Maze's percentage is 6.8 and Mancuso's 1.8. And they've both had sensational careers. (Maze has two World Cup overall titles, combining results in all disciplines. Vonn has four). Neither can touch Vonn's high-level consistency, particularly in the speed disciplines of downhill and Super-G, which account for all but 10 of Vonn's victories.
This consistency has been achieved despite considerable turbulence. Through injuries, through family strife (first a deep, emotional rift with her father and later a very public and costly divorce from her husband), youthful insecurity and grown-up depression, through the transition from niche-sport pretty face to tabloid celebrity dating one of the most recognizable athletes in the world (you know who), through the crushing disappointment of missing -- or virtually missing -- two Olympic Games in the prime of her career, Vonn has continued to push herself out of start houses across Europe and North America and down the face of icy mountainsides, faster than any woman in history.
Après Ski: How to Recover Like a Champ
And one year ago, you could have gotten strong support for the argument that Vonn was finished. Backtrack: In the winter of 2013, Vonn, the defending Super-G, downhill and overall World Cup champion, and had recovered sufficiently from a nasty intestinal virus that she felt ready to challenge the ascendant Maze for gold medals at the world championships. Instead, she blew out her right knee in a Super-G crash. In March of that same year, I visited Vonn in her home at the Vail (Colo.) Ski resort, early in her rehab. As snow fell on the slopes outside her condo, I watched as U.S. Ski Team surgeon Bill Sterett explained the reconstruction of Vonn's knee in minute detail, for a story in Sports Illustrated. Vonn was upbeat and made jokes. She asked Sterett where his surgical team disposed of her old, sheared off ACL.
Vonn's goal was the Sochi Olympics. She had gutted out a medal-less 2006 Games after a 70 mile-an-hour downhill training crash and then won two medals (gold in downhill, bronze in Super-G) in 2010. But 2014 would be her signature Olympics. I asked her that day in Vail if just waiting until 2015 would acceptable, waiting for the world championships in her hometown. After all, 12 months from injury to Olympic downhill was pushing things.  "Not acceptable," Vonn said. "I would not accept that. There is plenty of time between now and the Olympics. Plenty of time."
It turns out there wasn't. Or something. In November of 2013, she re-tore the ACL while training at Copper Mountain in Colo., though she did not reveal the extent of the injury at the time. Remarkably, she skied a World Cup race at Lake Louise, Canada, 17 days later, and then two more races, including a fifth-place finish in a Super-G…with no ACL in her right knee. However, her unlikely chase ended when she skied off course in a downhill at Val d'Isere, France, on Dec. 21, having further damaged the right knee. She was 29 years old, with two ACL tears in 10 months.
On Jan. 15 of last year, Vonn had her right ACL reconstructed again, this time by renowned surgeon Dr. James Andrews. (Personal note: In March of 2013, when I interviewed Vonn and Sterett about the first surgery, I chatted up Sterett at length about the history of knee surgery and he spoke glowingly of Andrews. It turns out the world of major league orthopedic surgery is just a small town, like many professions. Vonn has not publicly criticized Sterett's work). So Vonn would try again, because that is what Vonn has always done. She would have to watch the 2014 Olympics from her couch, while Mikaela Shiffrin (deservedly) became the new U.S. alpine star and Mancuso inexplicably delivered yet another medal-winning run. But just 349 days after the Val d'Isere flameout, Vonn skied a World Cup race at Lake Louise and one day after that she took victory No. 60. Two weeks later, appropriately, in Val d'Isere, she won No. 61.
Skiing the World: Exploring the diversity of Utah's mountain ranges
A word here about Moser-Pröll and her record: Moser-Pröll joined the World Cup in 1969 at age 15 and won her first race a year later. She raced for 12 years and won 36 downhills (Vonn has 31). There were no Super-G's, and it's fair to assume that Moser-Pröll would have won a few of them. Or a lot of them. (Vonn has 20). Also, Moser-Pröll retired at age 26. Vonn is winning World Cups four years past that, owing not only to everything stated previously in this story, but also to the generous and broad-ranging financial and logistical support of corporate sponsors, most notably Red Bull. This same scenario could be applied in almost any comparison of Olympic athletes from the 1970s and 2000s, but it's particularly notable when comparing Vonn's and Moser-Pröll's career records.
This is vaguely unfair to both athletes, because while Vonn is passing Moser-Pröll's record, each is historic on her own terms. Moser-Pröll started only 174 World Cup races and won 62 of them, meaning that a ridiculous 36 percent of her starts ended on the top of the podium. Lesser competition, shallower fields? Sure. But still. Thirty-six is dominant. But they are children of different eras. It's a lot like comparing Johnny Unitas's passing records to Peyton Manning's. You can do it for fun and in the end, praise both. You can't draw sweeping conclusions.
There is also no sense that Vonn is close to finished. She will race next month in the world championships in her hometown (again, disclaimer). Somewhere off in the distance, three or four years away, is Ingemar Stenmark's record 86 career wins, and, of course, the 2018 Olympics. Vonn will be 33 years old then, and no female skier has ever won an Olympic medal at that age. Some have been close, however. Michaela Dorfmeister of Austria won two medals in 2006, a few weeks shy of 33; Marlies Schild of Austria won a silver medal behind Shiffrin in Sochi, three months short of her 33rd birthday.
Ski racing, by its nature, resists long-term predictions. This much is certain: If Vonn remains healthy, she will keep showing up. And if she keeps showing up, 62 wins won't be her last milestone.
A Day in the Life: Professional Skier Lindsey Vonn