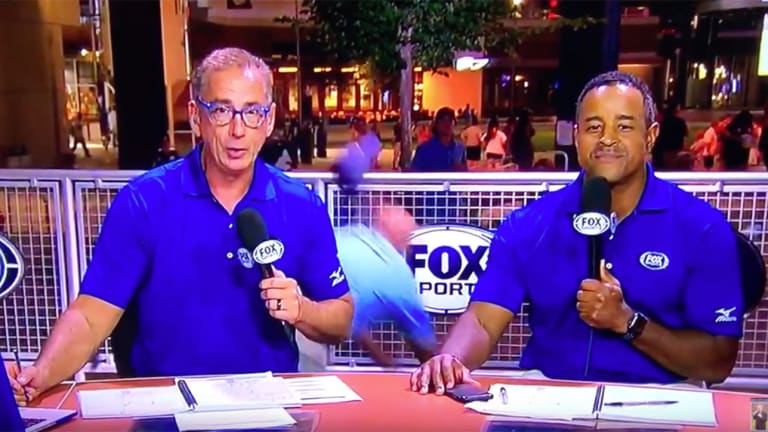 1. One Internet truism is that people falling down on live TV is always funny (unless they get seriously hurt, of course). During last night's Braves postgame show, we had one of the great faceplants in recent memory.
While the Braves broadcasters were doing their thing, a Bryce Harper fan jumped into the background and loudly started screaming about the Nationals slugger. All of a sudden, a Braves security guard comes flying into the picture, running at full speed to stop the heckler. There was only one problem, though. This happened: 
#https://www.instagram.com/p/BmgEYxClTQU/
The hat flying off the poor guy's head truly made this an extra special video. And how about the Braves' broadcasters not even flinching with what was going on behind them. True pros.
2. Episode 2 of Hard Knocks was excellent, in my opinion.
You saw wideout Corey Coleman demand a trade (which he was later given), you saw wideout Antonio Callaway have to explain a run-in with the police to coach Hue Jackson and GM John Dorsey, and we got a taste of Baker Mayfield in game action, with the rookie QB telling a teammate, "This is fun," after competing against the Giants.
Unfortunately, there was very little Carl Nassib, the star of Episode 1. He did treat us to this outstanding exchange, however, with teammate Anthony Fabinao, who was skeptical of the financial advice Nassib was handing out last week:
Fabiano: Isn't it 7% every 10 years, not 10% every seven years?
Nassib: It's called the Rule of 7. You get 10% on your return. You double it every seven years. Fight Tony Robbins about it. He's my hero. 
Fabiano: If you find that, you gotta hang on to that for dear life.
Nassib: Yeah, that's how the rich people do it bro.
3. Ben Zobrist was ejected from yesterday's Brewers-Cubs game and explained afterward that the reason he got the boot was because he told home plate umpire Phil Cuzzi, "That's why we want an electronic strike zone."
4. The Broncos gave out their rookie haircuts yesterday, and as always, it was fantastic.
5. Gotta give a shoutout here to Braves pitcher Brandon McCarthy, who has decided to retire after this season following 13 years in the majors. McCarthy is one of the funniest guys in sports, one of the best Tweeters and is only one of two athletes to ever guest write SI's Hot Clicks column, back in 2012 when I was running that show. Thanks for all the laughs.
6. The most recent SI Media Podcast features an interview with the full cast of NFL Network's Good Morning Football. Kay Adams, Nate Burleson, Kyle Brandt and Peter Schrager discussed how the show came about, their rising popularity, how it's been dealing with the NFL when it comes to covering controversial issues and much more. You can listen to the podcast below or download it on iTunes.
7. But how do you really feel, Jalen Ramsey?
Traina Thoughts is the best of the Internet, plus musings by SI.com writer, Jimmy Traina. Get the link to a new Traina's Thoughts each day by following on Twitter and liking on Facebook. Catch up on previous editions of Traina Thoughts right here. And make sure to listen to and subscribe to the SI Media Podcast hosted by Jimmy Traina.
IN CLOSING: If you're a WWE fan, make sure you subscribe to the SI Media Podcast because Seth Rollins had some very interesting things to say about The Rock and Brock Lesnar on this week's show, which drops Thursday morning.