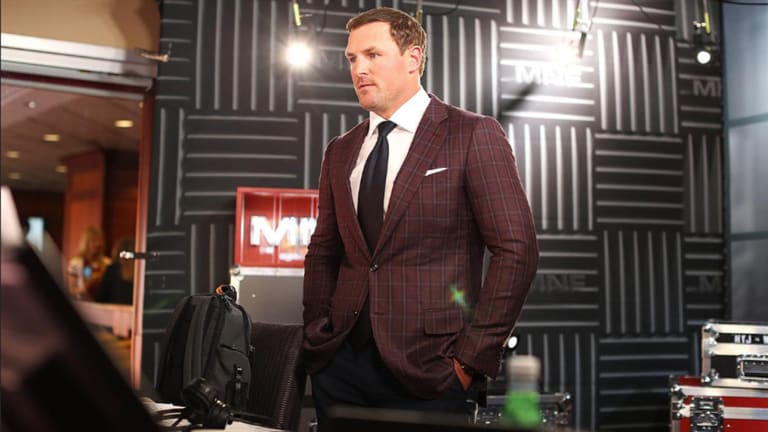 Traina Thoughts: Jason Witten Says Aaron Rodgers Pulled A 'Rabbit Out Of His Head'
ESPN's Jason Witten says Aaron Rodgers pulled a 'rabbit out of his head.'
ESPN's Jason Witten says Aaron Rodgers pulled a 'rabbit out of his head.'
1. Twitter has been rough on Jason Witten, who is in his first year as lead analyst for ESPN's Monday Night Football and the former Cowboys tight end didn't help his case last night when he botched a cliché he tried to use to describe Aaron Rodgers.
Instead of saying Rodgers "pulled a rabbit out of a hat," Witten said Rodgers pulled the rabbit from his head.
Naturally, Twitter pounced on Witten hard for the gaffe, but he took it in stride after the game and even poked fun of himself.
2. In one of the stupidest postseason controversies you'll ever see, some peopel think Astros third baseman Alex Bregman was out of line for posting videos of Houston players, including himself, going deep off Red Sox pitcher, Nathan Eovaldi, who will start Game 3 of the ALCS tonight.
Fortunately, Astros manager A.J. Hinch was smart enough to understand and explain that this was not a big deal in any way.
3. LeBron James enjoyed some daddy-daughter time yesterday and was treated to an outstanding performance of a song from Frozen.
4. WWE celebrates the 1,000th episode of SmackDown tonight. To honor the occasion, the company has put together this excellent photo gallery of backstage shots from the show over the years.
5. I had no idea Cowboys wideout Cole Beasley, coming off a nine-catch, 101-yard game against the Jags Sunday, was a prolific rapper.
6. Maybe it's just me, but this seems extremely creepy. So now fans are just gonna be slobbering all over each throughout the arena to get something for free? Lovely.
7. The latest SI Media Podcast is an in-depth interview with WWE superstar, John Cena. Topics covered include his realization that he can't be a full-time wrestler at 41 years old, his new children's book, Elbow Grease, his insecurities about his looks, whether he can be on dating apps, his WrestleMania match against The Undertaker, why Roman Reigns has it so tough, why he has so much respect for The Miz, whether he can ever go to a bar and have a drink and much, much more. You can listen to the podcat below or download it on iTunes.
Traina Thoughts is the best of the Internet, plus musings by SI.com writer, Jimmy Traina. Get the link to a new Traina's Thoughts each day by following on Twitter and liking on Facebook. Catch up on previous editions of Traina Thoughts right here.And make sure to listen to and subscribe to the SI Media Podcast hosted by Jimmy Traina.
IN CLOSING: Call me crazy, but I'd like to see just a little, teeny, tiny bit of defense in the NFL.