Fantasy baseball 2013 team previews: Washington Nationals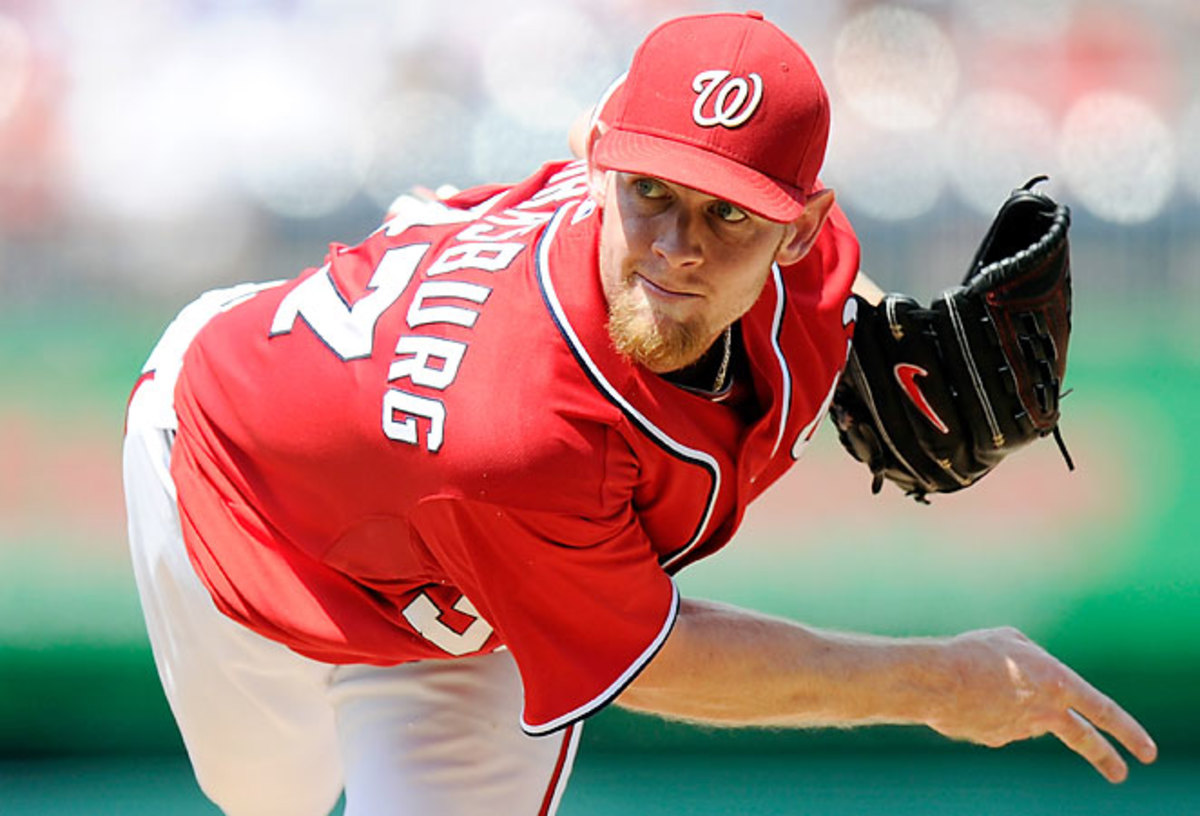 Fantasy baseball 2013 draft prep central: Rankings, position primers and much more
It wasn't supposed to happen. Not last year, anyway. The Nationals entered the 2012 season with promise, but still looked a year away from seriously contending. They could hang in the playoff race given the addition of the second wild card; heck, they might even be able to snag one of those spots if everything broke right. But they were still too young, too inexperienced. They still had to chase down the Phillies and Braves, and after the splashy offseason the Marlins had, the NL East was going to be as tough as ever. It wasn't going to be the Nats' year.
From the first pitch, however, the Washington Nationals proved that 2012 was, in almost every way, their year. At the end of April, they were 14-8 and in first place. One month later, they were 29-21 and still in first. At the All-Star break, they were 49-34 and held a four-game lead in the East. At that point, they'd proven they were for real. They rode arguably the league's best pitching staff to a 98-64 record, the best mark in all of Major League Baseball. Maybe it wasn't supposed to happen, but it did.
Now, the Nats are poised to build on that success. I'll keep my Nats-as-World-Series-champs prediction in my pocket for a few months. We're here to talk about this team from a fantasy perspective, and that potential is nearly as exciting as its promise in reality. Just like last year, it all starts on the mound. Stephen Strasburg is the No. 1 pitcher on my board and a Top-10 player overall. Gio Gonzalez is a Top-50 talent (pending MLB's investigation into his connection to an alleged Florida PED lab). For me, Jordan Zimmermann is tucked just inside the Top 100. And the Nats added Dan Haren this offseason. It's rare enough for one team to have four pitchers in their starting rotation worth drafting in fantasy leagues. The Nats have three pitchers who can carry a fantasy rotation, and a fourth who has done so in the past.
Of course, you can't discuss the Nationals without talking about NL Rookie of the Year Bryce Harper, who had a better age-19 season than Mickey Mantle, Ken Griffey, Jr., Al Kaline, Robin Yount or Tony Conigliaro. My Burning Questions series already examined whether or not Harper can avoid a sophomore slump. The abridged version: I like him. A lot. Washington also features fantasy starters in Ryan Zimmerman, Adam LaRoche, Ian Desmond, Danny Espinosa and Denard Span. After being limited by a shoulder injury, Zimmerman rebounded from a brutal start last season to hit .282/.346/.478 with 25 homers, 36 doubles and 95 RBI. The forever-underappreciated LaRoche posted an .853 OPS, slugging 33 homers and finishing sixth in MVP voting.
There's a lot to like about this team, and fantasy owners who invest in a Nat or two this March likely won't be disappointed. You might even get a little Natitude to go with it.
Projected roster
Lineup:
1. Denard Span, CF 2. Ian Desmond, SS 3. Bryce Harper, LF 4. Ryan Zimmerman, 3B 5. Adam LaRoche, 1B 6. Jayson Werth, RF 7. Danny Espinosa, 2B 8. Kurt Suzuki/Wilson Ramos, C
Rotation:
1. Stephen Strasburg 2. Gio Gonzalez 3. Jordan Zimmermann 4. Dan Haren 5. Ross Detwiler
Bullpen:Rafael Soriano (closer), Drew Storen, Tyler Clippard, Henry Rodriguez, Christian Garcia, Craig Stammen, Zach Duke
Key questions
? Are these middle infielders for real? Every season, fantasy baseball players confront shallow talent pools at second base and shortstop. This is where doing your homework comes in handy. If you miss out on the top tier, you'll need to know where you can hunt for bargains. Odds are you can find one at each position just south of Capitol Hill.
Espinosa followed up a rookie campaign in which he hit 21 homers and stole 17 bases by simply inverting those numbers. In 2012, he hit 17 homers and swiped 20 bags. He probably won't help you in the rate categories; in fact, there's a good chance he'll hurt you. He's a career .239 hitter with a career .315 OBP. He strikes out way too often, as evidenced by a 28.7-percent strikeout rate, and he doesn't take a ton of walks. But the fact remains that 20/20 is well within his reach.
Desmond is a far more interesting case. After two nondescript years in the majors, he exploded to the tune of .292/.335/.511 with 25 homers and 21 steals last year. Was this an anomaly, or did Desmond truly take a step forward? In my opinion it was the latter, and the proof is in the advanced stats. His career-best .332 BABIP was supported by a career-high 17.9 line-drive rate and career lows in ground-ball rate (47.6 percent) and infield fly ball rate (7.3 percent). Those are all signs of a player jumping a level. That makes him the fifth shortstop on my board behind Jose Reyes, Troy Tulowitzki, Starlin Castro and Hanley Ramirez.
? Can StephenStrasburg carry a fantasy team? Yes, yes he can. Strasburg is one of the five best starting pitchers in the majors by any measure, so this really becomes a pitching-versus-hitting fantasy debate. Last year, at 23 years old, Strasburg struck out 197 batters in 159.1 innings, notched a 3.16 ERA and 1.15 WHIP, fanned more than four hitters for each walk and generally dominated the National League. His 2.82 FIP also suggests that he pitched even better than his numbers suggest, and his opponents' BABIP of .311 supports that luck wasn't totally on his side last year. Given that he should log 50 more innings this year than he did last year, he'll go well beyond the 200-strikeout mark. The question come draft time really boils down to: Would you rather have the best pitcher or the 10th-best hitter?
Strasburg will likely be selected near players like Prince Fielder, Josh Hamilton, Jose Bautista and Jose Reyes. There's a significant opportunity cost that comes with passing up on one of those hitters, but I believe Strasburg makes up for it. While pitching as a whole is more volatile than hitting, there's nothing quite as solid as an ace like Strasburg. There won't be a ton of variance in an ace's weekly output, whereas even the best hitters will slump for a week here and there. I'd rather lock in the best pitcher in the league and count on filling my offense later.
? Who is their closer? Last year, Clippard saved 32 games and struck out 84 batters in 72.2 innings while Storen was on the disabled list. Storen eventually took over as the closer after returning from injury, saving four games and striking out 24 batters in 30.1 innings to go along with a sparkling 0.99 WHIP. Even with those two strong arms in place, the Nats went out and signed Soriano to a two-year, $28-million contract that includes a vesting option for a third year. With three guys capable of shutting down the opponent in the ninth, who takes the ball?
The bet here is Soriano. General manager Mike Rizzo probably wouldn't have thrown all that money at Soriano if he didn't plan on him closing. Moreover, Soriano's option vests based on games finished. Scott Boras, his agent, probably wouldn't have negotiated to get that in there unless there was some assurance that Soriano would be finishing those games. Still, all three pitchers carry value. While Soriano figures to be the primary closer, manager Davey Johnson has shown a willingness to play the hot hand at the back end of his bullpen. And they all have serious strikeout ability while posting low rates, making them all worth owning in deep leagues. If you're in a league that counts holds, you'll love the fact that the two who end up as setup men will be doing so for one of the best teams in the league, giving them plenty of hold opportunities.
Sleeper
RossDetwiler: Lost in the Strasburg-Gonzalez-Zimmermann shuffle last year was the quietly effective season from Detwiler, who went 10-8 with a 3.40 ERA and 1.22 WHIP. He didn't put up huge strikeout numbers (105 in 164.1 innings), but his average fastball sits at just less than 93 MPH, and he has command of a curveball and changeup, too. Last year was his first chance to log consistent starts, and he acquitted himself well. He'll likely build on that this year.
Bust
AdamLaRoche: Yes, I referred to LaRoche as "forever underappreciated" earlier in this column. However, he's coming off his best season at age 32, just the third year in his career in which he slugged more than .500. Additionally, first base is one of the deepest positions in fantasy baseball, so 30 homers and 100 RBI might not get a first baseman into the top 15 at the position. With LaRoche's depressed rates, he won't justify a starting spot this year.
Breakout
IanDesmond: Desmond already broke out to a certain extent last year, but he'll become a fantasy mainstay in 2013. Hitting second in a potent lineup will help his counting stats, making .300/20/75/90/20 a very realistic possibility.
NL-only players to know
WilsonRamos: Ramos was hitting .265/.354/.398 with three homers before an injury ended his season. His offensive ceiling is certainly higher than Suzuki's, so Ramos could end up supplanting him as the starter.
Tyler Moore: The slugging lefty posted an impressive .840 OPS in 171 plate appearances a year ago. He'll reprise his role as the fourth outfielder and power bat off the bench.