Breeders' Cup to be Triple Crown winner American Pharoah's farewell
Triple Crown winner American Pharoah will make his final start on Saturday in the $5 million Breeders' Cup Classic.
LEXINGTON, Ky. — The two of them stood quietly in front of the horse's stall for what seemed like a long time. Thoroughbred trainer Bob Baffert was on the right; his wife, Jill, on the left. From between them, American Pharoah pushed his head from the shadows of his enclosure into the natural morning light. Both Bafferts reached up and patted the dark brown hair on the side of Pharoah's neck. Then both slowly backed away, onto the loamy walking path that encircles the inside of the barn. It was a rainy Wednesday morning at Keeneland, where late Saturday afternoon American Pharoah, the first Triple Crown winner in 37 years, will run for the final time, in the Breeders' Cup Classic, the last of 14 races in the two-day Breeders' Cup World Championships.
"Look at those eyes," said Bob. "He's got those amazing brown eyes." His wife shuffled to an adjacent stall, and along with the couple's 10-year-old son, Bode, began playing with Smokey, Bob's old gray saddle pony. Pharoah tossed his head from side to side and exhaled loudly. "He's jealous," said Baffert. "He doesn't like it when Jill pays attention to Smokey." In time the Bafferts wandered away from Pharoah's stall, only to wander back again, letting go and then grabbing hold once more, like parents sitting in the car after dropping off their child at college for the first time, idling in neutral to make the moment last. As long ago as mid-July, barely a month after the colt's historic victory in the June 6 Belmont Stakes, Bob had said that he was already dreading the day when American Pharoah would be gone. "I try not to get to too attached to these horses," he said that morning in California. "They come and they go, you know? But this one, when he leaves, it's gonna be tough. It's gonna be really hard." Now that time is nearly here.
American Pharoah's Triple Crown obliterates years of disappointment
So it is that two very different events will unfold on Saturday in Blue Grass country. The first is the 1¼-mile Breeders' Cup Classic, a horse race that will include not only the first Triple Crown winner in nearly four decades, but also most of the best older horses in training (in racing terms, older means older than 3), as well as American Pharoah's top two Triple Crown rivals. The Classic was potentially a great horse race, but it was diminished on Thursday morning when the 5-year-old mare Beholder was scratched due to a lung irritation that had been discovered after she bled during a light training session. Had she run, American Pharoah—and all the others—would have faced a (possibly) transcendent mare. Beholder would also have lent the race an irresistible Battle of the Genders vibe.
The second event on Saturday will be an affair of the heart, the last race for the most famous and meaningful American racehorse since the glory days of the 1970s. American Pharoah's victory in the Belmont triggered an emotional explosion that shook the track's grandstand to its footings, and still ripples even today. "That roar," says Pharoah's owner, Ahmed Zayat. "That sound. I can still hear it." Whether Pharoah's Triple Crown will alter the long-term course of racing is dubious, but its immediate and visceral effect is not. And soon the colt will be gone, moved to a breeding farm only a few miles from Keeneland (and only a few miles from where he was born) to conduct the far more lucrative business of impregnating mares for astronomical fees.
These are two very different angles, and the juxtaposition is not uncommon in sports. Players and coaches at the ends of their careers often reach their final moments in significant games. The ceremonial goodbye is routinely subsumed by the fight for victory. There is a game to play, a race to run. The time for goodbyes comes later. And not everybody gets to be John Elway. Yet in the case of American Pharoah, this emotional battle is even more acute. (And of course distinctly different, because American Pharoah won't be feeling any emotional struggle at all; he'll just be running counterclockwise the way he always has, with no awareness whatsoever that he's about to move to an entirely new place and take on an entirely new job.) He is adored by the racing public—and significantly beyond—for what he achieved last spring. He is even more beloved by the Bafferts, the Zayats and everyone in their tight circle, who work with him every day. In this way, everything that has taken place since his victory in the Belmont was, in a very real sense, part of a long victory parade. (There were also, in fact, actual parades, at Churchill Downs, Santa Anita and Del Mar.)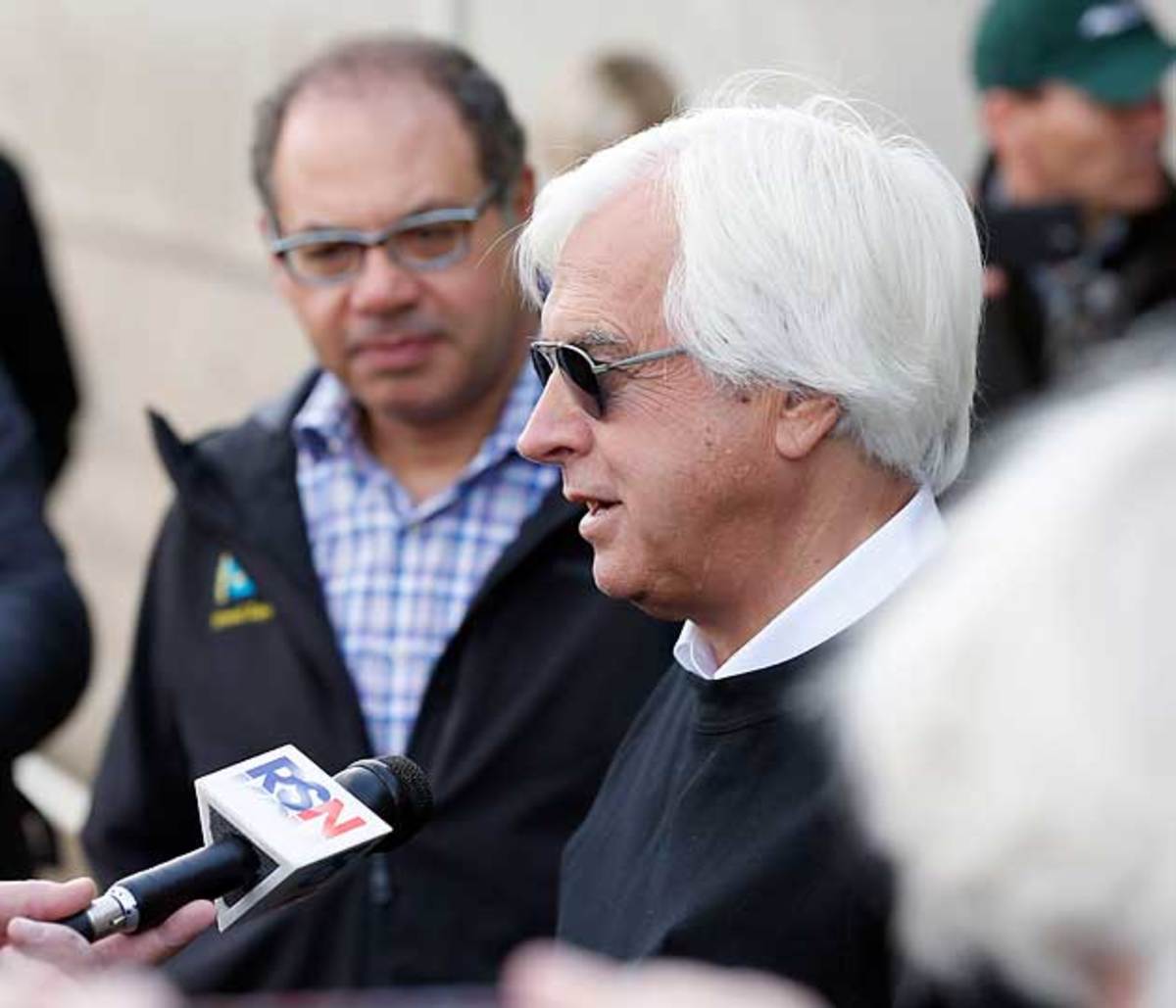 But there were also genuine races, and those races involved other horses, other trainers and other jockeys whose intention was to win those races. Jockey Gary Stevens, a 52-year-old street fighter with an artificial knee and every ounce of his original cojones, best explained this mindset on Wednesday. Stevens is the regular rider on Beholder, and before she was scratched he was juiced at the chance to ride her against Pharoah. "If I can beat American Pharoah," said Stevens on Wednesday, his jaw clenched, "this mare is going to go down in history as one of the great mares in history." When I asked if Stevens and Beholder would let Pharoah get loose on the lead, as he did in the Belmont when he was atop Tale of Verve, Stevens just about spat, "S--- no. This is the Breeders' Cup Classic."
On the micro level, this is a moot point, because Beholder is out. But the macro argument still flies. The other trainers, owners and jockeys in the Classic are not interested in gilding American Pharoah's path to retirement. They are interested in beating him, for the trophy and for the $3 million winners' share of the race's $5 million purse.
In July, Baffert was worried about the possibility of Pharoah getting beaten after having won the Triple Crown. He talked to me about how lousy he felt when Secretariat lost to Onion in 1973. (This was not—and is not—a legacy discussion. More on that later. It's a discussion about watching a great horse lose, in the moment. Period.) At the time, Baffert said, "With everything this horse has done for us, we owe it to him to not send him over there [to the starting gate] unless he is absolutely wound up and ready to run his best race. And I'm not going to. We are at the point now where every race could be his last race. If he shows any sign of going backward, we'll retire him on the spot."
American Pharoah dominates Haskell in return to racing, answers doubters
So they took him to New Jersey to run in the Haskell Invitational on Aug. 2, and it was an easy win. "I would have been crushed if he had lost that race," said Baffert on Wednesday. "His first race after the Triple Crown—he needed to win that race." Four weeks later, American Pharoah was beaten by 3-year-old Keen Ice in the Travers at Saratoga, a race that Zayat was enthusiastic about running, but which Baffert only entered because Pharoah had continued to train enthusiastically. It was an odd race. Pharoah lost the way many other horses lose every day: He was pressed on the lead (by Frosted) and got tired in the stretch. It happens. But there were unusual circumstances. Frosted's regular rider, Joel Rosario, was injured and had been replaced by Jose Lezcano, who rode the colt much more aggressively. "I feel bad," Frosted's trainer, Kiaran McLaughlin, said the next morning while sitting in a golf cart on the Saratoga backstretch. "I feel like I got us both beat." And it's true, he did. (The counterargument is that a great horse, a truly great horse, would have dismissed Frosted and then still held off Keen Ice.)
In the moments after Pharoah's defeat, Zayat, not a man to let his emotions settle before firing off a Tweet or holding a press conference, said that he was inclined to retire the colt. Within days he had backed off that statement, announcing that American Pharoah would make his final start in the Breeders' Cup Classic. Pharoah was a tired horse for a solid month after the Travers. Stevens, who had watched Pharoah jog and gallop at Santa Anita, said this week, "I expected them to announce that he was retiring." But when Baffert increased the colt's training load, Pharoah responded. "The minute I started leaning on him again, he started liking it," says Baffert. "But he was definitely a tired horse after the Travers."
The Breeders' Cup occupies a strange place on the American sports landscape. It's a vital event in the thoroughbred industry, a true Super Bowl of racing (although with 14 races, it is more than a little bloated). But it is run in the middle of both the NFL and college football seasons, and as the World Series comes to a close, a tough time to snag the attention of mainstream fans. But make no mistake, Saturday's Classic—though diminished by Beholder's absence—will still be a very solid test. Honor Code won the prestigious Metropolitan Handicap and the Whitney in New York this summer, and will be running late. Tonalist won the 2014 Belmont (ending the Triple Crown bid of California Chrome). Frosted and Keen Ice are both in play, along with late-developing Smooth Roller. Gleneagles comes from Europe, seemingly misplaced (he's never run on dirt before), but intriguing nonetheless.(If you are wondering about Pharoah's fitness, I exchanged texts with Baffert earlier this week. In the last of them, he wrote just these two words: "Super Chingon." Regular readers of my work will take that to mean that Pharoah is very sharp indeed.)
American Pharoah's future comes into question after stunning defeat
Here, the legacy question. American Pharoah will always and forevermore be the 12th winner of racing's Triple Crown, the miracle horse who broke the 37-year drought that had held racing hostage. These lines will never be erased from his biography. But Baffert wasn't wrong when he wished for only victories for the rest of the year. Defeat applies a thin layer of tarnish, especially among the insiders who will measure Pharoah's greatness by more than just five weeks in the spring of his 3-year-old season. Secretariat, Seattle Slew and Affirmed all won their final starts (Big Red as a 3-year-old, on the turf in Canada; Slew and Affirmed as 4-year-olds in respected New York handicap races). None raced in the Breeders' Cup era, which makes for a tougher coda.
Of course, there is legacy and there is loss. For the Pharoah family, Saturday is not just a climactic horse race, it's the end of a relationship of the sort that none is likely to experience again. Baffert stood in the Keeneland barn on Wednesday, looking across at Pharoah and said, "He's once in a lifetime. I know that."
After the Triple Crown, Baffert was so taken with Pharoah's talent that he begged Stevens—a longtime friend—to exercise Pharoah at least once in the morning. "I told Gary, 'You've never been on a horse like this,' " says Baffert. "I wanted him to feel it. We just never got together on it." He was likewise so taken with the colt's gentle personality that he couldn't resist bringing visitors to the front of Pharoah's stall and handing out carrots. (Baffert did this twice with me.) "People say all the time, 'This is a really kind, nice horse,' " says Baffert. "But with this horse, I mean it. He's a really kind, nice horse."
It has passed in a blur. American Pharoah was born to the Zayat stable just over three years ago, and came to Baffert's barn only 16 months ago. Saturday will be just the 11th race of his career. He will win, or he will lose, and then it will be finished. He will pass into history, but he will not go home.