Always Dreaming's connections bonded by a West Point connection
Vinnie Viola and Terry Finley hit it off right away thanks to a common alma mater: West Point
BALTIMORE – In the fall of 1998, Vinnie Viola took his father, John, to the thoroughbred yearling sales in Lexington, Ky. Viola was 42 years old at the time and wealthy from his work on Wall Street; his father was 78 and would pass away in less than two years. It was John Viola who taught his son to love racing, and, famously, stationed him front of the tote board at Aqueduct Race Track in Queens and told him to study the late changes in betting pools as they occurred with blinding speed. Viola would say years later that as he watched stock tickers he thought to himself, It's so slow. Viola was just beginning to dabble in horse ownership and he wanted to give his father a taste of the sales ring.
The trip was a significant moment for Viola in a life lived large, the fulfillment of a lifelong contract between father and son. It was also at that yearling sale (where supremely bred year-old horses are sold, sometimes at staggering prices, strictly on their breeding and appearance) that Viola was put in contact with Terry Finley. A veteran horseman who was acquainted with both men thought it was a natural fit: Viola had graduated from West Point in 1977, Finley nine years later. Viola was delving into horse ownership with deep pockets and Finley was the president and CEO of a company that specialized in forming owner partnerships. He had named his company West Point Thoroughbreds.
"We hit it off right away,'' says Viola. "There's a very special connection among West Point graduates. It's unspoken, but I felt it immediately."
Finley says, "Vinnie was like a big brother to me. He's still like a big brother."
On muddy track, Always Dreaming separates from pack to win Kentucky Derby
In the early evening of May 6, as the sun fell behind the main grandstand at Churchill Downs on Kentucky Derby day, Viola stood in the front row of the victory celebration on a platform in front of the infield gazebo, answering questions at the close of NBC's national broadcast. Viola and his childhood friend from Brooklyn, Anthony Bonomo, are the majority owners of Derby winner Always Dreaming. They were at the top of the sport, enveloped in a glow that Viola would keep calling "surreal." Nearly 20 years after their first meeting, Finley was not far away, standing on a staircase just out of the view of television cameras but very much part of the joy.
There was a time when Always Dreaming had a single owner: the husband-and-wife team of Bonomo and his wife, MaryEllen. On the recommendation of three bloodstock agents (a bloodstock agent is a professional who specializes in picking out promising young horses based on their pedigree), Bonomo's son, also named Anthony, paid $350,000 for a son of 2012 Derby runner-up Bodemeister in September of 2015. That figure was $150,000 over the maximum that Bonomo had told his son to spend. That purchase was named Always Dreaming by MaryEllen Bonomo and he lost his first two races before Viola bought half of the horse last August at Saratoga.
Under new trainer Todd Pletcher, Always Dreaming won his first two starts of 2017, one at Tampa Bay Downs in January and on March 4 at Gulfstream Park in south Florida, a four-length romp over a modest field in a 1 1/8-mile race.
Finley was watching that day from the clubhouse. Thirty-five years ago, Finley graduated from Harry S Truman High School in Levittown, Pa., went to West Point and served five years in the Army after graduation. Finley says he was preparing to leave the Army in 1990 and take a job with Johnson & Johnson, when Saddam Hussein's invasion of Kuwait delayed his discharge and kept him at Fort Dix in New Jersey. He began attending thoroughbred races and became re-connected to the sport. In 1991, after his discharge, he started West Point Thoroughbreds, built on a partnership business model designed to make horse ownership accessible to a much broader spectrum of people than the billionaires and sheikhs at the top of the sport.
West Point has been a successful venture and currently includes approximately 500 partners and 70 horses. Nine West Point horses have won Grade I races and West Point starters have earned $34 million in purses since the company's inception. Most of the company's success, however, has come in the mid-level, by purchasing two-year-old horses already in training or racing. At the company's annual meeting last December at the Thayer Hotel on the West Point campus, Finley and other West Point executives decided to become more aggressive in several areas, including the selective pursuit of potential Derby contenders. "We're not in a position, financially, to be knocking heads with the really big hitters," says Finley, "But we made a decision to selectively look for that type of horse."
Always Dreaming was their first target. Viola had owned several horses in partnership with West Point in the late 1990s and early 2000s, but Viola was ordered by the NBA to divest of his horse holdings when he became part owner of the New Jersey Nets in 2004 (he is now the owner of the NHL's Florida Panthers, but the NHL has required no divestiture). He sold his shares of the Nets in 2010 and a year later called Finley and asked him to meet on a Wednesday afternoon at Saratoga. "When I decided to get back into racing," says Viola, "the first person I called was Terry Finley." (He added that the second was Bonomo and third was prominent owner Mike Repole). The two men talked through the card that afternoon at Saratoga, although Viola never told Finley directly that he wanted to start buying horses again. "But I sensed it," says Finley.
Later that year, Viola was on vacation in Europe when Finley played his hunch, called and asked Viola to partner (along with another billionaire, B. Wayne Hughes) on a $350,000 yearling purchase. Viola and Hughes went in and the yearling, later named Freedom Child, won the 2013 Peter Pan Stakes in New York and started in the Belmont Stakes that year. West Point and Viola also partnered on Liam's Map, who won the Breeders Cup mile in 2015 and was considered by many a credible threat to American Pharoah if he had run the Classic that year.
After watching Always Dreaming's win on March  4 at Gulfstream, Finley asked Viola if he was willing to sell a piece of the ownership. Finley knew that it would be expensive, so he had contacted Anthony Manganaro, who owns Siena Farm, and asked if he would be interested in sharing whatever Viola was willing to sell.
Kentucky Derby offers numerous horses a chance to step to head of the class
Then Finley called Viola and asked. "I told him we'd be willing to sell one leg," said Viola, employing slang for selling 25 percent. "But you're not going to like the price." The horse was valued at $5 million, meaning that West Point and Siena would have to pay $1.25 million for a horse that had never won a stakes race, multiples higher than any previous commitment for West Point. "It was a huge number," says Finley. But Viola could have sold to others; he wanted Finley involved if Finley could swing it.
First Finley reaffirmed Manganaro's commitment, and then set out building a small syndicate of owners. Eventually he found five of his A-list clients and kept a piece for himself. On March 20, the deal was finalized when West Point and Siena paid $1.25 million to split 25 percent. Twelve days later, Always Dreaming won the Florida Derby by a dominant five lengths, securing a place in the Kentucky Derby and significantly bumping his future stallion value. A month later, Always Dreaming dominated the Derby and a week after that, Finley and his team threw a party at Pennell's Italian Restaurant in Saratoga, an old-school throwdown, with, as Finley says, "champagne and meatballs."
One of Finley's partners is longtime New York Racing Association and NBC race caller Tom Durkin, who retired in 2014 and maintains a home in Saratoga Springs. Durkin's share is by barter arrangement with Finley; in exchange for speeches and commercials, Durkin gets a piece of Always Dreaming. "I wrote a check, a five-figure check," says Durkin. "But Terry didn't cash it." Horse ownership is nothing new to Durkin; he has owned successful harness horses and, once, a thoroughbred in partnership with NBC colleagues that they named Conflict Of Interest. But this is different from any of those and from any of the Derbies he called. "You're just looking at your own horse," Durkin says. "You don't care about the others."
The Best Photos from the 143rd Kentucky Derby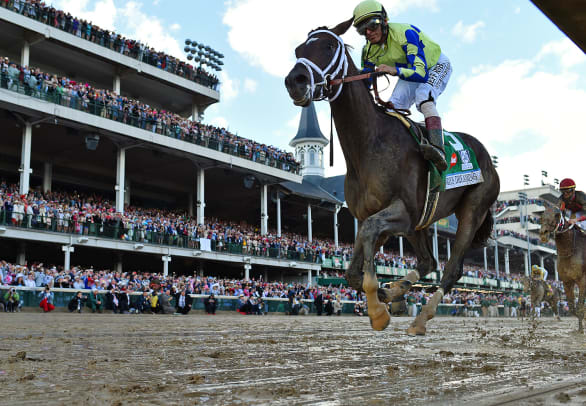 Derby Day was also harrowing for Durkin. After watching Always Dreaming saddled in the paddock, he was attempting to view the Derby in the runway tunnel to the track when he was briefly pinned against a wall by Thunder Snow, the Derby horse who panicked out of the starting gate and refused to race. "I'm afraid of horses,'' says Durkin, whose voice is more closely associated with horses than all but a few others in history. Durkin barely recalls the rest of the race, but he has seen video of himself. "I guess," he says, "that's about the closest I've come to real elation in my life."
The experience is unique to every participant. For Viola, the Derby victory is about the moment and the experience. "I've really learned what a quintessential American event the Derby is," he said afterward. He is a billionaire whose net worth will not move significantly, whether his horses win or lose. He has given Finley something more (although not for free). For Finley, the Derby was about all of the emotions that others have felt, but also about a business risk made good.  With the help of a brother from The Point.