Angels steal Hamilton from Rangers with rare sensible deal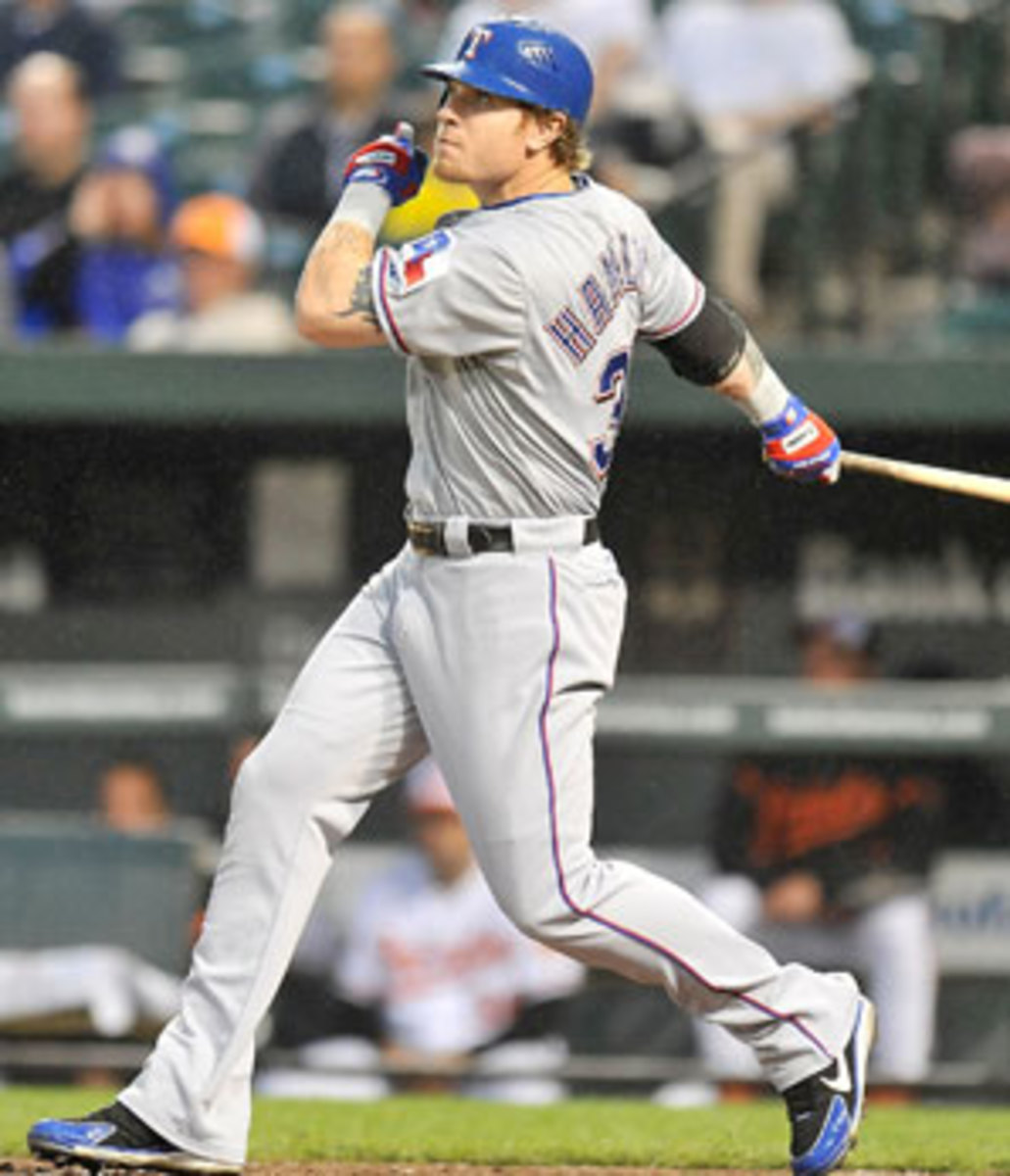 The Los Anaheim Angels stole Josh Hamilton. Actually, they simply paid him what he is worth. But in baseball's free-agency market, that is a steal. Nobody pays the retail price in free agency -- everybody pays more, always. It's like the opposite of Kohl's.
Five years and $125 million for Hamilton? That sounds about right to me, and I don't say that about too many big contracts these days. Albert Pujols's $240 million deal struck me as crazy. So did Alex Rodriguez's $275 million deal. So did Prince Fielder's $214 million deal. 
But this Hamilton deal . . . well, this makes sense.
How did the Angels sign a perennial MVP candidate away from a division rival for a reasonable price?
Don't just look at Hamilton's numbers. Look at his story. So much of free agency is about a story. That is why A-Rod got his two crazy deals. Tom Hicks, who owned the Rangers, bought the story that A-Rod was a Michael Jordan-type figure in the sport, and he abandoned all economic logic to get him. Then the nutty Steinbrenner son, Hank, bought the story that the Yankees simply could not risk losing A-Rod, and he gave him another insane deal.
Last year, Tigers designated hitter Victor Martinez got hurt, and general manager Dave Dombrowski told owner Mike Ilitch that there were good players available, but only one difference-maker, and that was Fielder. Ilitch believed that story, mostly because he is in his 80s and desperately wants to win a World Series.
(The Fielder deal could lead to the Tigers losing Miguel Cabrera. They have to give Justin Verlander a new contract in the next year or so -- he would hit free agency in 2015 -- and that should be a record-breaker. At some point they will hit a ceiling. Ilitch isn't worried about that right now, though. He just wants that one ring.)
Hamilton's story was intertwined with the one we all know so well. He has battled substance addiction. He played in an average of 129 games in his five seasons with the Rangers. He has occasional flaky moments. That was his story, and it made a lot of people nervous.
The Rangers seem to understand this. Hamilton never seemed like their top priority this offseason. They went after starter Zack Greinke. They were in the mix to trade for Arizona's Justin Upton. Meanwhile, Hamilton -- their star, their most famous player, and the centerpiece of their recent contending teams -- was just hanging out there. He was always on tomorrow's agenda.
This fed the perception that Hamilton was a big risk. Think about it. Imagine you ran another major league team. You're probably thinking: "Please, God, don't let it be the Marlins." OK, fine. It's not the Marlins.
Anyway, you're running this Mystery Team, and you are interested in Hamilton, one of the best players in the game. But you have watched the Rangers the last few years, and like everybody in baseball, you realize what a great organization that is. The Rangers know Hamilton better than anybody. And you see that the Rangers are not bending over backwards to keep him. They aren't even bending over forwards. They did let him reach free agency, after all.
This would give you pause, wouldn't it?
I'm not saying this was gamesmanship by the Rangers. But it fed the story.
And the story just got too big. Yes, Hamilton has missed some games. Yes, he is riskier than the typical 31-year-old with his skill set. But that skill set is extremely impressive, and the risk is not as great, relative to his peers, as you might think.
Look at Greinke, who got a six-year, $147 million deal with the Dodgers. Comparing a starting pitcher and an outfielder is extremely tough. I understand that. But dollars are dollars no matter who gets them. Which contract makes more sense?
I know that Greinke SEEMS like a much safer signing. He is a workhorse, extremely bright, a master of his craft. A bunch of teams wanted him, and he might have been able to get a few million more if he had simply sold himself to the highest bidder.
But is Greinke really a safer signing? Or is that just the difference between his free-agency story and Hamilton's?
Greinke is 29 and Hamilton is 31. But since Greinke is a starting pitcher, he is a greater injury risk. We've seen it with Johan Santana and hundreds of others. Flinging a baseball 95 miles an hour is not a natural action. The Dodgers are counting on him doing it for six years.
Hamilton has been significantly better at home (.967 OPS) than on the road (.858). But so has Greinke. His career home ERA is 3.42 and his road ERA is 4.15. In 2011, Greinke's road ERA was 4.70 -- in the National League. That's just one year, but it is part of his resume.
Dodger Stadium is a pitcher's park, and Greinke should do very well there. He is a terrific pitcher. But C.J. Wilson has a lower career ERA, despite pitching most of his career in a hitter's park in Texas. And Wilson got five years and $77.5 million from the Angels a year ago, a long way from Greinke's $147 million.
Now compare Hamilton to his new Angels teammate, Albert Pujols. Hamilton is not the sure Hall of Famer that Pujols is. But he is the same age that Pujols was when he signed with the Angels last year.
Hamilton got $125 million for five years. Pujols got $240 million for 10. So if you're doing the math, and you're not that good at math but you're not terrible at it either, the Angels committed twice as much to Pujols as they did to Hamilton.
It's not so crazy to think that Hamilton can play at an All-Star level for three more years and a very good level for two more. It is crazy to think Pujols will be earning his money when he is 40 years old. That was a huge, huge risk.
The Angels took the Pujols risk because he seemed like the surest thing in baseball. But there are no sure things in this game. Five years and $125 million for Josh Hamilton is certainly not a sure thing. But as big bets go in baseball these days, it's safer than most.