Bourn, Lohse lead best free agents available by position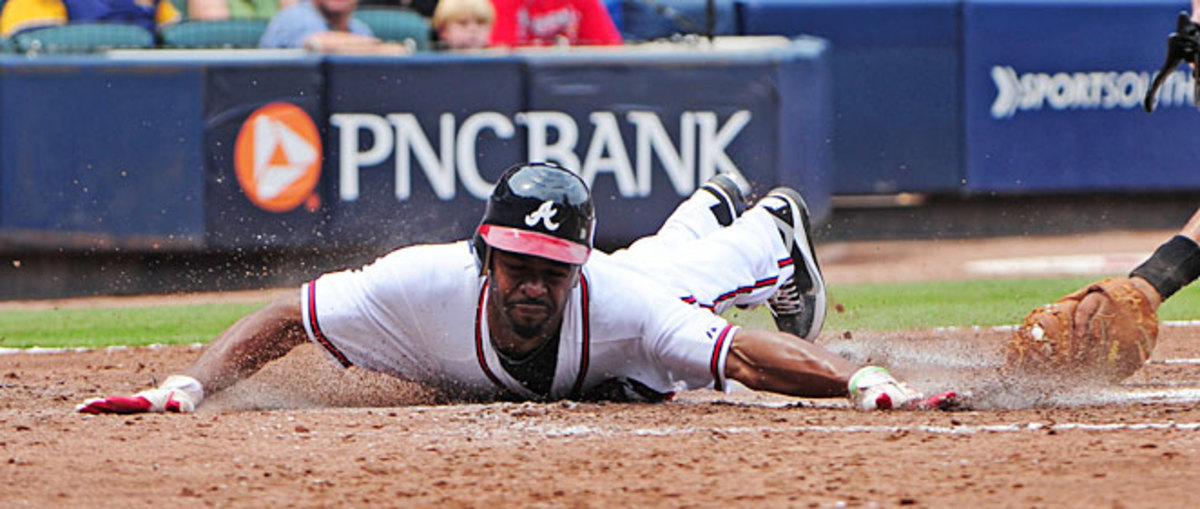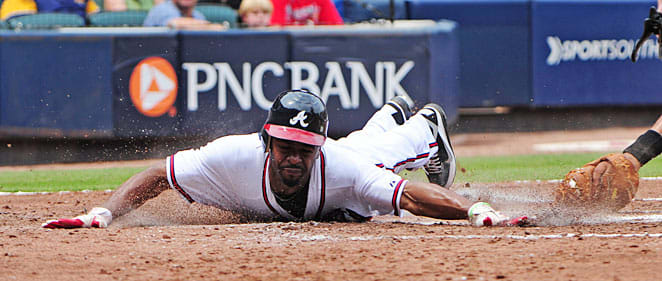 Reliever Rafael Soriano reportedly agreed to terms with the Washington Nationals on Tuesday, taking one of the best remaining free agents off the board. Even with Soriano gone, there is still value to be found all over the diamond in this late stage of free agency. Here are the best available free agents by position:
Catcher: Kelly Shoppach
There is no complete package available on the catching market, but Shoppach is a plus-option in a platoon. The righthanded-hitting 32-year-old has, with the exception of last year, crushed lefthanded pitching. He has a .868 career OPS against lefties despite 2012's subpar .717, split between the Red Sox and Mets.
First Base: Mike Napoli
For now Napoli appears to be in baseball limbo, having reportedly agreed to a contract with the Red Sox at the dawn of the winter meetings, only for the physical to have halted the formal completion of that deal. If the reports that a hip condition is to blame for the stalled negotiations -- and, in a radio interview with WEEI last week, Boston GM Ben Cherington acknowledged only that the club was "still talking" to Napoli -- then that may only hasten the former catcher's move from behind the plate to first base or DH.
If healthy, Napoli can be one of the game's premier power hitters. Only once has he played more than 114 games in a season, but he's effective when on the field. Since 2008 Napoli ranks third behind only Jose Bautista and Albert Pujols in home run rate, defined by at bats-per-home run, while his career slugging percentage is .507. He remains the only impact power hitter available on the market.
After Napoli, the next-best first baseman is Casey Kotchman, a slick fielder who batted .306 with the Rays in 2011, though it was sandwiched between a .217 with the Mariners in '10 and a .229 with the Indians in '12.
Second Base: Kelly Johnson
The market for Johnson, who hit 16 homers but with a subpar .678 OPS in 142 games with the Blue Jays, has been so quiet that his name hasn't been mentioned on MLBTradeRumors.com since Oct. 29, the day after the World Series ended. Johnson, a lefthanded hitter, remains a second baseman with some pop -- he has averaged 21 homers the last three years -- but he struggles to get on base, with a .308 OBP the past two seasons. His strikeout rate has climbed each of the past three seasons to 27.4 percent of all plate appearances. Advanced defensive metrics rate him as a roughly average fielder, but his power upside is worthwhile if only he can cut down the strikeouts.
Third Base: Bounceback veteran
Pick your candidate of choice -- Scott Rolen, Chone Figgins or Brandon Inge -- and hope for the best. The third-base market was particularly thin this year: Jeff Keppinger signed a three-year deal, and Jack Hannahan landed a two-year deal in the same offseason he was non-tendered.
All that's left at the Hot Corner are end-of-their-career players trying to reclaim former glory. Rolen, 37, hasn't decided whether he'll play in 2013 or retire; he had a terrific 2010 (20 HRs, .854 OPS) but he's had two subpar and injury-plagued years in a row with the Reds, hitting 13 HRs with a .698 OPS in 157 games.
Figgins, who'll turn 35 next week, was nothing short of a disaster on his four-year, $36-million contract with the Mariners, especially the last two seasons in which he batted in the .180s with OBPs in the mid-.200s. Seattle released him last fall with one year still left on his deal.
And Inge, the 35-year-old released by the Tigers last April, contributed some clutch hits for the A's, while hitting 11 homers in 74 games in Oakland, though he struggled to reach base consistently and had just a .675 OPS.
Shortstop: Alex Gonzalez
Given his age (he'll be 36 before Opening Day) and recent injury history (a torn ACL last May), Gonzalez is probably not an everyday player anymore, but at least until his knee surgery he showed he can still use the glove and pop the occasional homer. In addition, until his brief 24-game stint with Milwaukee last year, he was still a very good fielder in 2010 and '11; in fact, the Fielding Bible's Plus/Minus system rated him the No. 1 shortstop in the game in '10. Over the last three years, Gonzalez's 42 homers are tied for eighth among shortstops, and his .414 slugging percentage ranks 10th among those with at least 1,000 plate appearances.
Leftfield: Scott Hairston
The 32-year-old Hairston has carved out a profitable niche as one of the game's best platoon specialists, with a strong line against lefthanded pitchers in 2012: .286/.317/.550 with 11 homers in 199 plate appearances. What also helps is his versatility. He played all three outfield positions last year and showed some power against righties as well, hitting nine homers with a .457 slugging percentage in exactly the same number of PAs as he faced lefties.
Centerfield: Michael Bourn
Arguably the game's best defensive centerfielder and one of its better leadoff hitters, Bourn's quandary is not any personal shortcoming -- save, perhaps, the out-of-his-control fact that he's already 29 -- but one of finding a team that still needs a player at his position and that can also afford a player of his caliber. In the last four years Bourn has had a .348 OBP while averaging 54 steals per season; his Ultimate Zone Rating in that time is 45.3, meaning he has saved that number of runs, which ranks first among all big league outfielders.
Rightfield: Ryan Sweeney
He's not a strong fit as an everyday player -- the lefthanded-hitter has a .225 career average and .579 OPS against lefty pitchers -- but Sweeney would make a good, defense-minded platoon player. His .293 career average against righthanders is good and, though he doesn't have the power profile of a typical corner outfielder (14 career HRs in 1,900 PAs), he's an excellent fielder. His UZR/150 -- Ultimate Zone Rating per 150 games -- ranks second among active rightfielders behind only Jason Heyward.
Designated Hitter: Delmon Young
In the ALCS, for which he was named MVP, and the World Series, Young showed the tantalizing potential that made him a No. 1 overall pick a decade ago, as he went 11-for-31 with three homers and three walks. His last two regular seasons, however, have been plagued by his making too many outs, averaging 15 homers and posting a subpar .299 OBP, which is too small of a payoff for someone who's a poor fielder. That said, he's only now entering his age-27 season, when many players peak, meaning some team will undoubtedly still take a chance on Young realizing his full abilities on a consistent basis.
Righthanded Starting Pitcher: Kyle Lohse
Lohse had a terrific 2012, going 16-3 with a 2.78 ERA in 211 innings and 143 strikeouts, all of which were career bests, but he hasn't found the market to be to his liking. He is, after all, 34 years old and not much of a strikeout pitcher (6.1 K/9), who skews toward being a flyball pitcher that benefited from playing in St. Louis last season. Then again, his ERA+ -- which adjusts for league and ballpark -- still ranks 18th in the majors over the last two seasons, a performance commensurate with at least a No. 2 starter. Running in second place for best available righthanded starter is Shaun Marcum, whose road ERA the past two seasons (2.67) is the best in the majors.
Lefthanded Starting Pitcher: Joe Saunders
Pitching in Arizona is often a detriment to pitchers' careers, but Saunders seemed to find his way in the desert. He had a 3.96 ERA in 424 2/3 innings for the Diamondbacks, spanning from a late July 2010 trade to a late August 2012 trade to the Orioles. For Baltimore he made nine starts with a 3.21 ERA, including two playoff outings with identical lines of one run allowed in 5 2/3 innings. Like Marcum, Saunders pitched well on the road, with a 2.66 ERA away from his home park in 2012. Also worthy of consideration are Erik Bedard and Dallas Braden.
Set-up reliever: Francisco Rodriguez
K-Rod had the worst ERA (4.38) and WHIP (1.33) in his career last season, but his strikeout rate remained high at one per inning, showing he hasn't lost his ability to miss bats. In the two preceding years, 2010 and '11, he had a 2.44 ERA with 48 saves in 129 innings and a 10.2 K/9. His down year in Milwaukee was at least partly attributable to an increased rate of home runs-per-fly ball and a decreased rate of stranding runners on base, two numbers that suggest Rodriguez's statistics under-performed his abilities last year. Also, though he's been a big leaguer for 11 season, he only turned 31 last week.
Closer: Jose Valverde
He wasn't very good in consecutive postseasons -- and so shaky this past fall (9 R in 2 2/3 innings) that he lost his job as Tigers closer -- but Valverde was outstanding for two straight regular seasons, converting 84 of 89 saves with a 2.99 ERA over 141 1/3 innings in 2011 and '12. He'll be 35 by Opening Day, but just since 2000 there have been 40 seasons in which a closer that age or older has saved at least 30 games.