Musial deserves to be remembered as one of baseball's best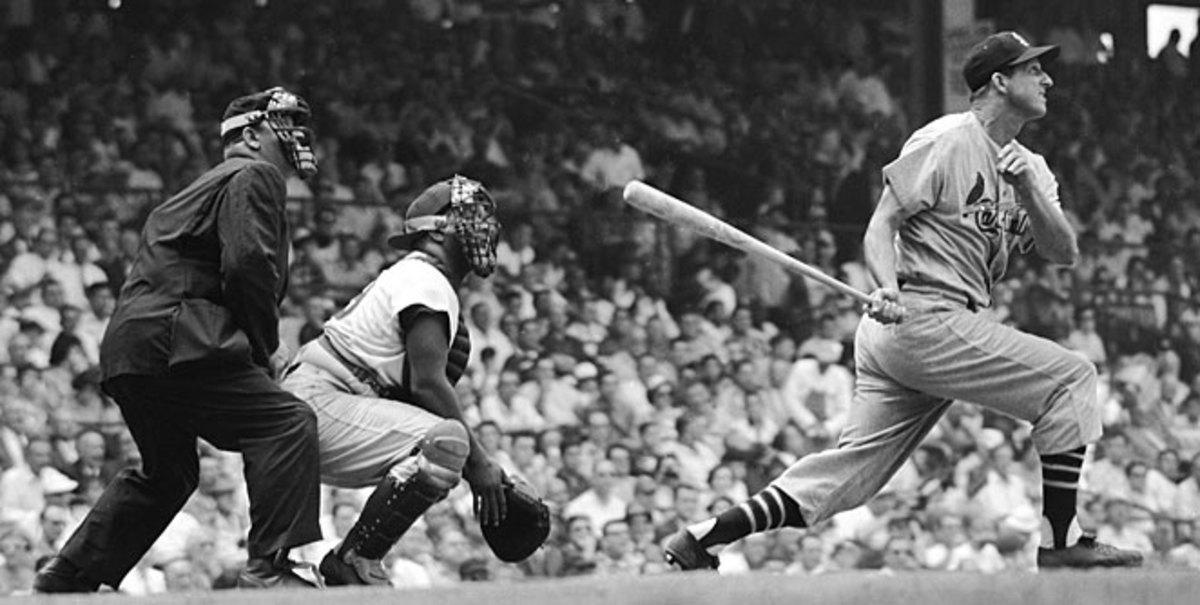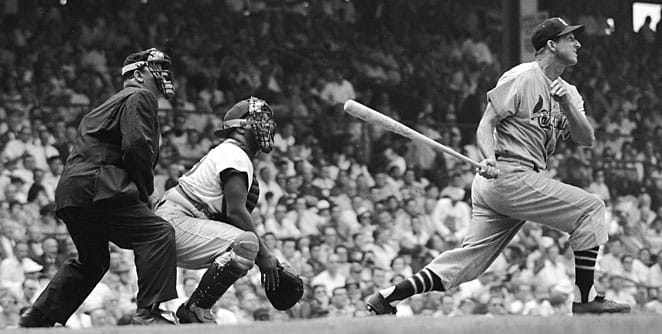 We took Stan Musial for granted. When he retired after the 1963 season, after 24 straight All-Star appearances, seven batting titles, three world championships, three National League Most Valuable Player awards and 11 other top-10 finishes in the MVP voting, he ranked in the top 10 all time in hits, runs, doubles, home runs, RBIs, walks, total bases and slugging percentage. His 6,134 total bases were a record (only Hank Aaron has passed him since), his 725 doubles were the second-most of all-time (only Pete Rose has since passed that mark), as were his 3,630 hits (with Rose and Aaron having since bumped him to fourth).
He was also one of baseball's great ambassadors and gentlemen, giving resonance to his nickname "The Man," and a constant presence in St. Louis for seven decades from his rookie season in 1941 right up until his death at the age of 92 on Saturday.
Despite all of that, Musial always seemed to be an afterthought when naming the greatest players in the game's history. When Major League Baseball's All-Century Team was named in 1999, he had to be added by the league after being left off the 25-man fan-selected roster. During his career, he was overshadowed by Joe DiMaggio and Ted Williams in the 1940s and Willie Mays and Mickey Mantle, among others, in the 1950s. Having bounced between the outfield and first base over the course of his career, he doesn't come up when discussing the greatest players at a given position (which was one reason he failed to crack the All-Century Team vote).
He was easily the greatest player St. Louis has ever had, and he was properly feted as a living legend in Cardinal country. To the rest of the United States however, his modest, jovial nature seemed to undermine his importance. In his later years he was seen as a kindly old man in a red blazer, always quick with a smile and his harmonica, but he never demanded the reverence of surly legends like Williams and DiMaggio, or tragic figures like Mantle and Clemente, or icons of struggle and defiance like Aaron and Mays. It probably didn't help that the enduring image of Musial from his playing days was not one of power or grace but of his unusual, hunchbacked batting stance.
Nonetheless, Musial was arguably one of the 10 greatest hitters in major league history. He hit .331/.417/.559 over the course of his career, good for a 159 OPS+. Those are MVP-quality numbers in any given season in any given era; Musial, who finished in the top two in the MVP voting seven times in his career, put them up over 22 seasons and 12,717 plate appearances, the eighth-most of all time.
Born Stanislaw Franciszek Musial on Nov. 21, 1920 in Donora, Pa., the same mining town that would later produce Ken Griffey Sr. and Jr., Musial, the son of a Polish immigrant, signed with the Cardinals in 1937 at the age of 16 and made his professional debut as a pitcher the following spring. It wasn't until 1940 that he started playing the outfield. The following season, having finally abandoned pitching, he hit .359 with 29 home runs in the minor leagues, prompting his major league debut that September at the age of 20.
Musial hit .426 in his cup-of-coffee in 1941 and .315/.397/.490 as a rookie in 1942, helping the Cardinals to their first World Series title in eight years. The next year, he led the majors in all three slash stats with a .357/.425/.562 line as well as with 220 hits, 48 doubles, 20 triples, 347 total bases, all while striking out just 18 times. He also made his first All-Star game (he'd never miss one the rest of his career), and won his first MVP award. Musial led the St. Louis back to the World Series that year, where they lost to the Yankees, and the next, hitting .304/.360/.522 in the Cardinals' six-game victory over the Browns before missing the 1945 season while in the Navy.
If there were any suspicions that Musial had feasted on weak, war-time pitching in those early seasons, they were put to rest over the remainder of the decade. Musial hit .365/.424/.587 with 228 hits, 50 doubles and 20 triples in 1946, winning his second MVP, leading the majors in batting average, hits, triples and total bases (366), and the NL in runs (124), doubles and slugging percentage.
Two years later, at the age of 27, he produced one of the greatest seasons in major league history, hitting .376/.450/.702, all career highs (and good for a 200 OPS+), with 230 hits, 39 home runs, 131 RBIs, 135 runs scored and 429 total bases. He led the majors in batting average, slugging percentage, hits, doubles, triples, and total bases, and the NL in runs, RBIs and on-base percentage. Between 1938 and 1994, only three men posted a single-season slugging percentage of .700 or better: Ted Williams (twice), Mickey Mantle in 1956, and Musial in 1948, and no one since has collected more total bases than Musial did that season, which resulted in his third and final MVP award.
Musial never replicated that season, but he was nonetheless remarkably productive and consistent well into his late 30s. From 1946 to 1958, his age-37 season, he hit .339/.427/.586, averaging 195 hits, 28 home runs, 106 RBIs, 109 runs, 39 doubles, nine triples and just 34 strikeouts per season, and in 1957 was named Sports Illustrated's Sportsman of the Year. When he hit .255 at age 38 in 1959, he asked for a pay cut. In his penultimate season, 1962, he hit .330/.416/.508 over 505 plate appearances at the age of 41. More notably, during spring training of that year, he and third baseman Ken Boyer moved from their usual private beach-front condos into in an integrated motel as a show of solidarity with their African-American teammates.
Musial retired after the 1963 season and moved into the Cardinals front office, later serving as their general manager for their world championship season of 1967. In 1969 he was elected to the Hall of Fame on the first ballot.
Musial married his high-school sweetheart, Lillian Labash on his 19th birthday, and his death follows hers by less than eight months. The Musials are survived by four children, 11 grandchildren and 12 great-grandchildren. Musial is also survived by the game of baseball and millions of fans who should never take his greatness for granted again.