Jhonny Peralta's name found in records of man linked to PED scandal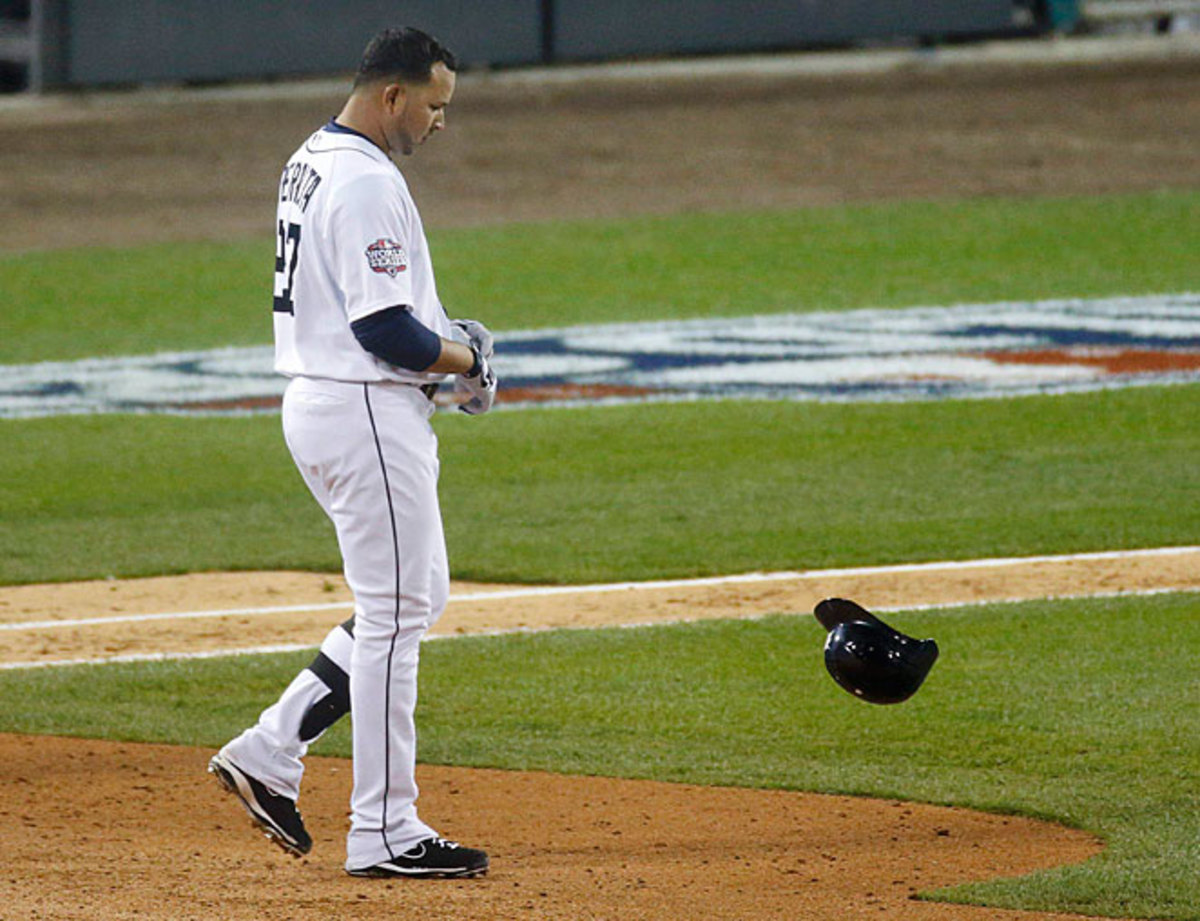 Detroit Tigers shortstop Jhonny Peralta is named in the records of Tony Bosch, the director of the Biogenesis wellness clinic in Coral Gables, Fla., that is the target of an MLB investigation into performance-enhancing drugs, according to sources familiar with the records.
Peralta brings to 12 the number of baseball players connected to Bosch's notes, and adds to one of the two threads that have emerged in the Biogenesis case: Peralta is the fifth client of the ACES agency of Seth and Sam Levinson and with an association with Juan Nunez, a former runner for the agency, to be connected to clinic records.
Previous ACES clients named in reports are Rangers outfielder Nelson Cruz, Nationals pitcher Gio Gonzalez, Mariners catcher Jesus Montero and Blue Jays outfielder Melky Cabrera. Nunez was banned by baseball after he was tied to Cabrera's attempt to stage a web site selling a fake PED.
Peralta does not appear to be directly tied to PEDs in the records, as was also the case with Montero. The Levinsons referred comment to an attorney for Peralta, Barry Boss, who released this statement on behalf of Peralta: "I have never used performance enhancing drugs. Period. Anybody who says otherwise is lying."
The Tigers were contacted about Peralta by the Miami New Times, which acquired the Bosch documents and broke the original story. Tigers president Dave Dombrowski, when asked about Peralta being connected to Bosch's records, replied, "I won't get into that."
In their original story, the Miami New Times listed the names of seven baseball players, all of whom were referenced to specific substances or schedules. Editor Chuck Strouse wrote in a story Wednesday that the publication withheld or redacted the names of others out of "an abundance of caution." Since then, the names of Milwaukee outfielder Ryan Braun, Yankees catcher Francisco Cervelli, Baltimore infielder Danny Valencia, Montero and Peralta have been reported -- with the possibility that names of more baseball players could surface.
VERDUCCI: Big names surfacing in scandal makes for a sad day for sports
The University of Miami has emerged as the other main thread in the investigation. Four former Hurricanes players have been named: Braun, Valencia, San Diego catcher Yasmani Grandal and Detroit minor league pitcher Cesar Carrillo. Miami athletic trainer Jimmy Goins also is named in the notebooks, as is Yankees third baseman Alex Rodriguez, a major benefactor to the Hurricanes baseball program whose name is attached to the Miami baseball stadium.
Peralta, 30, is a career .264 hitter who has played the past 2 1/2 seasons with Detroit. The Dominican-born Peralta was traded in July 2010 from Cleveland, where he had played since 2003. Peralta recently told The Detroit News he has lost 18 pounds after finishing last season at 236 for the American League champion Tigers.
VERDUCCI: MLB turning up heat on A-Rod in investigation
Major League Baseball is investigating all references to players in Bosch's notes. Baseball officials met Monday in Miami with Strouse to request access to the logbooks. Strouse told SI.com on Monday he was "deliberating" on the request and wrote in a story Wednesday, "We will decide in the next few weeks what to do with the trove of records."
Wrote Strouse, "Of course, we do want justice. And -- as a parent of three kids who play sports -- I want badly to discourage use of these drugs that endanger peoples' health. Major League Baseball is the only body that can sanction players involved with performance enhancing drugs."
VERDUCCI: MLB takes yet another hit with latest PED story
Braun, in a statement released Tuesday night, confirmed a business relationship with Bosch in which he said his attorneys, "who were previously familiar with Tony Bosch," hired Bosch as a consultant during the appeal of his 2011 failed drug test. Braun's statement did not explain the previous association between Bosch and his attorneys.
One of Braun's attorneys, David Cornwell, said in a statement he had not been previously aware of Bosch. Another of Braun's attorneys, Christopher Lyons of Miami, whose name appears multiple times in Bosch's notes, previously represented Wayne Odesnik, the ATP tennis player who pleaded guilty in an Australian court in 2010 to importing vials of HGH. Odesnik served a one-year ban from the ATP. Odesnik is listed in the notebooks of Bosch as a Biogenesis client.
In 2011, Lyons, addressing Odesnik's possession of HGH, said, "How he got it, where he got it, where he paid for it, whether it was a doctor's prescription or over the Internet ? all that stuff ? we are not going to be able to discuss that."
Lyons did not respond to a message for comment.
Cervelli confirmed he sought Bosch for supplements he termed "not prohibited by MLB" after breaking his foot in March 2011.
Valencia denied any connection to Biogenesis and said he has "never taken PEDs."
Montero denied to The Seattle Times any connection to Biogenesis or Bosch.
UPDATE: On Wednesday evening, Seth Levinson responded with the following comment: "Anyone who knows us, knows that it is absolutely ridiculous to think that we would ever condone the use of performance enhancing drugs. Our work over the last 25 years demonstrates that ACES is built on a foundation of honesty, integrity, and doing things the right way. Neither Sam nor I or anyone else at ACES have ever met or even heard of Anthony Bosch until the recent News stories nor does anyone have any knowledge of or connection to Biogenesis. Moreover, Juan Nunez ceased doing work on behalf of the agency as soon as his involvement in the Melky Cabrera matter came to light. The MLBPA's investigation into that matter found that we had no involvement in or knowledge of any wrongdoing. Similarly, in this case, we are not involved and do not have any knowledge as to what took place or who was allegedly involved."