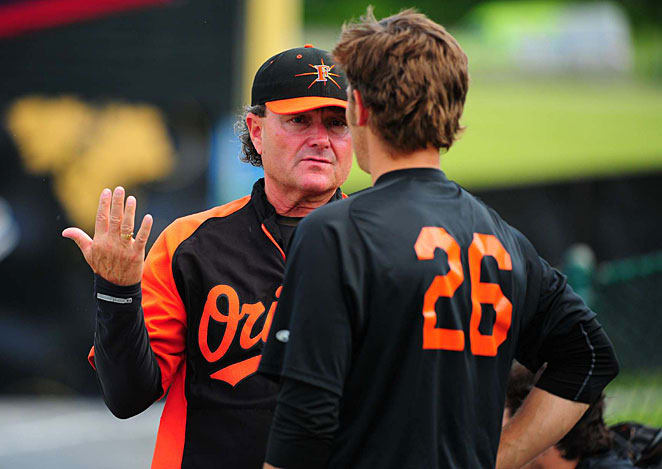 There's a magic number that looms over every baseball game, one every bit as important in parsing wins from losses as the sport's iconic integers of 9, 27 and 90: 39
What's so magical about 39? It's frequently the dividing line between winning and losing.
First, some background: As a major league pitching coach, Rick Peterson always clutched a series of index cards, on which he had written matchup data for his relievers facing opposing hitters.
By the time the sixth and seventh innings rolled around, he'd consult his manager and forecast potential late-inning matchups, particularly if it meant the opponent's middle-of-the-order would bat for a fifth time against their closer in the ninth inning.
"So you start using your bullpen in a way to avoid that," he says.
Peterson, now the Orioles' director of pitching development, previously was a big league pitching coach for the Athletics, Mets and Brewers, and it was during his time in Oakland that he had this revelation. He began recognizing a pattern in 2003, the year Moneyball was published and when the A's were developing their reputation as a fertile ground for quantitative analysis of the sport.
Oakland's Opening Day rotation that year had four lefthanded starters, and Peterson learned that it was best to use his righthanded-specialist, Chad Bradford, as a preemptive strike against tough righty hitters even before his starter was exhausted. The reasoning was often to avoid matchups two or three innings later as much as it was about a particular at-bat in the present.
Peterson asked the team's analytics department to research the correlation of winning percentage with the number of batters faced in a game. That research, he said, found a tipping point between 38 and 39 batters faced.
"Once they came back with that information," said Peterson, who advocates for the use of biomechanics and advanced analytics in pitching through his company 3P Sports, "that answered my question. You've got to manage your bullpen [because] it's critical that the 3-hole hitter doesn't come up for the fifth time."
Here's why: Since 1991 home teams that have faced fewer than 39 opposing batters in a nine-inning game -- four full times through the lineup, plus three additional hitters -- win roughly three-quarters of the time (74 percent) while teams that have faced 39 or more hitters have won only 31 percent of games.
Moreover, in the last 22 seasons home teams that have faced 39 opposing hitters have won almost exactly 50 percent of their games -- 50.082 percent, to be more precise -- making 39 the inflection point of winning or losing.
How many hitters bat in a given name is a simple equation: Outs Made + Runs Scored + Men Left on Base. In a nine-inning game there are 27 outs, so any pitching staff that faces only 27 batters has a 1.000 winning percentage because it either threw a perfect game or eliminated the only baserunner(s) with a double play, caught stealing or pickoff.
With each additional batter faced, a team's chance of winning decreases by a few percentage points.
(An important note on methodology: Peterson's original data could not be obtained, so it's been mimicked here as best as possible. Data was studied only for home teams in nine-inning games in order to guarantee that the club got 27 outs, permitting an apples-to-apples comparison of only games in which a pitching staff got the same number of outs.)
It is reasonable and even intuitive to assume that the more batters a team faces, the more runners and runs it allows and, thus, the more likely it will lose. It is no accident, though, that 39 is the dividing line, as that equates to a fifth plate appearance from an opponent's No. 3 -- and, most often, its best -- hitter.
That's why a club's expected winning percentage dips below 50 once it faces 40 batters in a game because then the opponent's Nos. 3 and 4 hitters are both batting a fifth time. The difference between 38 batters faced and 39 is the difference between the No. 2 hitter making the last out and the No. 3 hitter getting a fifth plate appearance, where typically there is a lineup's biggest gap in performance.
Across the majors in the period studied, No. 3 hitters have an OPS that's 103 points greater than No. 2 hitters, .848 to .745. (By contrast, the OPS of No. 4 hitters is only three points worse than No. 3 hitters.)
This study emphasizes the importance of limiting baserunners not only for their own sake in run prevention but also to avoid having an opponent's lineup cycle an extra spot later in the game. Errors and intentional walks in the early innings, even if they don't directly lead to a run, may indirectly incur more damage in the later innings.
There necessarily has to be some number of batters faced where one's chance of winning goes from greater than 50 percent to less than 50 percent; knowing that the number is 39 won't change much how managers make individual decisions in a game but will govern their overarching philosophy of managing.
"That's got pitching and defense written all over that thing," Rays manager Joe Madden said, when presented the data. "It starts with your pitching staff. If you have quality starters, quality relievers, that [batters faced] number should be pretty much in that realm [lower than 39] all the time.
"In talking about the defense, I just believe there is that ability to gain more outs just by being in the right place -- paying better attention to spray charts or whatever, because there's more outs to be had. Walks speak [to] that. Errors speak [to] that."
(Maddon also noted that he had reviewed related data suggesting a similar relationship between pitches thrown and winning percentage. He said that number was 145 -- if a lineup sees more than that number of pitches in a game, its winning percentage is roughly 70 percent, while seeing fewer than 145 pitches cuts that winning percentage roughly in half.)
What practical use a manager can glean from the numbers correlating batters faced with winning percentage is not whether he should, say, intentionally walk Miguel Cabrera with first base open in the seventh inning of a mid-May home game. Instead, it's about the big picture and a governing principle of how to manage.
In general, it remains advantageous to shy away from extending the opponent's lineup with intentional walks and shortening one's own with sacrifice bunts. Furthermore, errors hurt one's club for how it rotates the opposing lineup even if a run doesn't score in that inning. And, just as Peterson discovered, proactive bullpen use should be encouraged, not only to squelch rallies but also to prevent unnecessary lineup turnover.
The power of 39 is derived more from math than from magic, and its impact on games is real.