Hernandez deservedly wears crown as game's highest-paid pitcher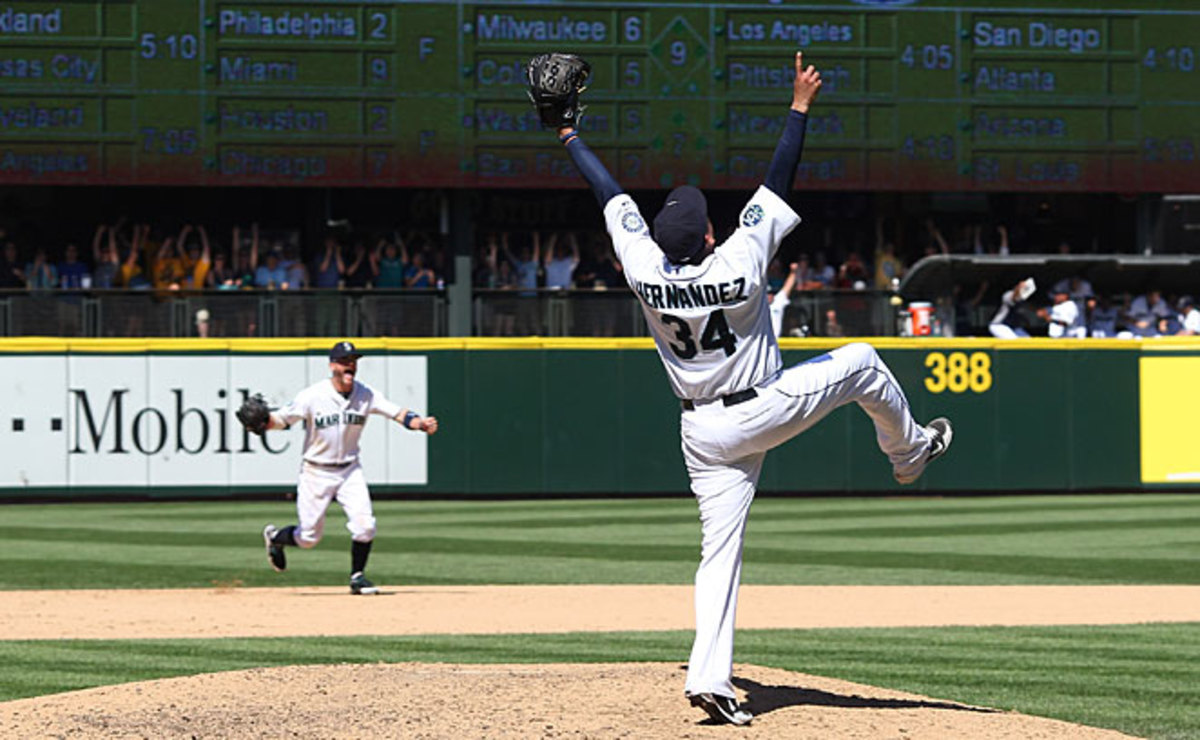 "King" is a title of prestige and power, and it has always been a fitting nickname for Seattle Mariners ace Felix Hernandez, who has earned the titles of Cy Young winner, three-time All-Star, perfect game thrower, wins leader and ERA champion.
For years he has arguably been among the game's best pitchers, but on Thursday his monarchy became absolute in one regard, with USA Today reporting that Hernandez and the Mariners were in the process of finalizing a seven-year, $175-million extension that will give King Felix the crown of highest-paid pitcher in baseball history.
Hernandez's new deal trumps the precedents for both largest total value ($161 million for the Yankees' CC Sabathia) and the greatest average annual value (the $24.5 million for the Dodgers' Zack Greinke).
GALLERY: Baseball's $100 Million Men
Any contract of that length and value, especially in the notoriously combustible profession of pitching, ought to make a club squeamish, but Hernandez's youth, durability and track record ought to quell some of those fears.
In fact, Hernandez is still shy of the purported age-27 peak and thus is uniquely positioned to be a deserving highest-paid pitcher in baseball history -- at least for the next two years until the Dodgers' Clayton Kershaw and the Tigers' Justin Verlander become free agents.
Hernandez, who had two years remaining on his five-year, $78-million contract, was set to become a free agent after the 2014 season alongside those two, which would have formed the ultimate dream free-agent pitcher market. With the new national television contract expected to drop about $25 million annually into each franchise's coffers, all long-term contracts are growing rapidly in sheer dollars, but Hernandez's worth transcends such payroll inflation.
Support for a deal of this magnitude requires elite standards of both performance and health. Though most monarchs don't have to take entrance exams, King Felix passes both with flying colors.
Not only has Hernandez made at least 30 starts and thrown at least 190 innings in each of his seven full seasons, his last four particularly stand out, with at least 232 frames thrown each year. Hernandez's 954 innings since 2009 are the most in the majors, even more than the celebrated workhorse Verlander (exceeding him by a paltry 1/3 of an inning) and 49 innings more than third place on that leaderboard, Sabathia.
Furthermore, in those four seasons Hernandez ranked second in the majors in ERA at 2.81, trailing only Kershaw, and ranked third in strikeouts with 894 behind only Verlander and the Giants' Tim Lincecum.
In fact, Hernandez is one of only 16 pitchers in big league history with at least 230 innings and an adjusted ERA -- i.e. ERA+, in which 100 is league average -- of at least 105 in each of his age-23 through age-26 seasons. (Hernandez greatly exceeded that total three of the four years, with a 171 in '09, 174 in '10 and 122 in '12 but only had a 109 in '11.)
Of his 15 predecessors who met this standard of 230 innings and a 105 ERA+ from ages 23 through 26, seven are Hall of Famers (Bert Blyleven, Tom Seaver, Don Drysdale, Robin Roberts, Hal Newhouser, Dizzy Dean and Walter Johnson), one is a future Hall of Fame lock (Greg Maddux), another is one of the greatest statistical pitchers of all-time (Roger Clemens) and four went on to have long, steady careers (Mark Buehrle, Lon Warneke, Larry French and Eddie Rommel) while only two had fairly abrupt ends (Mike Witt and Nap Rucker).
King Felix has also accounted for the fourth-most value among all big league pitchers from 2009 through 2012, according to FanGraphs.com's Wins Above Replacement (WAR), which pegs Hernandez at 24.2 wins, behind only Verlander, Cliff Lee and Roy Halladay.
While the consensus choice for title of current best pitcher is Verlander, Hernandez is barely a half- or quarter-step behind him. And Hernandez only turns 27 on April 8, while Verlander will be 30 in two weeks. That three-year difference is even bigger than it seems when it comes to projecting seven-year contracts on starting pitchers. Hernandez will be 33 in the final season of his pact, when he could reasonably be expected to still be at or near peak form.
Kershaw, of course, will only be 25 in March, putting him on course to land an even richer deal than Hernandez in two years, given that he's lefthanded, would be on the open market and currently plays for the team with the most money and the richest TV deal.
For now Hernandez is King, both on his own merits and the Mariners' need for a franchise player to be a building block on which they can construct a contender in the increasingly competitive AL West.
Keeping Hernandez in Seattle long-term is also validation of sorts for general manager Jack Zduriencik, who has received a barrage of trade offers over the years but rebuffed them all, insisting he'd keep his ace. It's impossible to judge whether that was the best strategy without knowing the particulars of the trade proposals and whether any of them would have been sufficiently franchise-changing for the quantity and quality offered, but Zduriencik's insistence on holding onto Hernandez certainly looks a lot better given the player's willingness to remain with the club long-term.
From the Mariners' perspective, this extension for Hernandez seems sound in reasoning, given his talent, his age, his history and the marketplace. From Hernandez's perspective, well, it's safe to say it's good to be King.