Helton sorry for DUI, ready to move forward in '13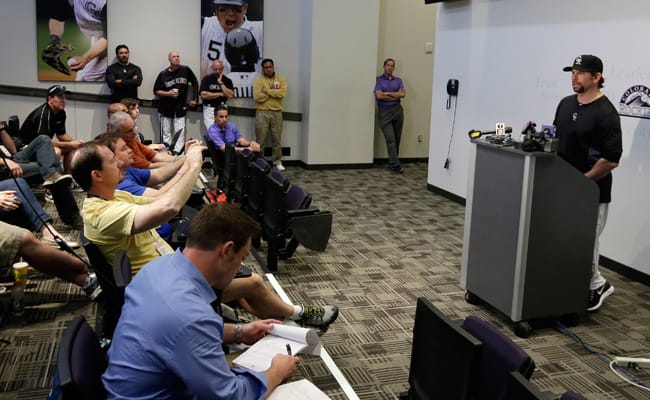 SCOTTSDALE, Ariz. (AP) -- Calling his recent drunk driving arrest a "monumental mistake," Colorado Rockies first baseman Todd Helton fought tears as he apologized Sunday and asked for forgiveness at the start of spring training.
Helton was arrested Feb. 6 on charges of DUI and careless driving.
"Obviously the last place I want to be on the first day of spring training is here talking about a mistake I made," Helton said. "Last week I got behind the wheel of my truck after I had drank. All I can do now is apologize and ask for forgiveness. I spoke to my teammates today and they were very supportive.
"I'm very grateful to my wife, my family, my teammates and the Colorado Rockies organization for their support. I am determined to learn from my mistakes, and I've gotten help."
Helton didn't elaborate when asked about what kind of help he will receive.
Manager Walt Weiss and several coaches watched as Helton fielded questions for nearly 10 minutes.
"I think that's important that he had an opportunity to put some closure to the whole deal," Weiss said. "Like I said right after it happened, Todd's built up a lot of goodwill and respect with this club and in the community. We've all needed a little grace from time to time. He stepped up, he faced the music and now it's time to move on and play baseball."
Helton stood in an auditorium of Colorado's training complex with the following words painted around the Rockies logo: "Perseverance, Leadership, Patience, Responsibility, Focus, Persistence, Character, Integrity, Team, Selflessness, Trust, Service, Accountability."
"Part of making a mistake, making a monumental mistake like I made, is recognizing the mistake and doing all you can to make sure it doesn't happen again," Helton said. "I'm doing everything I can to make sure it doesn't happen again."
The longtime face of the franchise, Helton was arrested at 2:30 a.m. on Feb. 6 in the Denver suburb of Thornton and charged with driving under the influence and careless driving. A court hearing is scheduled for May.
Helton, who had planned to leave for spring training the following day, initially apologized through the Rockies to his family, the team and community, saying he embarrassed himself.
He signed a handful of autographs along the fence of one practice field at Salt River Fields at Talking Stick, yet understands it could take time to repair his image with the fans and Colorado community.
"Overall it's been positive. There's nobody harder on myself than me," he said. "It really didn't matter. I was more disappointed with myself than anybody. ... Obviously it is a tough situation dealing with this. It's something in my mind, I don't know how far behind I want it because you're always going to remember. That's how you're going to learn. As far as baseball, I'm ready to go."
Helton said he decided to wait this long to address his situation until now because "it was a matter of gathering my thoughts and making sure everything that I said, I can back up" when this day came.
He spoke to his teammates earlier Sunday and also met briefly with Weiss, who gave Helton a hug and told him "it was going to be all right."
"The main point was it can happen to anybody," Helton said of his message to the Rockies. "I never thought it could happen to me, and it did, and just be aware of it."
Helton was limited to 69 games last season because of a hip injury and had surgery in August to repair a torn labrum in his right hip. A career .320 hitter, Helton batted .238 with seven homers and 37 RBIs.
New hitting coach Dante Bichette was impressed with Helton's first batting practice.
"Todd's been a great hitter," Weiss said. "He's one of those guys, and I told him this, he wakes up on Christmas morning when he's 52 and he can go hit a ball in the gap."
The arrest was a rare misstep for the 39-year-old, who begins his 17th major league season - all with the Rockies. This could be his farewell year, though he hasn't said whether he plans to retire. The Rockies will monitor his workload considering he is coming back from surgery.
"One of the things that has made him great is his burning desire to be great. I don't think that's ever going to change," Weiss said. "I spent some time with him this winter. He's in a good place. There's a smile on his face, he's bouncing around. I think he wants this year to be special and we all want it to be special for him and for us."
Certainly Helton's health will play into his decision how long to keep playing. He is entering the final season of his $33.7 million, three-year contract.
"You're not going to want to go out injured. You're definitely not going to want to go out in this certain situation," he said.
Whether it's his last hurrah or not, there are likely to be some boos in visiting ballparks - and Helton expects it.
"I'll definitely be prepared. It's something that I can't control," he said. "I've made my bed and I'll sleep in it. It's my own fault. ... The old saying is anything that happens after midnight is not good. One time is too many of making that mistake, and I apologize for it. I'm not going to get into the details."
He struggled offensively after injuring the hip last June. Helton missed 12 games while on the disabled list in July and was hitting a career-low .238 when Colorado put him back on the DL again following the operation.
Helton, a five-time All-Star, three-time Gold Glove winner and the franchise leader in almost every major offensive category who won the 2000 NL batting title, is ready to start fresh and put this incident behind him.
"I wish it didn't happen," he said. "Hopefully I can move forward from it."