Chipper back in camp, but he's not coming back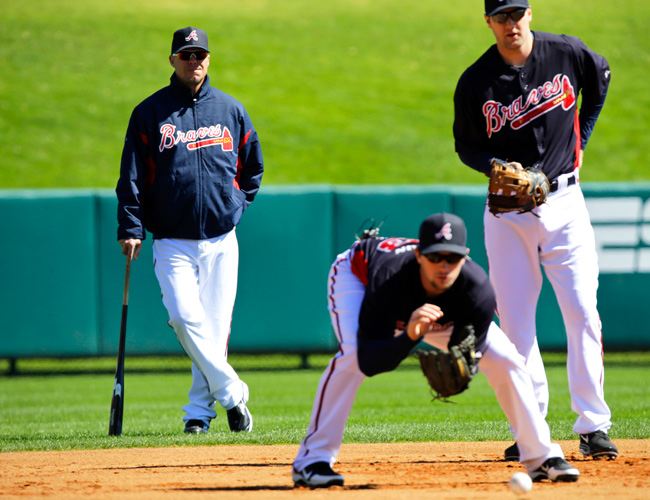 Chipper Jones was lingering beyond the left-field wall, signing as many autographs as he could, when someone asked the obvious question.
"Do you miss it yet?"
Jones was quick with a reply.
"No," he said, "not too much."
Jones has reported to camp with the Atlanta Braves, but don't get too excited about seeing No. 10 in that familiar uniform. There are no plans for a comeback. If anything, he's surprised at just how little he misses the game that was such a big part of his life.
He's kept himself more than busy (just check out his Twitter account!), from starting up business ventures to running his ranch, from a new romantic relationship to spending time with his kids, from working the banquet circuit to enjoying the solitude of hunting.
"I'm having fun," Jones said Sunday, while walking across the outfield at Champion Stadium, the spring training home of the Braves. "It's kept my mind off things pretty much. I thought this week would probably be a little more difficult than it has been. But, you know, I really haven't had the urge to put the uniform on again."
"That," he went on, "let's me know I made the right decision. I had my time. Now, it's their time."
Jones will be suiting up until Wednesday, helping out the only major league team he ever played for as a special instructor. He still believes he has something to offer, but cringed at all the former teammates jokingly calling him "coach."
"I wouldn't really say I'm a coach," Jones said, even as someone else walked by and shouted it at him. "I'm more of a ... well, I don't know what you would call me. But I don't like being called a coach. I don't think I'm quite to that extent yet. This is just kind of a carryover from mentoring these guys when we were playing. And that's not going to stop just because I'm not playing."
He still fits right in.
When Jason Heyward and Justin Upton walked into the batting cages, Jones shouted, "All right, here come the big dogs!" A short time later, the 40-year-old plopped down on a bench next to Heyward, chatting up the outfielder who is nearly two decades his junior.
"They've got to schedule a day to retire your jersey," Heyward said, breaking into a big smile. "It better not be one of those getaway night games."
"Don't worry," Jones said. "We're gonna keep it short and sweet."
While the retired third baseman has no desire to get into full-time coaching at this point, he vowed to remain a handy resource should anyone on the Braves need him. He's always welcome to come around, manager Fredi Gonzalez said, mindful of the leadership role Jones had as a player.
"I still want these guys to succeed," Jones said. "If I can give them a little nugget here and there to help them, I'm going to do it."
But, tellingly, he now refers to the Braves as "they" instead of "we."
He really is retired, and it's going to stay that way. He had not thrown a ball until he tossed out the ceremonial first pitch for a game at Stetson University on Saturday. While he carried around a fungo bat during Sunday's workout, he hasn't actually taken a swing since his final game, a playoff loss to the Cardinals.
"I'm sure these guys are going to egg me on at some point," Jones said. "But I think my back would break if I took a somewhat competitive swing."
Pitcher Kris Medlen is still getting used to the idea that Jones is no longer a teammate.
"It's weird," Medlen said, shaking his head. "Coach Jones. Hmm."
Coming off that all-too-brief appearance in the playoffs as a wild-card team - with a throwing error by Jones contributing heavily to the loss - the Braves made a couple of dramatic moves to replace the offensive production that No. 10 provided with such regularity over his 20-plus-year career.
First, they signed B.J. Upton as a free agent for essentially the same money Jones was receiving. Then, they pulled off a blockbuster deal with Arizona to land B.J.'s younger brother, Justin.
It's early, but Jones likes what he sees.
"They certainly made some sexy moves," he said. "When this team is going well, it's going to be an exciting team to watch. Certainly, the three guys in the outfield (Upton, Upton and Heyward) are as dynamic as anybody else's threesome in baseball."
That said, Jones is not ready to proclaim the Braves the team to beat in the NL East, not until they prove they can knock off defending champ Washington. And, for all the attention focused on offense-bolstering moves, he figures their success will largely be determined by the pitching staff - mainly, can a rotation led by Kris Medlen and Tim Hudson hand off leads to the bullpen, one of the deepest, most dominant units in the game?
"The Braves have the ability to shorten games," Jones said. "If they have the lead after seven innings, I certainly like the Braves' chances of winning a lot of ballgames."
When Jones headed out to the batting cages, the fans recognized him instantly - even though he was bundled up in a jacket on the unseasonably cold day (temperatures were in the 40s) and his eyes were hidden behind a pair of white-framed sunglasses.
He watched the guys who will try to replace him, then hung around to sign cards, bats and pictures, chatting with folks who still view him as the face of the franchise.
"Are you going to take a few swings," one of them asked.
"I'm going to leave that to the hired help," Jones said, drawing plenty of chuckles.
Someone else broached a subject that's closer to his heart these days.
"How's the hunting going?" a man asked.
"Goooood!" Jones replied, his voice rising with excitement. "I could turn pro in hunting."