New-look Lincecum out to regain Cy Young form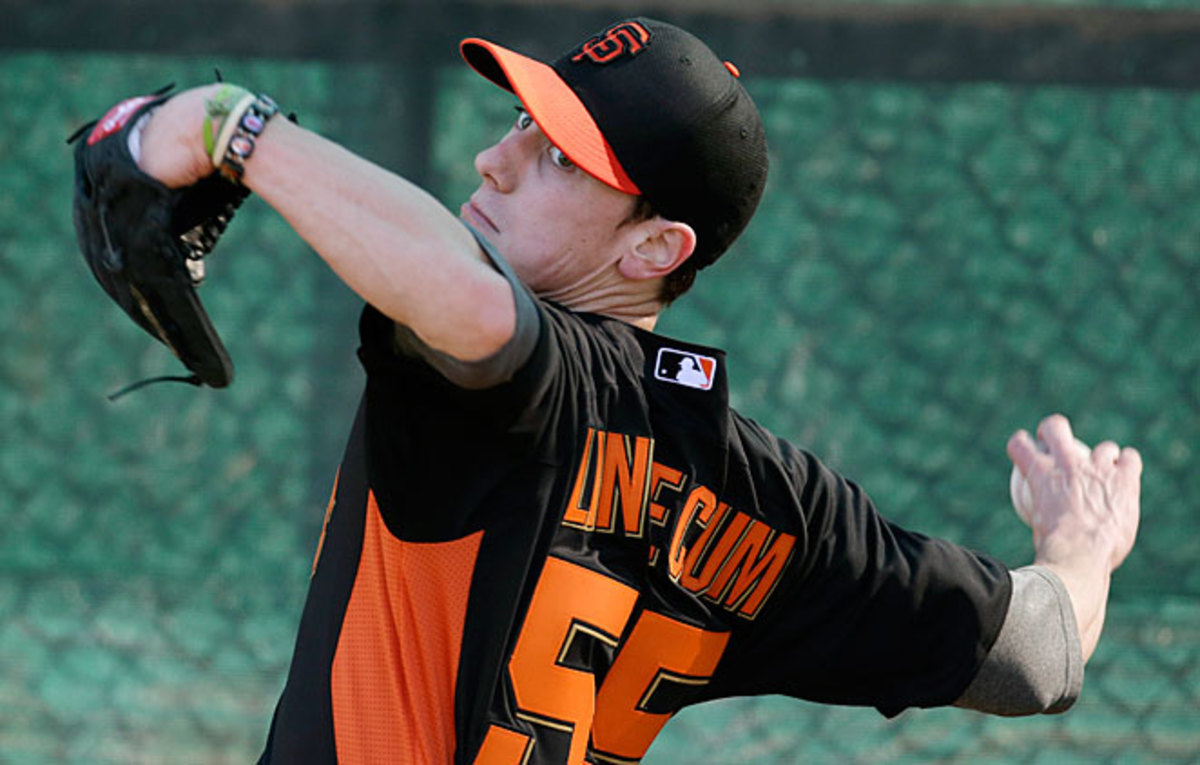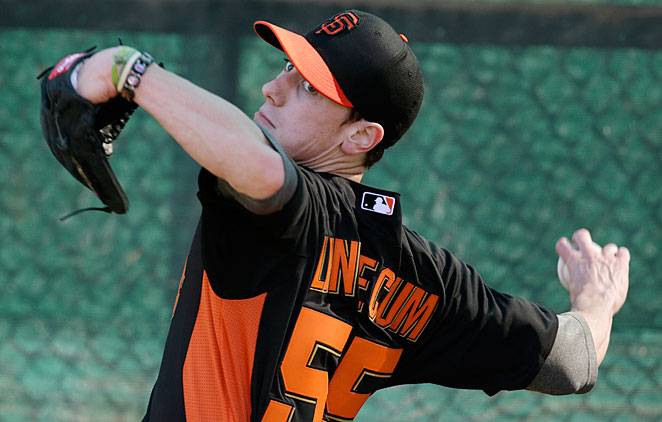 SCOTTSDALE, Ariz. -- His mind would wander, full of questions.
"Are they onto me? Am I regressing?"
Last season, hitters, radar guns and ERAs suggested that Tim Lincecum, the Giants' two-time Cy Young winner seemingly in his prime, had lost his power overnight, as swiftly as scissors snipped Samson's mane.
Lincecum's own long locks vanished later in a winter of reinvention, though it would be folly to affix any change in his fortune this year to follicles. If the 28-year-old has his hoped-for restoration of speed and success this season, the turnaround will have had nothing to do with barber's shears. Instead it will be thanks to resistance bands, sled pulls and kettle bells.
During the offseason, Lincecum prioritized what he called "putting gas in the tank," so he'd have the proper explosion through his intricate windup of coiling back and launching forward. Upon reporting to Giants camp visibly muscular with some 168 pounds on his sub-6' frame -- as opposed to roughly 160 "and just no strength," as he acknowledged was the case last year -- Lincecum said Thursday that, upon reflection, he thinks he knows why he struggled last season.
"I didn't work as hard as I should have, you know?" he said. "And knowing that now, I feel a lot better about myself."
At the offset of the offseason, Lincecum told the Giants he needed a referral for trainers who would push him and hold him accountable. He worked out back in Seattle, under the guidance and discipline of Impact Strength, where a trio of trainers -- kindred spirits, Lincecum said, because they were similarly-aged, athletic guys who all hailed from the same hometown -- helped him build functional strength in his unorthodox delivery.
The custom workouts emphasized explosive movements. In one, Lincecum would simulate his pitching motion while tethered to a wall with resistance bands, so he'd be "building strength while doing [my] own moves."
Lincecum, who is entering the final year of his contract, had a strong claim on being the game's best pitcher from 2008 through 2011, with his four All-Star appearances and two NL Cy Young awards. No one struck out more batters in that stretch -- 977, 76 more than second-place Justin Verlander -- and only Roy Halladay had a better ERA than Lincecum's 2.81 among pitchers with at least 90 starts. Only Halladay, Cliff Lee and CC Sabathia accounted for a better WAR (Wins Above Replacement) than Lincecum's 21.6, according to Baseball-Reference.com.
In hindsight there were two warning signs, decreasing velocity and increasing wildness. The formerly 94-mile-per-hour fastball had trickled down to an average of 92 by 2011, before dropping to 90 in '12; his walk rate had ticked up from 2.7 per nine innings in 2009 to 3.6 in 2011 and then 4.4 in '12.
Lincecum's 2012 season was so ugly that his WAR (-2.1) was the worst among all NL starters. His percentage of quality starts last year -- 39 percent -- was barely half of his previous career rate of 73 percent. His ERA was 5.18. His strikeout rate was about the same as the year before, a still impressive batter-per-inning, but that was little consolation. Even the purported luck factors -- batting average on balls in play and home run-per-flyball rate -- were in normal ranges and couldn't be ascribed blame.
"He's learning how to pitch with less velocity," San Francisco general manager Brian Sabean said, stressing that Lincecum will need to throw more strikes. ". . . This guy's really smart and a real good athlete."
And he's smart enough to know when not to think.
Lincecum first showed glimpses of his old self in the postseason. Demoted to the bullpen, he scrapped his windup and pitched exclusively out of the stretch. No longer was his mind wandering on the mound about how he'd get through seven innings. Questions turned into declarations like, "[I've] just got to make my pitches here, and they pull me when they pull me."
"In a way it kind of dumb-ified me to the point where I wasn't thinking about all the outside stuff," he said. "My focal point was to pitch and where I needed to throw it. Getting that kind of mentality and that perspective back and knowing how I got there made going through [it] and into this year a lot easier."
He blazed through the postseason out of the 'pen, allowing just three hits, two walks and one run while striking out 17 in 13 innings. His first three relief outings went so well he earned a start in the NLCS -- a clunker in which he yielded four runs in 4 2/3 -- only to keep the Tigers hitless over his next 4 2/3 relief innings during the World Series.
"If you look at how he embraced pitching out of the bullpen or, more so, how it relaxed him, he can build on that," Sabean said. "I think the sky's the limit, especially in a contract year, and we're going to need him. We're going to need him to bounce back."
Lincecum now returns to the Giants' rotation, though he'll no longer be the Opening Day starter, an honor that now belongs to Matt Cain. But Lincecum will make $22 million this season, bringing his haul to $63.5 million in his four arbitration-eligible years as a Super 2. A great 2013 will make last year's disappointment appear aberrational and put him in line for a gigantic, multi-year payday at age 29. Anything resembling last year would jeopardize a potential nine-figure deal.
"That was like the last thought entering my brain," Lincecum said of his impending free agency. "The biggest get-back for me would be just having a successful year with my team and obviously we'd want to get to the playoffs and further. But rebounding off of last year is my biggest priority."
Early bullpen sessions have gone well but are hardly indicative of what's to come. But with more fuel in reserve, Lincecum hopes, what he has been, he will be again.