Daisuke Matsuzaka will not break camp with Indians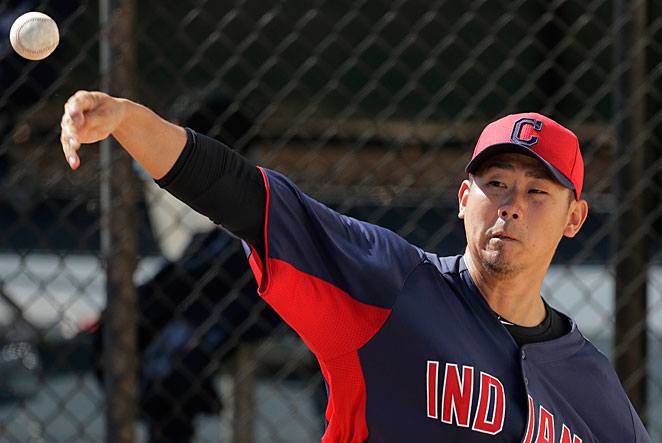 GOODYEAR, Ariz. (AP) -- Daisuke Matsuzaka will not make the Cleveland Indians' opening-day roster but plans to remain with Cleveland.
Trying to make a comeback after pitching in just 11 games last season with Boston following elbow reconstruction surgery, Matsuzaka may accept an offer to stay in the club's minor league camp. The 32-year-old Japanese right-hander was trying to win a spot in Cleveland's rotation.
Indians general manager Chris Antonetti and manager Terry Francona met with Dice-K and reliever Matt Capps on Monday and told both they will not break camp with the club.
"We would like to keep both guys in the organization," Antonetti said. "Neither guy was set to make the opening day roster. We thought we would inform them now and let them know we want to keep them in camp to help them get back to full strength. If and when they do we think they both can help us.
Matsuzaka expressed an interest in staying with Cleveland. He will be paid $18,000 a month if he stays in the organization at the minor league level. Details will need to be worked out with Matsuzaka's agent, Scott Boras.
"This is the first time, I've been in this situation. I did not know what to expect," Masuzaka said through his interpretor. "The teammates have been great; the staff has been great, taking care of me and helping me get better. I really appreciate what the organization has done for me."
Capps hasn't decided whether he'll stay in camp, Antonetti said. Capps began last season as Minnesota's closer but shoulder problems limited him to 30 games.
"We should have more information in the next day or two," Antonetti said.
The Indians have until March 26 before Matsuzaka would be owed a $100,000 payment under baseball's collective bargaining agreement.
"We figured it made sense to address the issue sooner," Antonetti said. "In our minds, we had clarity at this point that neither guy would be in position to make the opening-day roster. As a courtesy to them we informed them early."
Antonetti thinks a deal to keep the players can be worked out before the deadline.
"My goal was to make it to the big leagues but I wasn't able to survive that competition," Matsuzaka said. "It is not the end The organization has given me an opportunity to pitch in the minor leagues. I take that for what it is. I will do what I can to improve so I can contribute to the big league team somewhere down the line. In speaking to Tito and Chris, they see me as someone who can help them."
Matsuzaka was competing with Carlos Carrasco and Scott Kazmir, another non-roster pitcher, for the fifth and final opening in the starting rotation. Matsuzaka pitched in four games this spring training, allowing two runs and 10 hits in eight innings.
"Daisuke was a little behind coming in. He hadn't thrown any bullpens," Francona said. "Then he had the calf (injury) and was only out for three innings, so it's not realistic that he is ready innings wise, nor are we seeing what we want to see as a pitcher, or what he thinks he can show as a pitcher. I think we're on the same page."
Daisuke appears to be relatively healthy to Antonetti, and Francona but performance is the main issue.
"I think physically other than the calf thing he had, he's actually felt pretty good in camp," Antonetti said. "It's just getting back to the level of pitching where he can get major league hitters out."
Matsuzaka knows what he needs to work on.
"My breaking pitches need to improve," Matsuzaka said. "More important, my velocity can improve. It is not what I know it can be. That is probably one of the reasons the front office decided to make this decision. The calf injurt that happened along the way was a big setback. My arm feels good. Other than my velocity, I think I'm all set."
Capps allowed two runs and four hits in four innings.
"Matt is feeling good and feeling healthy. He is just working back to where he has full strength in his shoulder to be able to pitch the way is capable," Antonetti said. "We feel he's heading in the right direction. There are just other guys ahead of him."