Diamondbacks' many moves more than just chemistry experiment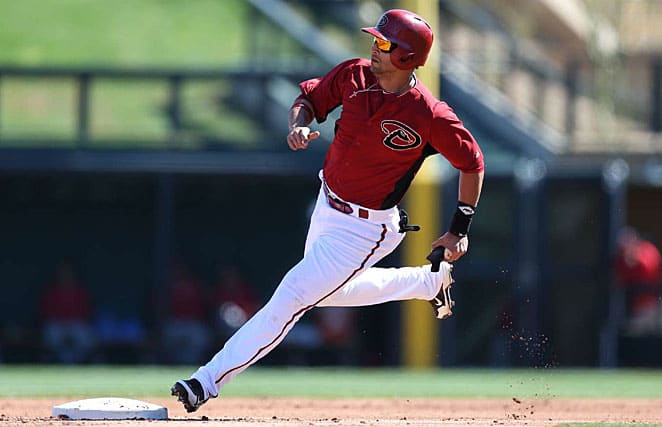 For more of SI.com's 2013 Major League Baseball season preview coverage, click here.
Arizona Diamondbacks
2012 Record: 81-81, third in NL West
2013 Projection: 79-83, third in NL West
Reliever Brad Ziegler attended offseason charity events in New York, Cincinnati and San Diego. He and his wife, who live in Missouri in the offseason, went to Hawaii on vacation. They made family trips to Arkansas, Texas, Arizona and Nevada. He went to Montana to adopt a puppy.
Amidst his hectic travel schedule, Ziegler tracked baseball news by setting up his Twitter account to send him text message updates from news-breaking baseball writers.
His own general manager kept his phone buzzing all winter long.
Kevin Towers, the 52-year-old Diamondbacks GM, has burnished a reputation for his straightforward manner and his boldness in making moves, especially through trades. Towers made five deals just this winter, most notably trading franchise rightfielder Justin Upton, top-15 pitching prospect Trevor Bauer and longtime centerfielder Chris Young. In return, the D-backs received third baseman Martin Prado, reliever Heath Bell and two ready-to-contribute shortstop prospects in Didi Gregorius and Nick Ahmed and young starter Randall Delgado.
Arizona also signed two free agents to multi-year deals -- rightfielder Cody Ross and starter Brandon McCarthy -- and several to one-year deals, including bench players Eric Chavez and Eric Hinske as it tries to recapture the success of its 94-win, division-title 2011 season. A year ago, the Diamondbacks finished an even .500 despite outscoring opponents by 46 runs, due in large measure to a 15-27 record in one-run games.
"The chemistry in our clubhouse last year was not the same as it was 2011, and that was a big deal in 2011," Ziegler said. "We really rallied around each other at the end of that year -- so many come-from-behind wins. Last year there just wasn't the same enthusiasm. I think they really wanted to shake things up. They brought in a lot of talent, and guys who are great in the clubhouse."
One morning this spring Towers revisited his offseason agenda and spelled out the needs he tried to fill: a veteran starter (McCarthy), a power arm to strengthen the back of the bullpen (Bell), two lefty relievers with experience (Matt Reynolds and Tony Sipp) and the creation of more playing time for outfielders Adam Eaton and Gerardo Parra (the trades of Upton and Young, though partially negated by the addition of Ross).
In the process of those specific personnel additions and subtractions, Towers wanted to balance the offensive approach to cut down on strikeouts and their reliance on home runs; reduce the club's dependence on one player for offense; and enhance a clubhouse culture of gritty players in the mold of manager Kirk Gibson -- high energy on the field and diligent workers off of it.
"The first time I noticed a clubhouse like this was last year in Oakland where it feels very detached," McCarthy said of his AL West-winning employers last season. "When I say that, I mean it in a good way. I remember thinking in A's camp this isn't a good thing, and then I realized it was. Everybody was completely going about their business like professionals. Eventually it comes together and you find groups and you find leaders."
The two boldest moves were the trade of Bauer, one of the game's top-20 prospects, and especially the departure of Upton, the club's 25-year-old face of the franchise. Upton had showed in 2009 and '11 why he was a former No. 1 overall pick but had seasons in 2010 and '12 that were above-average but not star-caliber.
"Our theme this year is 'us' -- it's 25 guys, hoping somebody can contribute each and every night," Towers said. "For your fan base it's always nice to kind of have that star player. In J-Up's situation, there was a lot on that kid's shoulders. He was the face of the organization at 20 years old. That's a lot to carry, and expectations were through the roof.
"I think he'll be better with a new start, a fresh start and [being] a guy that's able to kind of slot in with a lot of star players there in Atlanta. I think you'll see his game improve, and I think we're a ballclub now [that] we don't have to look to one particular guy or the perception of one particular guy to carry us."
The lone returning starter in the outfield is Jason Kubel, who hit 30 homers with a .833 OPS last year. He'll now be supplemented by Ross, who had 22 home runs and an .807 OPS with the Red Sox. Playing between them is the exciting Eaton, a September call-up after posting an incredible .381/.456/.539 batting line in 119 Triple A games. The speedy centerfielder and student of the game -- he reads several baseball books each winter and likens his childhood viewings and strategy discussions of Sunday night baseball with his father to "a religious thing" -- should adapt quickly to the leadoff spot. Parra will rotate regularly through the three outfield spots.
The offense has nice balance with those outfielders supplemented by Prado and the club's top three returning hitters in second baseman Aaron Hill, first baseman Paul Goldschmidt and catcher Miguel Montero.
The pitching staff, meanwhile, has added its second talented sinker-heavy starter in as many years (McCarthy this year, Trevor Cahill last year) to fit in with Ian Kennedy and NL Rookie of the Year runner-up Wade Miley. Arizona boasts several pitching prospects, too, with Patrick Corbin beginning the year as the No. 5 starter with Delgado and Baseball America's No. 12 prospect, Tyler Skaggs, waiting in the wings.
"We already had a good farm system, and we added to it," Towers said. "We have depth in all areas now. I felt these moves this year are not only going to make us better than we were in 2011, but I think in the long haul we're a better organization too because we've got a lot of controllable players that we think are prospects."
The Diamondbacks are a well-rounded team with no obvious weaknesses, but they also lack any exceptional strengths, except perhaps depth. Arizona hopes balance is a winning formula.
Biggest Addition: Martin Prado
It's hard to pick just one amidst an offseason of flux -- McCarthy and Ross also figure to make big 2013 contributions; Delgado could have the biggest long-term impact -- but Prado, whom Arizona has already extended through 2016, fills in at third base, where the Diamondbacks had their worst average (.240) and OPS (.675) of any position last year. Says Montero, "He was a pain in the ass to face."
Biggest Loss: Justin Upton
The lineup only lacks a star-caliber bat. Removing such a player from their lineup was a deliberate choice, yet one continues to wonder if it was the right move. The Diamondbacks' best season in the past decade -- 2011 -- was also Upton's career year. That season, he hit 31 homers and finished fourth in the NL MVP voting.
What they do best: Relief pitching
Towers is known as perhaps baseball's best bullpen builder, and he has assembled another fine group. The stalwarts here are the back three of Ziegler, David Hernandez and closer J.J. Putz, who combined for a 2.59 ERA in their 191 1/3 innings. Hernandez and Putz were great pitching clean eighth and ninth innings, both with K/9 rates of at least 10.8 and K/BB rates of at least 4.45.
Ziegler was phenomenal when cleaning up messes, allowing just 20.4 percent of inherited runners to score (10th in the NL) thanks primarily to a groundball rate of 91.5 percent and 21 GIDPs (a 30 percent conversion rate, about seven percent better than any other pitcher in baseball). The wild card is Bell, an All-Star in 2009, '10 and '11 who had a disastrous '12 with eight blown saves and a 5.09 ERA.
What they do worst: Baserunning
The Diamondbacks ranked 29th in the majors in baserunning, as calculated by Baseball Prospectus, costing themselves 11.1 runs on the basepaths. Their stolen-base percentage of 64.6 percent also ranked 29th.
Bottom Line
Arizona has defied expectations for two straight years, overachieving in 2011 to win the NL West and underachieving in '12 to finish with a .500 record. In comparing the '12 club to '11, even Towers admits, "We thought it was a better ballclub." With so much of the roster in flux, it's hard to gauge where they'll end up, but it's hard to see enough improvement for a return to the playoffs in 2013.