An ace for Sale one reason to believe in the White Sox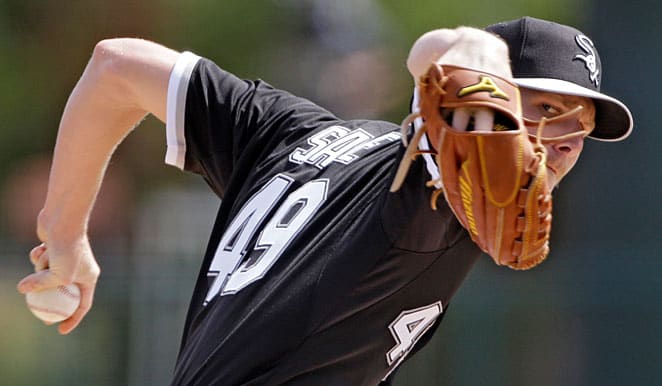 For more of SI.com's 2013 Major League Baseball season preview coverage, click here.
Chicago White Sox
2012 Record: 85-77, second in AL Central
2013 Projection: 81-81, third in AL Central
Was Year One of the Robin Ventura Experiment a smashing success? A bitter disappointment? In Ventura's first season as skipper of the Pale Hose -- he took over last spring with no managerial experience -- the White Sox, one of baseball's biggest surprise teams for much of the summer, were in first place in the AL Central, up three games on the mighty Tigers as late as Sept. 18, before a tortuous collapse over the season's final two weeks.
The season was certainly was an improvement from the messy and maddening last days of Ozzie Guillen's reign, but where does it leave the South Siders entering 2013, with the Tigers, Indians and Royals all improved, at least on paper, in the division?
To believe in the White Sox in 2013, you must believe that Jake Peavy can make at least 25 starts for just the second time since 2008; that Paul Konerko, at 37, can keep defying his age; that Adam Dunn can reach 40 home runs again. You must believe that Tyler Flowers is ready to become an everyday catcher; that John Danks can come back from shoulder surgery; and that young Addison Reed can anchor the bullpen for a full season.
"A lot went right for them for the first five and a half months of last season, and a lot has to go right for them this year," says a scout. "The problem is I just don't look at any of these players and think they can get much more than what they got from them last season."
To believe in the White Sox, you must also believe in Chris Sale, perhaps the team's most important player in 2013, and beyond. Sale was a revelation in the rotation last year, even after a crazy two week period where he went from starter to closer then back to starter. He emerged with an excellent fastball, one of the nastiest sliders in the league and an effective changeup to become the team's most valuable player. But there were also reasons for concern: Sale posted a 4.03 ERA in the second half, and saw his workload increase by 121 innings from 2011. And then there's his funky delivery, which many scouts and analysts think make the rail-thin lefty a serious injury waiting to happen.
The White Sox will need Sale become a 200-inning workhorse and emerge as a Cy Young candidate in his second full season -- but they'll also need a lot more to break right for them if they're going to make a run at defending AL champion Detroit atop their division.
Biggest addition: Jeff Keppinger
Keppinger, who led the AL with a .376 batting average against lefthanders, was an excellent utility man in Tampa, where he played first, second and third for the Rays. In Chicago he'll be Kevin Youkilis' replacement at third.
Biggest loss: A.J. Pierzynski
For the first time since 2004, Pierzynski won't be behind the plate for the White Sox on Opening Day. The new catcher, 27-year-old Tyler Flowers, has 20 home run potential, but he also has Adam Dunn strikeout potential as well.
What They Do Best: Go deep
The White Sox ranked third in the majors in home runs with 211, and there won't be too much of a drop off this year even if the old warriors, Konerko and Dunn, regress. There's still plenty of pop in the order with Alex Rios and the quietly emerging Dayan Viciedo, who hit 25 home runs last year and has 30-home run potential.
What They Do Worst: Develop homegrown talent
Years of plundering the farm system for short-term fixes has hurt the team's future -- its minor league system, ranked 29th by Baseball America, is short on impact prospects.
Bottom Line
If the White Sox get a Cy Young season from Sale and a healthy Peavy, as well as 40-home run years from Dunn and Konerko and breakouts from Flowers, Beckham (finally!) and Vicideo, they could make a run at a wild card spot.