Optimism abounds but rebuilt Indians may still be a year away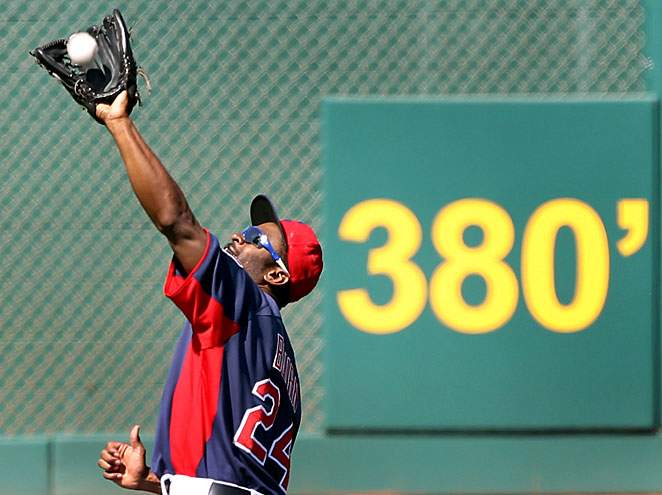 For more of SI.com's 2013 Major League Baseball season preview coverage, click here.
Cleveland Indians
2012 Record: 68-94, fourth in AL Central
2013 Projection: 75-87, fourth in AL Central
Six minutes.
That's how long it took on the morning of Feb. 25 for the Indians to sell out their regular season home opener against the Yankees. This was a surprise, considering that the Tribe last year ranked second to last in the majors in attendance and are coming off a season when they were as unwatchable as the Cleveland Browns -- during their ghastly second half, they had two losing streaks of nine games or more and were 23-53 to finish the year.
But this is a new season -- gone are manager Manny Acta and the longtime faces of the franchise, Grady Sizemore and Travis Hafner -- and the fans are buoyant after a winter of sweeping change. There's a new manager with two championship rings (Terry Francona), a new dynamic leadoff man (Michael Bourn) and a new slugger at first base (Nick Swisher).
"There's an excitement, a new vibe that you can't deny," says general manager Chris Antonetti. "But how many more wins will that translate into? We'll see."
Don't be surprised if the Indians, losers of 94 games a year ago, turn out to this year's Orioles. Start with an offense that will be better with Bourn setting things up atop the lineup and Swisher in the middle of the order. Then there's the defense.
"The improvement in that area could be very significant," says Antonetti.
Last year the Indians were by far the worst fielding team in the game, according to Ultimate Zone Rating. In the outfield they now have three centerfielders in Michael Bourn, Drew Stubbs and Michael Brantley. Says a scout, "That's now one of the best outfields in the game," a unit that will surely help a pitching staff that is counting on big comeback seasons from Ubaldo Jimenez and Scott Kazmir and a breakout from Zach McAllister.
Francona will use his team's athleticism in other ways. "We've got speed, lots of it," says the manager. "And trust me, we're going to use it."
Translation: the Indians are going to steal a lot of bases. Francona hopes to model this young team after the Rays, who create havoc on the bases better than anyone else. "You look at the team now, between Bourn, Brantley, Drew, and me," says Kipnis, "and it's clear that speed is one of the weapons this team has. I really hope that we use that to our advantage."
Last year the Indians were seventh in the league in stolen bases with 110; Stubbs told the Akron Beacon Journal that the team could steal more than 200 bases this year. (No team last year stole more than 160.)
The Indians have put together one of the most fascinating rosters in the game --- they will certainly be more entertaining to watch in 2013. If the defense can help out the pitching staff, they'll be a lot better, too.
Biggest Addition: Nick Swisher
Cleveland signed the former Ohio State Buckeye to a four-year, $56 million contract in January in part to aid a lineup that outscored only the dreadful Mariners last year. Swisher, who has averaged 26 home runs and 83 RBIs in his seven full seasons, will not only add some pop to the lineup, but some of that Swisher swagger to a very young clubhouse as well. "There were definitely points last year during the long losing streaks where we could have used some vocal veteran leadership," says Kipnis. "Nick adds that."
Biggest Loss: Shin Soo Choo
The Indians had the future in the mind when they acquired potential top of the rotation starter Trevor Bauer from the Diamondbacks in a three-team trade for Choo, who was entering the final year of his contract. They'll miss one of the most underrated players in the game, but Bauer has big-time upside.
What they do best: Score runs
Cleveland will emerge as one of the league's more dangerous lineups -- "other than Detroit, no one in the division has a better offense," says a scout -- if Swisher and Bourn have their typical seasons and Kipnis and Lonnie Chisenhall have breakout years. "Chisenhall is the guy with the big upside here," says a scout. "He's a future All-Star with 30 home run potential."
What they do worst:
The starting rotation poses more questions than Piers Morgan: Will Ubaldo Jimenez ever come close to returning to his 2010 form? Can Justin Masterson be an ace? Will Trevor Bauer grow up?
Bottom Line
Francona is rejuvenated, the Cleveland fans are pumped and the Indians lineup will score a lot more runs, but there are still too many question marks in the rotation for them to hang with Tigers. They'll finish above .500 for the first time since 2007 but fall short of the postseason. If Antonetti can add a front of the rotation arm, 2014 could be a different story.