Astros in a new league but likely to finish in the same spot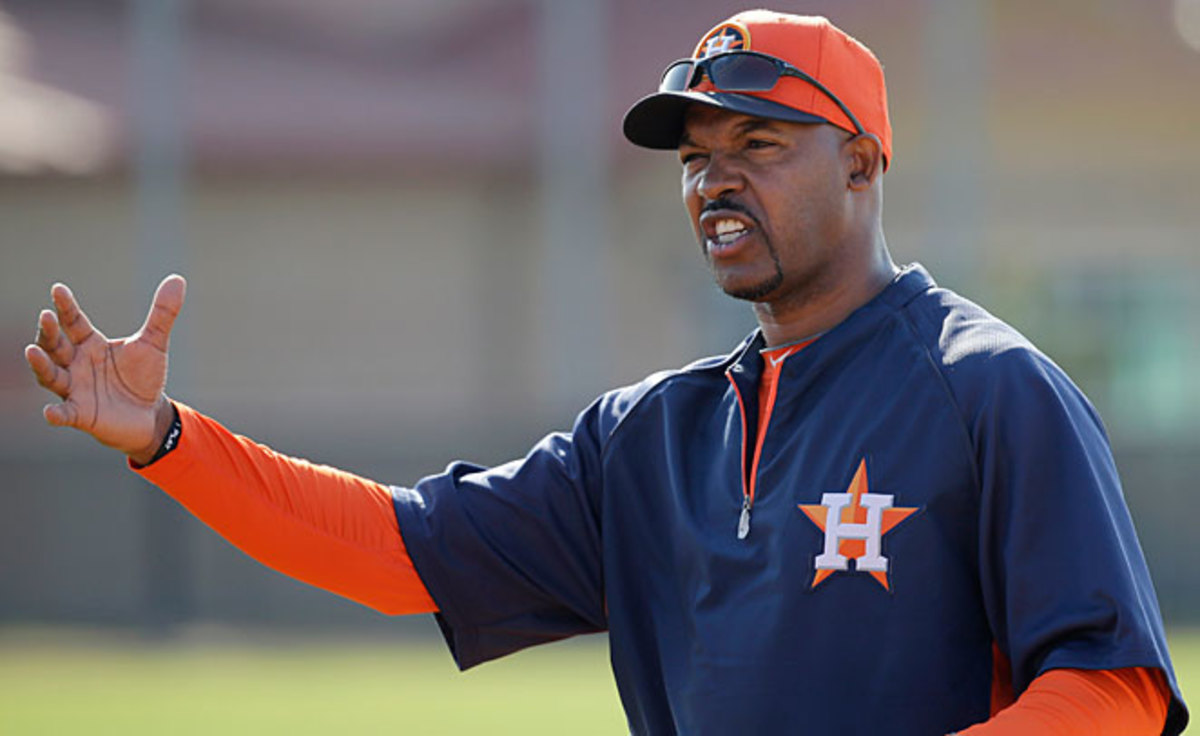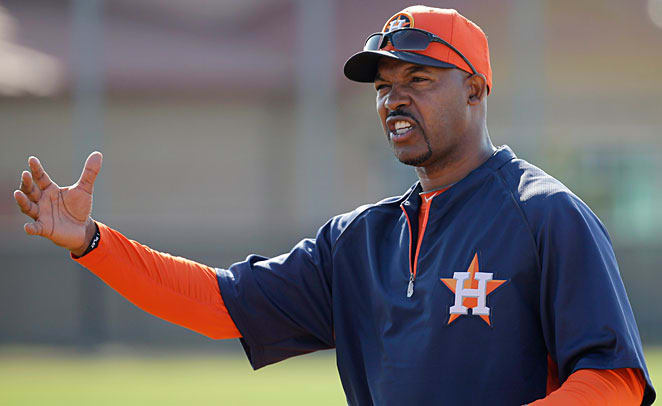 For more of SI.com's 2013 Major League Baseball season preview coverage, click here.
Houston Astros
2012 Record: 55-107, sixth in NL Central
2013 Projection: 50-112, fifth in AL West
Inspirational signs are posted on nearly every wall in the Astros' spring training facility in Kissimmee, Fla. Like the spin table on Wheel of Fortune, a large pinwheel diagram contains phrases such as: Desire. Commitment. Sacrifice. Leadership. Keep Pushing. Fortitude. Breakthrough. Attitude. Opportunity. Synergistic Team. Loyalty. Enthusiasm. Trust. Have Fun! Accountability. Focus.
These are not mere bromides but the building blocks of an organizational overhaul for a franchise that has lost 213 games combined the past two seasons and is entering its first year as an American League club. One in particular resonates with equal importance in both the clubhouse and front office: The Process. What does it mean to first-year manager Bo Porter?
"Everybody has a starting point and everybody has a desired result. I've tried to explain to the players in great detail that the process is everything that lies in between. That's the part that you can control," Porter says. "So if you take care of the process each and every day, that gives you the greatest opportunity to get your desired result. There are so many people who are worried about the desired result. If you take care of the process, it gives you the greatest opportunity to win a game.
"We're not going to talk about number of wins. I told our club to ignore the noise, and that basically means that people outside the walls of our clubhouse. You don't want to listen to all the things that are going to be said. You don't want those things to become a part of your thought process. At the end of the year we want to be able to say that we've made progress. But how do you measure success? If you ask me, there are 29 unsuccessful teams every year. You either win a championship or you're one of the 29 teams that are losers. That's the standard we're setting in this organization. That's how we're going to be judged. As we're evaluating players, we have to ask the question: Can we win a championship with this guy?"
General manager Jeff Luhnow asked that very question of Porter, who was one of 49 candidates the Astros considered to be their manager. Porter spent the last two seasons coaching third base for the Nationals, but already seems to have the leadership qualities of a seasoned skipper.
"He has a tremendous amount of energy and enthusiasm, but he backs it up with substance," Luhnow says. "Players at the big league level do not want to hear about what's going to happen three or four years from now. They want to hear about how this team is going to win this year and what role they're going to play and how they're going to be a part of it. Bo is going to get them fired up for every single game this summer. Bo doesn't like to use the word 'rebuilding' and I understand. It doesn't make sense. We have major league players.
"They're young and not as well known as other team's players. With youth comes variability and unpredictability, but there's also a lot of upside with youth. If we can get a good roll of the dice on some of our young players, then suddenly they become household names. Suddenly we're winning a lot more than people expected us to and suddenly the Astros are being perceived as a very different organization -- an organization that is on the rise and an organization that's going to be a force in the future. Bo gives us the best chance of accomplishing those goals."
Biggest Addition: Carlos Peña
One of the few recognizable names in the Astros' clubhouse is Carlos Peña, who can play first base but will likely be the designated hitter as the team jumps to the American League. Peña, who turns 35 in May, has showed an appreciable decline in power since mashing an AL-high 39 homers with the Rays in 2009. He hit 28 in 2010 and 2011, and dropped off to 19 last season while hitting .197 and striking out a career-high 182 times.
Biggest Loss: Wilton Lopez
Lopez, a 29-year-old righthander who went 6-3 with a 2.17 ERA, had the second most saves (10) for the Astros last season and appeared to be the closer for 2013 -- that is, until he was traded to the Rockies in December. Jose Veras, who is 32 and has played for five teams over the past four seasons, inked a one-year deal worth a reported $2 million. He'll be Houston's closer even though he's totaled just five saves in seven big league seasons.
What they do best: Believe
The Astros believe in themselves even though no one is giving them a chance to do anything in their first season in the loaded AL West. As centerfielder Justin Maxwell puts it: "I couldn't even tell you how many losses we had last year because I dont care about that. I'm serious. We're going to win tonight, these nine innings, these 27 outs. We're not worried about anything else. That's the way you have to think about it. Nobody wants to put their tail between their legs and get their butt kicked every day."
"There are a lot of young guys here whose eyes are wide open and their mouths are shut. They're trying to learn," pitcher Phil Humber says. "There's a lot of guys who fans don't necessarily know -- I have to be honest, I don't know everybody's name -- but from what I've seen there's a lot of talent in here. So who knows what can happen? We're planning on success."
What they do worst: Lose
The Astros lost a franchise record 106 games in 2011, then broke that record with 107 last season. Another record-breaking finish could be in store. Even so, expect the Astros to be in the headlines and sell plenty of seats to close out the regular season. That's when the Yankees come to town for what could be the final games of Mariano Rivera's career.
Bottom Line
An Internet meme sums up the Astros' chances this season. Over the picture of an infant mugging for the camera with a perplexed look are the words: "You mean to tell me the Astros moved to the American League, not the minor league." Expect the transition from the NL Central to the AL West to be an unforgiving one. The Astros will finish in last place; the only uncertainty is whether or not they'll set a new franchise record for losses.