Angels have dominant trio, but pitchers will decide fate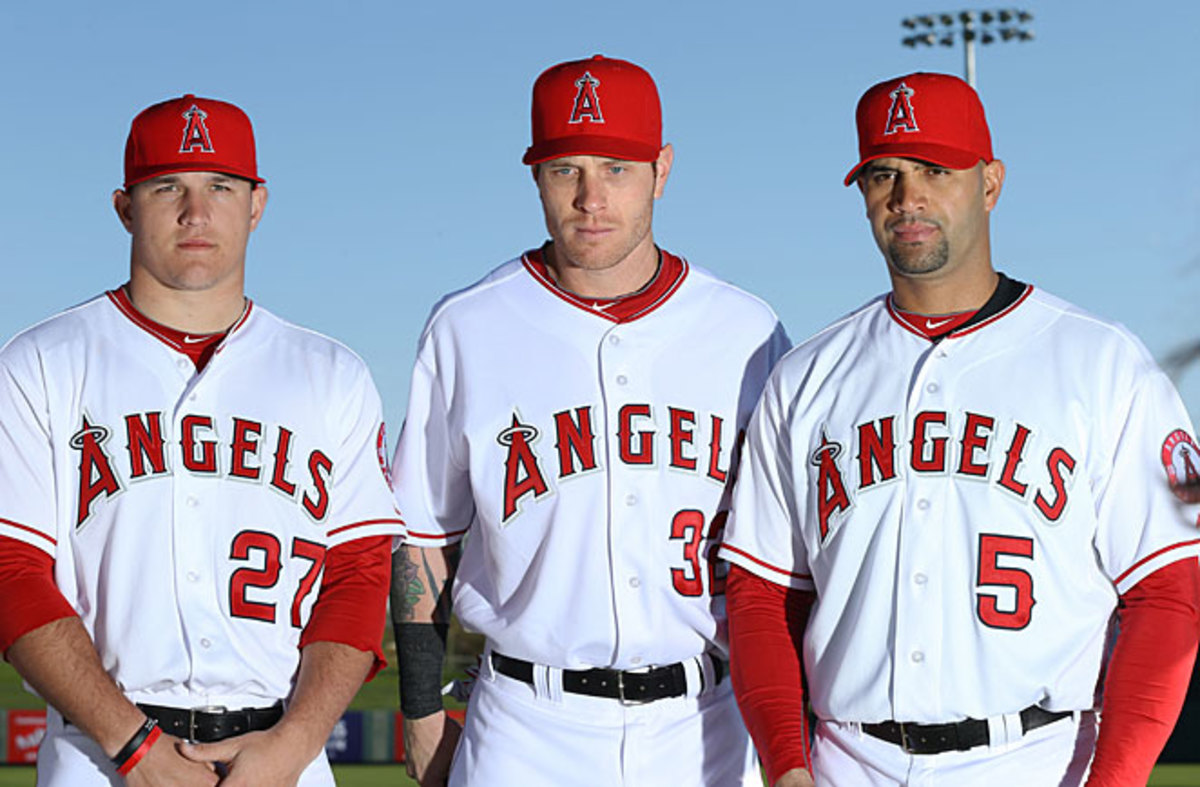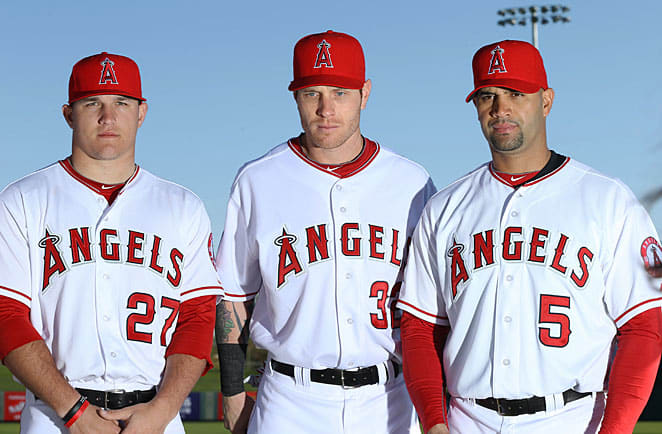 For more of SI.com's 2013 Major League Baseball season preview coverage, click here.
Los Angeles Angels of Anaheim
2012 Record: 89-73, third in AL West
2013 Projection: 95-67, first in AL West, lose ALDS to Blue Jays
Mike Trout's interests are fairly streamlined. He likes golfing, hunting and fishing (this offseason, he says, he shot three deer and caught a massive grouper, off Key West), spending time with his friends and family back in his native New Jersey, and playing baseball extraordinarily well.
"It's my second year, and I'm just trying to do one thing: just play my game," Trout says.
Because he is Mike Trout, the owner of the perhaps the greatest rookie season ever, things will likely never again be so simple, at least on a diamond.
"He cares about winning and losing and playing, and I haven't found anything about Mike Trout to be disingenuous to this point," says Angels general manager Jerry DiPoto. "He's very interesting to watch. The fans love Mike. Therefore, it's always going to be a bit more of a microscopic lens that people look through."
You didn't require a microscope to detect the first of three topics about which observers -- though not the Angels -- obsessed, regarding Trout this spring: his size. Trout showed up to camp weighing 241 pounds, or just 17 fewer than Brian Urlacher, the linebacker to whom Trout used to be fantastically compared. To call Trout fat, the Angels responded, would be like calling Ulysses bloated.
The next Trout-related thread that was yanked concerned his new contract. For the trouble of putting together that unprecedented rookie season that included a .326 average, 30 home runs and major-league-best 49 steals, the Angels gave him only a $20,000 raise, as allowed by the game's collective bargaining agreement. Trout's agent complained, but Trout didn't -- publicly -- and didn't seem to mind. He certainly won't, in a few years, when he is making $30 million annually.
The third topic had to do with the team's plan to shift Trout from centerfield, where he repeatedly amazed last season, to leftfield, and put new starter Peter Bourjos in center. There was some idea that this was a slight to Trout, even though last year he played left in 67 games. It was not, and if fans viewed it that way, Trout himself didn't seem to.
Moving Trout to left, in fact, gives the Angels their best chance to win, and to gel as a team in a way that they didn't last year, when a brutal start meant that they would go on to win only 89 games, four fewer than they needed to in order to take a wild card berth. It is not a matter as simple as the team believing that Bourjos is a better centerfielder than Trout -- although he might be. According to Fangraphs.com's UZR stat, Bourjos saved more runs in center last year than any other player save Michael Bourn, even though he played just 501 2/3 innings there (Trout was fifth, in 885 2/3 innings). It is, basically, a matter of the Angels believing that their outfield is better, overall, with Trout in left and Bourjos in center, rather than vice-versa.
With Hamilton -- a centerfielder with the Rangers, though a below average one -- in right, the Angels should have a superior defensive outfield, and that is by design. Four of the their five starters, including all three of their new ones, are fairly heavy producers of fly balls. According to Fangraphs, last year Weaver's flyball rate was the sixth highest (42.8 percent), Vargas' was 12th (40.5 percent), Hanson's 17th (39.4 percent) and Blanton's 51st (32.0 percent).
The point is that the Angels might seem like some sort of haphazard assemblage of big money stars, but there is a plan here, one that does not involve overlooking such facts as Vargas' 4.78 ERA away from Safeco Field last year (it was 2.74 at home), Blanton's 4.79 ERA -- period -- over the last three years and the drop in velocity of Hanson's fastball from an average of near 93 miles per hour to below 90 since 2010.
"I can break down some statistical or analytical edge to what they do, find a hole and expose that hole, to write a story," says DiPoto. "Or I can find the things they do well and put them in an environment where we can accentuate the positives. Angels Stadium is a very positive pitchers' environment. And we have an aggressive outfield defense that covers a lot of ground."
Trout, Bourjos and Hamilton should be able to catch anything catchable, and give Vargas, Blanton and Hanson the best chance to succeed. At least, that's the plan.
Says DiPoto, "We feel like we're a team that's built to win and compete now, and we sure hope we deliver on what we believe our promise to be."
Biggest Addition: Josh Hamilton, outfielder
The Angels did not enter the off-season planning to sign Josh Hamilton. As last December's winter meetings approached, the idea was still one of many they were entertaining. By Dec. 13, though, they had signed their former intradivisional tormenter for five years and $125 million, and they accomplished several things in doing so. One was that they now had the resources to trade a surplus bat -- Kendrys Morales -- for a much-needed starting pitcher in the Mariners' Jason Vargas, who carried neither the salary nor the injury risk of a free agent.
Another was that they were able to replace the clubhouse personality void left by Torii Hunter (he signed with Detroit in November) with Hamilton, who immediately this spring set about befriending everyone in the room. "He's bubbly. He's a bit of a comedian," says DiPoto. "We have a lot of incredibly good guys, hard workers, there's a lot of intensity. Sometimes you need someone who can bring a little looseness, like Torii did. Josh does that."
A GM doesn't pay $125 million for someone's good nature, though. "We're signing the talent," DiPoto says. Indeed, the central thing that Hamilton gives the Angels is his transcendent ability -- bringing the total number of Angels who can be said to possess that quality to three, along with Albert Pujols and Mike Trout. It's an offensive trio no other team in baseball can match.
Biggest Loss: Zack Greinke, starting pitcher
Greinke was an Angel for just two months late last summer, after his trade from the Brewers, and he pitched well: 6-2, with a 3.53 ERA. There is no doubt that DiPoto wished to extend the relationship into a long-term one, but he was scared off by the Dodgers' six-year, $147 million offer. That might have been the right decision -- Greinke experienced elbow soreness in Dodgers' camp -- but it also left the Angels with a rotation that is, at best, not upgraded from last year's.
Their three new starters behind Jered Weaver and C.J. Wilson -- Joe Blanton, Tommy Hanson and Vargas -- combined to go 37-34 in 2012, with a 4.32 ERA. The men they are replacing -- Greinke, Dan Haren and Ervin Santana -- went 36-31, with an ERA of 4.27, and both Haren and Santana experienced significantly off years.
What They Do Best: Crush the ball
No team has surpassed 900 runs since the 2009 Yankees, but that is a figure for which the Angels can realistically aim, and for reasons beyond Hamilton, Pujols and Trout. "One through nine, we've got a tremendously talented lineup -- and it's only scratched the surface," says Mark Trumbo, whose 32 home runs led the team last year, and yet who is destined to be overshadowed alongside other threats like shortstop Erick Aybar (.326, with an OPS of .845, after last year's All-Star break).
What They Do Worst: Present depth on offense
The Angels' lineup has been set for months, and it is impressive. However, the organization has few options to which to turn -- either on the bench, or in the higher levels of the minors -- should injury strike or, such in the case of Pujols' recovery from off-season knee surgery, potentially linger. The possibility exists that the team might be presented with a situation similar to that with which the Yankees are currently dealing (and which allowed the Angels to trade send struggling veteran Vernon Wells to the Yankees), even though L.A., despite its stars, is not an aged club, with Pujols, at 33, the oldest offensive player.
The bench has no proven reserves, as it will heavily feature players like Kole Calhoun and Andrew Romine. And, with every starter under contract or team control for at least one year past this one, if it turns out that the offense simply isn't good enough, for whatever reason, it likely won't be for years to come.
Bottom Line
The offense is second to none, but the World Series that is not only hoped for but planned will hinge on the effectiveness of the rotation behind Jered Weaver and C.J. Wilson.