Dodgers collection of stars looks to bring title to Tinseltown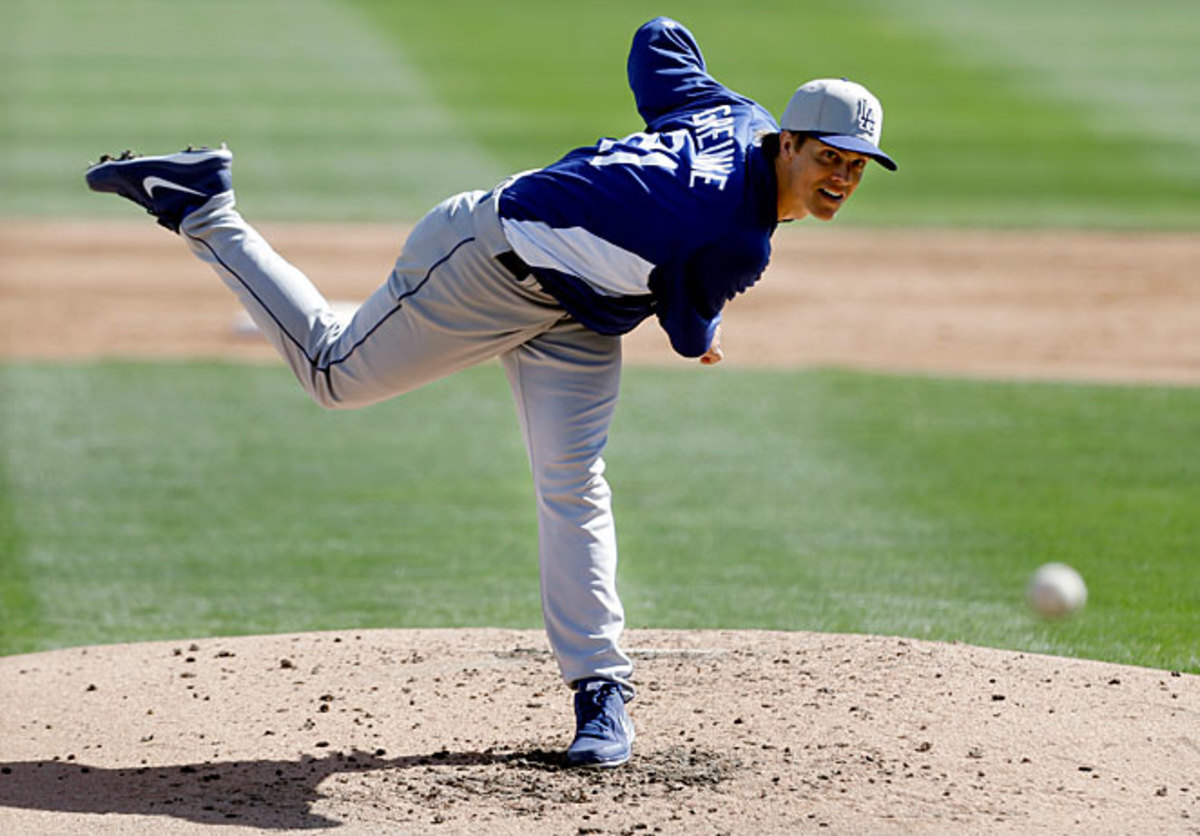 For more of SI.com's 2013 Major League Baseball season preview coverage, click here.
Los Angeles Dodgers
2012 Record: 86-76, second in NL West
2013 Record: 90-72, second in NL West, second NL wild-card, lose to Nationals in NLDS
The unfurled blueprint on the desk in team president Stan Kasten's spring training office at Camelback Ranch details the offseason improvements being made to Dodger Stadium. Kasten calls attention to the home clubhouse, which will be unrecognizable to its prior rendition, he notes, as he points at the expansive new dimensions detailed on the schematic.
For the public, a remodeled clubhouse is among the least evident changes as the new ownership group overhauls the entire organization. The biggest change, of course, is the stature and compensation of the players residing inside that clubhouse. For the first time since 1998, the Yankees will not boast the game's highest payroll, having been surpassed by the Dodgers' $220 million tab for this year, which is the most high profile part of this transformation.
"Our mission is easy to articulate but hard to accomplish," Kasten says, "and that's restore the Dodgers."
Following the debacle of Frank McCourt's ownership in which payrolls and win totals both shrank, there's new hope in L.A. now that a new group -- led by Guggenheim Partners CEO Mark Walter, Lakers legend Magic Johnson and former Braves and Nationals president Kasten -- is in control.
With first baseman Adrian Gonzalez, leftfielder Carl Crawford, starters Zack Greinke and Josh Beckett and shortstop Hanley Ramirez having joined ace Clayton Kershaw, centerfielder Matt Kemp and rightfielder Andre Ethier, no team can compare to the star wattage of the Dodgers. Ten players will make at least $11 million this season; six players will make at least $15 million; and four players have contracts with an average annual value of at least $20 million.
The addition of such players not only pushes the conversation -- and season-ticket sales, which are at a record high of about 30,000 -- but also catapults the Dodgers from a middle-of-the-pack club that's averaged 83 wins the past three seasons to instant contender into co-favorite status alongside the defending world champion Giants.
"We got caught up in the financial and business side of the game, and we weren't able to bring in the personnel and the players that we targeted," says catcher A.J. Ellis, who has been in the Dodgers organization since being drafted in 2003. "Almost as soon as the sale was finalized last year and the ownership group took over, there was immediate energy and buzz back in the clubhouse again. We had become so numb and just over the whole McCourt saga and the selling of the team that it was almost like we didn't have anybody steering the ship. We didn't have a vision for the organization."
The new vision is much more than the rapid accumulation of well-known players. Though just as invisible to the average fan as a remodeled clubhouse, the Dodgers' investment in infrastructure is an essential part of their focus, having added Bob Engle as vice president of international scouting, Gerry Hunsicker as a special advisor, Pat Corrales as a special assistant and many new scouts.
General manager Ned Colletti said he feels like he's built two different teams: one for McCourt's budget and now one for the new owners. But, really, he's building on a third front as well, as the Dodgers have sufficient financial resources to build the farm system through scouting and development while simultaneously kick-starting the major league club.
Colletti realized how far Los Angeles lagged in development two years ago when he took a rare turn as deadline seller and examined other clubs' farm systems in the midst of trading Rafael Furcal and almost trading Hiroki Kuroda. The Dodgers spent the least money on international signings in 2010 and '11.
"You look at the best organizations, those teams that were in contention, and it's not a pure coincidence that a lot of them -- if you look at their prospects -- had a depth of international signings," Colletti says. "Here we were with this bridge that we were lacking in that area. . . . It's probably not as sexy as [adding star players], but is it vital to the long-term success of the franchise? Undoubtedly."
The Dodgers' short-term success will be dictated by how much their offense improves. While the pitching staff had the majors' third-best ERA last year (3.34) and should be better with the additions of Greinke and Hyun-Jin Ryu to a rotation already headlined by the former Cy Young-winning Kershaw, the offense scored just 637 runs last season, the fourth-fewest in the National League.
That may seem less important in the NL West, where the three California parks are all pitcher-friendly and where the starting pitching seems to be especially strong, but it is only a well-perpetuated myth that intradivisional games are actually closer and lower scoring than the rest of baseball.
When two NL West teams played each other last season, 28.9 percent of all games were decided by one run and 18.3 percent were decided by two runs; in all other major league games, 28.7 percent were one-run games and 18.8 percent were two-run games. Similarly, in 2011 there were 48.3 percent of NL West games decided by one or two runs, while 49.1 percent of all other games were decided by one or two runs. As for the amount of scoring, NL West games in 2012 featured a negligible but additional 0.1 run per team per game than contests featuring any other pairing.
That reinforces how important it is to improve the offense, which ought to pack more punch given its reinforcements playing their first full season in Dodger blue.
Only three current Dodgers have won World Series titles -- Beckett, who won in 2003 with the Marlins and '07 with the Red Sox; utility player Jerry Hairston Jr., who won in '09 with the Yankees; and infielder Skip Schumaker, who won with the Cardinals in '06 and '12 -- but at the top is proven leadership. Johnson, of course, won five NBA titles with the Lakers, and Kasten wears the 1995 World Series ring he won with the Braves.
One day in spring training, Kasten and Gonzalez were talking about Spanish, when Kasten admitted that the only Spanish word he knows is "anillo," which means ring.
"That's the only one that we're going after," Gonzalez told him. "That's all that matters."
Biggest Addition: Zack Greinke
Greinke was the best available free-agent pitcher, and it's no surprise he ended up with the Dodgers, who had the most money to sign him (a six-year, $147 million contract), as well as their affiliation in the NL (Greinke likes to hit) and their location in Los Angeles (Greinke pitched well for the Angels last year). An elbow ailment has slowed him late in spring, but he and Ryu should bolster an already formidable Dodgers rotation that ranked third in the majors in starters' ERA last year (3.41).
Biggest Loss: Excuses
Unless you believed strongly that spiritual healer Vladimir Shpunt was a prominent part of the Dodgers' success, the club experienced minimal personnel losses, as free-agent departures such as outfielder Shane Victorino and lefty specialist Randy Choate weren't especially effective in L.A. More pertinently, when you have an ownership group willing to shell out over $2 billion for the franchise and roughly $220 million on one year's payroll -- the most in baseball history -- the Dodgers no longer have the McCourts as a crutch for any future failing.
"They've followed through with everything they said they're doing," Kershaw says of the new owners. "They've invested a ton of money in us. For us, there are just no excuses this year. We don't have anything to fall back on to say 'this is why we didn't do well' or anything like that. This is our year."
What they do best: Acquire star talent
In addition to the necessary financial might, it takes a certain fortitude to stomach the high risk associated with the assumption of such large contracts as the ones acquired via trade such as Gonzalez, Crawford, Beckett and Ramirez or through free agency, like Greinke. Colletti recalls Kasten encouraging him to "think bold" in fixing the big league club quickly. Such transactions also take tactical acumen to recognize what the market will bear: the Red Sox and Marlins would only be in a position to make those star-studded salary dump trades at certain times. L.A. now employs 12 players who have been named to 26 All-Star teams.
What they do worst: Lefthanded power
No team had less power from the left side last year than the Dodgers, whose .348 slugging percentage from that batter's box ranked 30th in baseball, while their 34 home runs ranked 27th. Ethier hit 20 of those homers and helped prop up the slugging with his .460 mark, but otherwise only Gonzalez, an August addition who posted a .441 mark in Dodger blue, slugged even .360 last year for Los Angeles. A full year of Gonzalez's services should help, though it's noteworthy that he hit only 18 homers last season (three with the Dodgers), which was his third straight year of home-run decline. L.A. will need him and a healthy Crawford to provide more balance to the lineup.
Bottom Line
Anything less than a World Series title will be perceived a bust, given the hype and payroll surrounding this team, but the task will be difficult. Though the Dodgers probably won't achieve that goal in 2013, the foundation is there for serious runs on an annual basis.