Rangers mostly stood pat but expect to challenge again in AL West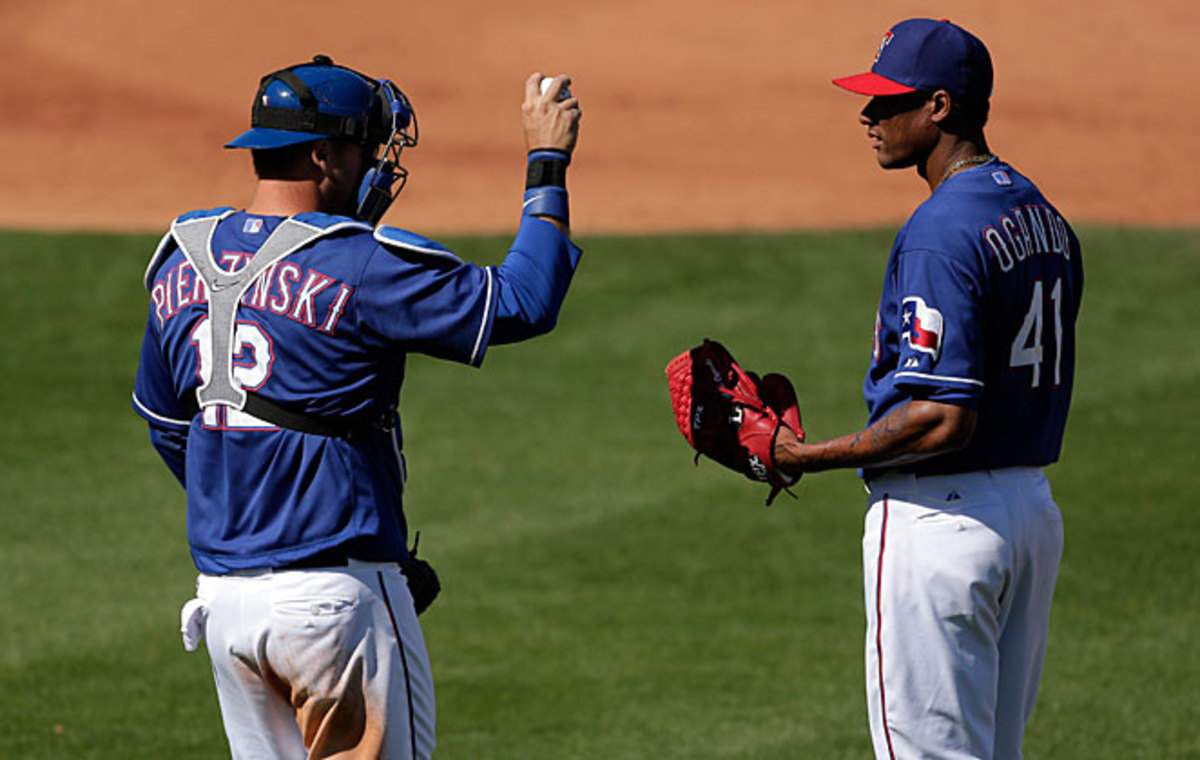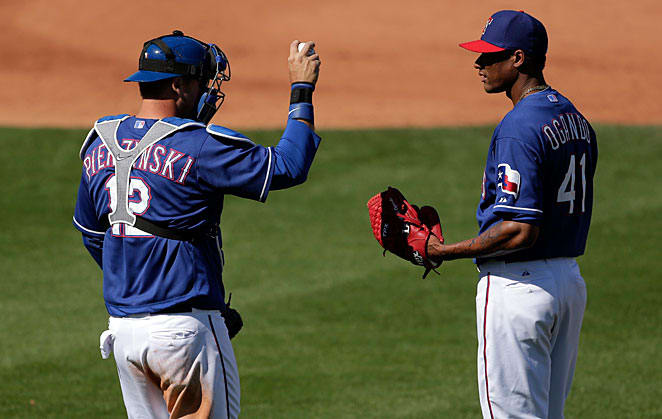 For more of SI.com's 2013 Major League Baseball season preview coverage, click here.
Texas Rangers
2012 Record: 93-69, second in AL West, won first wild-card, lost wild-card game to Orioles
2013 Projection: 91-71, second in AL West
Jon Daniels, the Rangers' 35-year-old general manager, spent the winter fighting himself. His franchise had come close to a championship in 2010, closer in '11 and remained among baseball's elite in 2012. Any GM in such a position would feel an urge to do something rash, to depart from his philosophies in an attempt to keep on grasping for a ring. Each time, in the end, Daniels' head won out. Josh Hamilton signed with the Angels. Zack Greinke signed with the Dodgers. Justin Upton was traded to the Braves.
"In each case, the reason some of the rumors didn't come to fruition was our choice," he explains. "We had deals we could have done. We went as far as we were willing to go -- a little further, actually. But it's about balancing now and the future. We just don't want to short circuit what we've got going on.
"I like to look at it as discipline," he continues. "We've shown we'll trade some of our young players over the course of time, and we will continue to do that. But none of the deals that were there this winter were we comfortable with."
That discipline might well keep the Rangers competitive for years to come, which is the goal, but one result is that the club enters 2013 with a roster that appears shallower than any of the three that preceded it. "We'll be filling holes all year," says Washington.
The most gaping of them is in the pitching staff. Texas has the makings of a fine staff -- Neftali Feliz, Colby Lewis, Martin Perez, Joakim Soria -- on the disabled list, and that means Washington will have to mine his bullpen to round out his rotation. That also means that his bullpen, which lost key components like Mike Adams, Mark Lowe and Koji Uehara, will be thinned. "Don't have the attitude that we're robbing Peter to pay Paul," Washington says. "I ain't thinking about Peter or Paul. I ain't thinking about Mary, either. We're trying to put the best guys out there."
Daniels' long-term view has, until now, prevented him pursuing a pitching quick fix, such as signing free agent Kyle Lohse or trading for Tigers starter Rick Porcello. That is partly because he doesn't want to sacrifice budget, draft picks or prospects, but also because he believes at least some of his injured players will return to turn around a potentially difficult start. The club believes that Lewis, who underwent elbow surgery last July, might be ready by early May, and that Perez, whose pitching arm was broken by a line drive early in spring training, could return then, too. April off-days mean that the Rangers might require as few as four outings from a fill-in No. 5 starter. "You can't always focus on the best case scenario, but that's the truth," says Daniels.
The Rangers' holes are not limited to their pitching staff. Even if the club adequately replaced Young and Napoli with Berkman and Pierzynski, there will be no replacing Hamilton -- who, despite his issues and slumps, still hit more homers (43) and drove in more runs (128) than anyone in baseball in 2012 save Miguel Cabrera.
The elevation of outfielder David Murphy to an everyday job will help, as the 31-year-old has quietly become an impact player. Last season Murphy ranked 10th in the American League in batting average (.304) and sixth in OBP (.380), and he seemed to figure out how to hit lefties. His average against them, albeit in a small sample size, jumped from .215 to .347, and his OPS from .507 to .845. "I don't really need to do anything differently," Murphy says of his expanded role. "I just need to do it more often."
But the Rangers have an even more intriguing option to which they might turn as they seek to weather Hamilton's loss. He is the 20-year-old Jurickson Profar, who is widely regarded as the game's top prospect. He is, says Washington, the real deal: "A lot of the little things that it takes time for some players in the game to gather, he already has them." He also seems to be without a place to play, as he is a middle infielder in an organization that has All-Stars at both second base (Ian Kinsler) and shortstop (Elvis Andrus).
Profar's numbers were not outstanding this spring -- he hit .244 with no home runs and 5 RBIs before being sent to the minors on March 26 -- but the Rangers were impressed with his at-bats, and he has a history of starting slow (as a 17 year-old at Low-A and as a 19-year-old at Double-A) before quickly finding himself.
There were three possible early season paths for Profar: that he would make the club due to an unforeseen injury or trade involving Andrus or Kinsler, that he was so impressive that Washington had to have him and would find a way to shoehorn him into the lineup as often as he could, or that he would be sent down to Triple-A, in order to receive the regular at-bats he wouldn't as a utilityman.
While it turns out the Rangers went with the third choice, Texas might soon want to -- or might soon be forced to -- reconsider in favor of option two. Kinsler, for his part, is not currently thinking about off-season chatter that he might have to move off of second base, to first or the outfield.
"We've already gotten through that hurdle a long time ago," he says. "Right now I'm playing second, and I'm concentrating on that."
That could soon change, at least some of the time. As the Orioles successfully discovered last season with Manny Machado, pure talent eventually finds its way onto the field.
Biggest Addition: A.J. Pierzynski, catcher
Will the 36-year-old Pierzynski, signed to a one-year, $7.5 million deal after eight productive seasons with the White Sox, represent a power upgrade on the man he is replacing, Mike Napoli? Probably not on an at-bat to at-bat basis, although he will likely be in the lineup more often (Pierzynski has played in at least 128 games every year since 2002, a number Napoli has surpassed once), and in 2012 he exceeded Napoli in home runs (27 to 24), RBIs (77 to 56), batting average (.278 to .227) and OPS (.827 to .812). Of course, Pierzynski had never before hit more than 18 homers, but he takes issue with the popular belief that his offensive outburst in 2012 cannot be repeated.
"People said I could never do that, period, so I don't know why they think I can't again," he says. "Swinging the bat in [batting practice] and in games, it just feels like the swing is there. And Texas is not a bad place to hit at all, especially for a lefthanded hitter. It'll be fun."
Biggest Loss: Josh Hamilton, outfielder
The Rangers shouldn't experience much of an downgrade from last season at catcher nor at designated hitter, where free agent signee Lance Berkman should easily surpass the beloved Michael Young's eight home runs and .682 OPS, but centerfield will be a different story. Hamilton's defection to the rival Angels, for $125 million over five years, means that the position will likely be manned by Craig Gentry or Leonys Martin, with Julio Borbon also in the mix. That trio has combined to hit nine homers in 464 games -- as many as Hamilton slugged in last season's first three weeks.
What They Do Best: Move on
The Rangers bounced back from a World Series loss to the Giants in 2010 to come one pitch away from winning it all in 2011, and then rebounded from that potentially crushing development to reach the postseason again last October. There will be no psychic hangover from last season's failure -- in which their season fell apart in a matter of three days, after they were nipped at the wire by the A's for the AL West title, then lost their wild-card game to Baltimore -- nor from the sum of the disappointments of the past several. Washington will make sure of it.
"I think when it's all over -- I'm talking about my career -- and I'm able to sit around and think about it, it might haunt me then," the manager says. "I've got too much on my plate now to be worrying about what already happened. My feelings, I haven't had a chance to really deal with them, because we have another season upon us."
What They Do Worst: Starting pitching
Emotional resilience won't mean much if the Rangers don't get some surprises from their starting pitchers, particularly those who follow Yu Darvish and Matt Harrison in the rotation. They will likely open the season with a staff that made a combined 110 starts in 2012 -- and 39-year-old spring training signee Derek Lowe accounted for 21 of those, in which he pitched to a 5.52 ERA in Cleveland. Early on, a lot might be riding on reliever-turned-starter-turned-reliever-turned-starter Alexi Ogando.
Bottom Line
Daniels know that you can't expect the best-case scenario to become reality, but the Rangers will need that to happen -- in the form of quick returns from Lewis and Perez and a breakout rookie year from Profar -- to reach their fourth straight postseason.