Blue Jays have pieces in place to end playoff drought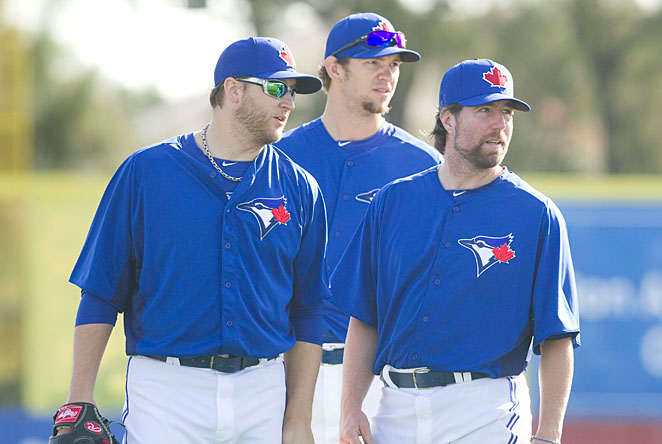 For more of SI.com's 2013 Major League Baseball season preview coverage, click here.
Toronto Blue Jays
2012 Record: 73-89, fourth in AL East
2013 Projection: 91-71, second in AL East, win second wild-card, lose ALCS to Rays
Were the Blue Jays for real? By the second week of December, they certainly seemed to be, amid an effort to reverse a string of 19 middling, playoff-free seasons.
On Nov. 13, they had pulled off a shocking blockbuster with the roster-liquidating Marlins, acquiring a recent batting champ (Jose Reyes), a recent ERA champ (Josh Johnson), one of the game's preeminent workhorses (Mark Buerhle) and a speedy utilityman (Emilio Bonifacio) for a package of prospects and underwhelming veterans. A week later, they had signed free agent Melky Cabrera, who was hitting .346 for the Giants last year before receiving the PED suspension that ended his season, for $16 million through 2014. Still, they had at least one person to convince of their intentions: Darren Oliver's wife, Melissa.
Oliver had recently turned 42, and his career's remarkable second act as a shutdown reliever was showing no signs of reaching a natural conclusion. In fact, his ERA had dropped in each of the previous six seasons, from 3.78 as an Angel in 2007 to 2.06 as a Jay in 2012. But Melissa wanted him home in Texas with their sons, Brock and Maxwell, and Oliver relayed that message to general manager Alex Anthopoulos and pro scouting director Perry Minasian, before inviting them south for dinner.
"I told them, 'You guys better bring the full court press, because she's not feeling it right now,'" Oliver recalls.
They brought it, the full forty minutes of hell. Not only were they serious, they told the Olivers, they weren't done yet. On Dec. 17, they sent their top prospect, catcher Travis d'Arnaud, and highly-rated minor league pitcher Noah Syndergaard to the Mets in exchange for R.A. Dickey, the knuckleballing 2012 National League Cy Young winner, and then promptly signed Dickey to an extension that would keep him in Toronto through at least 2015. A month later, Oliver committed to returning to Toronto.
Anthopoulos had not planned to make his club the talk of the winter. "We didn't go into the offseason expecting to add 'X' number of dollars in payroll, make all these trades -- it just worked out that way," he says.
Making big splashes is not Anthopoulos's preference, either. "I'd rather be Detroit, coming off an appearance in the World Series: re-sign Anibal [Sanchez], sign [Torii] Hunter and you're done," he says. "If you have barely any holes to fill, you can wait, take your time, be opportunistic."
Anthopoulos's 89-loss team, though, had plenty of holes, and most of them were in his rotation. He needed to give a lineup built around a couple of in-their-prime power hitters who were locked up through at least 2015, Jose Bautista and Edwin Encarnacion (who broke out with 42 home runs last year), the pitchers who could help them win.
"The rotation was clearly one and two," the GM says. "With the amount of money we had earmarked for the offseason, we were going to accomplish the rotation first and then see what was left. If the rotation wasn't going to improve, it wasn't going to matter what else we did."
When the free agent market for starters proved disagreeable, Anthopoulos contacted the Marlins about the 29-year-old Johnson -- the owner of a 44-27 record and a 3.06 ERA over the past five sometimes injury-compromised seasons -- and was told Miami wanted to part with much more than just him. Soon, everything fell into place, and the Blue Jays had come from nowhere to acquire the look of a winner.
"There are two extremes: you're trying to contend, or you're rebuilding. I don't know that being in the middle is an option," Anthopoulos says. The Blue Jays, firmly, are trying to contend.
They are doing so beginning in a year in which the AL East's traditional superpowers, the Red Sox and, especially, the Yankees, appear destined to struggle.
"Got to take advantage of the Yankees' injuries," says Oliver. "It's tough for them, but it's good for other teams. It'd be nice to start out of the gate hot. Would be good for the fans in Toronto. They'd become believers. Not saying it's going to happen, but it would be nice."
It is always difficult to quickly mold so many new players into a cohesive unit, but it was especially hard this spring, when a number of key Blue Jays, including Cabrera, Dickey, Encarnacion and Reyes, spent much of March playing in the World Baseball Classic.
Still, says Gibbons, "The time is now to do something." The measured Anthopoulos knows that, but is trying to temper his own expectations. "I've been humbled enough in this game," he says. "We've gotten our brains kicked in. What we went through in 2012, you realize everything can go wrong."
One rival AL executive agrees, and already sees potential cracks in the Blue Jays' newly laid foundation. "What if Jose Reyes plays in 70 games?" he asks. "What if [Ricky] Romero last year wasn't a fluke? What if [Brandon] Morrow gets hurt again? It's star power, and it's awesome, but what if Edwin Encarnacion isn't as good? What if Bautista's wrist hurts? There are a lot of things that have to break for them to be a 95-win team. Having said that, they very well could win 95 games."
Of course, you can come up with what-ifs for any team, in any sport. The fact of the matter is that the Blue Jays finally have enough players with enough talent to allow them to rebound from two decades of disappointments.
"They have a track record," says Anthopoulos. "They're established. Do they perform to their abilities? If they do, we should be a contending club."
Biggest Addition: R.A. Dickey
Of all of the Blue Jays' acquisitions, Dickey -- who Gibbons named as his Opening Day starter before pitchers and catchers had even reported to camp -- is the most important. There is some concern that his late career renaissance (in his three seasons with the Mets, starting at the age of 35, he went 39-28 with a 2.95 ERA), won't translate to the American League. In his 10 starts against AL teams since 2010, though, Dickey is 7-0, with a 1.77 ERA and a .173 batting average against. A lack of familiarity with his knuckler has something to do with AL hitters' struggles, but there is little reason to anticipate much trouble for Toronto's new ace.
Biggest Loss: Travis d'Arnaud
None of the Jays' moves really forced them to sacrifice anyone important from last year's major league roster. Will the likes of Henderson Alvarez, Yunel Escobar and Adeiny Hechavarria really be missed? However, they did have to deal away d'Arnaud, the 24-year-old who was rated by Baseball America as baseball's 17th-best prospect prior to last season. Their farm system, deemed the fifth best overall by BA last March, has been thinned, but such is the cost of trying to win now.
What They Do Best: Run
Toronto was eighth in the majors with 123 steals last year. That number should skyrocket now that Rajai Davis (whose 46 swiped trailed only Mike Trout's 49, though now he will be pushed to a reserve role) will be joined by Reyes and Bonifacio, each of whom can easily steal 40 bases.
"They'll have the green light," says Gibbons, of the trio. "We'll put it on for other guys, but those are the guys who will have it all the time. They've proven at this level they know what they're doing."
Several other Jays can move a little, too -- Encarnacion and Lawrie both stole 13 bases last year -- and outfielder Anthony Gose, who will likely join the club from Triple-A at some point, has had two 70-steal seasons in the minors.
What They Do Worst: Have a reliable fifth starter
Romero was the Jays' Opening Day starter for each of the past two seasons, but his ERA ballooned from 2.92 in 2011 to 5.77 in 2012, the highest among the 88 pitchers who qualified. All of the club's imports mean that Romero was now only being counted upon to be its fifth starter, but he was even worse this spring. He allowed seven earned runs over his first 8 2/3 exhibition innings, and he even walked five batters and allowed four runs over three-plus innings in a Single-A game on March 21. Five days later, Toronto sent him to the minors.
With Romero demoted, the Jays will turn to fallback option J.A. Happ, who has a spring ERA of 1.89. Over the last two regular seasons, though, he's pitched to an ERA of 5.08. Toronto's rotation is wildly improved, but it still might struggle every fifth day.
Bottom Line
If all of the Jays' off-season additions gel, they should join the returning, slugging nucleus of Jose Bautista and Edwin Encarnacion to give Toronto, at minimum, its first postseason berth since 1993.