Roundup: Dodgers prospect Yasiel Puig arrested for speeding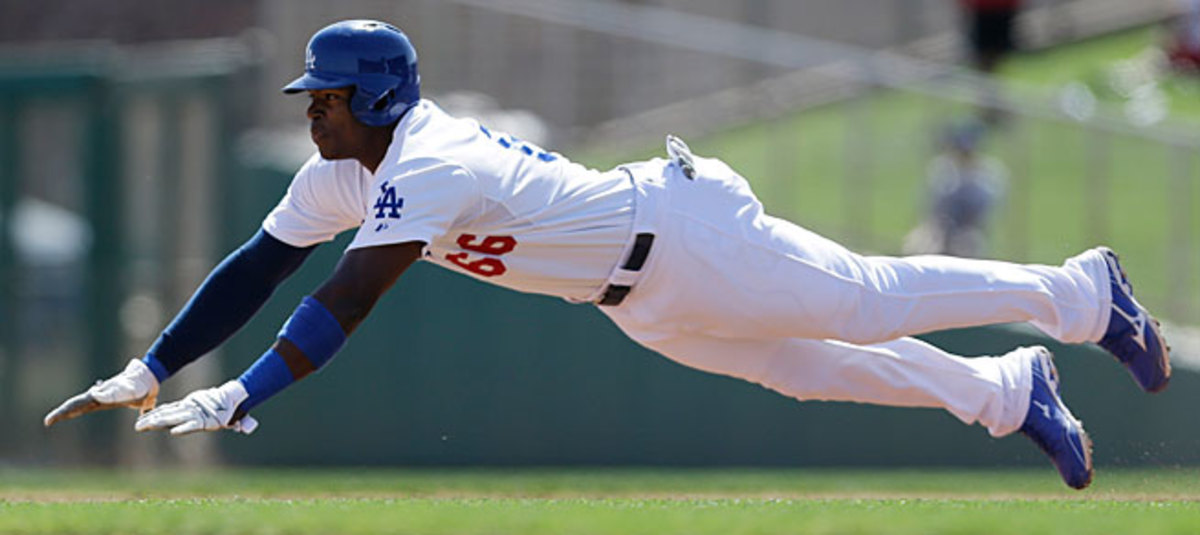 CHATTANOOGA, Tenn. (AP) -- Los Angeles Dodgers outfield prospect Yasiel Puig faces charges of reckless driving, speeding and driving without proof of insurance in Tennessee after police say he went 97 mph in a 50-mph zone early Sunday.
The Chattanooga Police Department report says Puig indicated he was serving as a designated driver when he was arrested at about 1 a.m. The report says Puig's car was going in and out of his lane and that "it took blue lights and multiple siren blasts" to get him to stop his car.
Dodgers general manager Ned Colletti said Sunday in a statement that the team takes Puig's arrest seriously and will handle discipline internally.
Puig, a 22-year-old Cuban defector, is hitting .333 with three homers and nine RBIs in 13 games for the Dodgers' Double-A farm team in Chattanooga. Puig signed a $42 million, seven-year contract last summer.
Rivera to write autobiography
NEW YORK (AP) Mariano Rivera is writing an autobiography. No word on whether he'll open with the final chapter.
Little, Brown and Co. said Monday it will publish "The Closer" next spring in English, Spanish and audio editions. A children's edition will follow that autumn.
The career saves leader, who turns 44 in November, says he is retiring this fall following his 19th season with the New York Yankees.
Says the 12-time All-Star: "Now is the time for me to finally tell my full story, of where I came from and what my game, my family, and my faith have meant to me every day."
Cardinals demote Rzepczynski
ST. LOUIS (AP) Making a move to shore up a shaky bullpen, the St. Louis Cardinals have demoted struggling left-handed reliever Marc Rzepczynski to the minor leagues.
The decision Monday means for now that the Cardinals are keeping Mitchell Boggs on the active big league roster despite a 12.66 ERA.
St. Louis selected the contract of right-hander Seth Maness from Triple-A Memphis, and he was expected to join the team in time for Monday night's game against the Reds. The 24-year-old Maness, 2-2 with a 4.32 ERA in five starts in the minors, was the franchise's minor league pitcher of the year last season and will be making his major league debut.
Rzepczynski allowed seven runs in eight innings over nine appearances for a 7.88 ERA and gave up a two-run homer to Russell Martin in the ninth inning of Sunday's 9-0 loss to the Pirates. Boggs was charged with the other three runs in that inning.
Laffey chooses free agency over minors
TORONTO (AP) Blue Jays pitcher Aaron Laffey has chosen to become a free agent rather than report to the minor leagues.
The team announced the decision Monday.
Laffey was claimed off waivers from the New York Mets last Tuesday. The 28-year-old lefty made one start for Toronto, and was wild in a no-decision Friday night against the New York Yankees.
Laffey pitched for Toronto last year.