Once again, expensive free agents are failing to meet expectations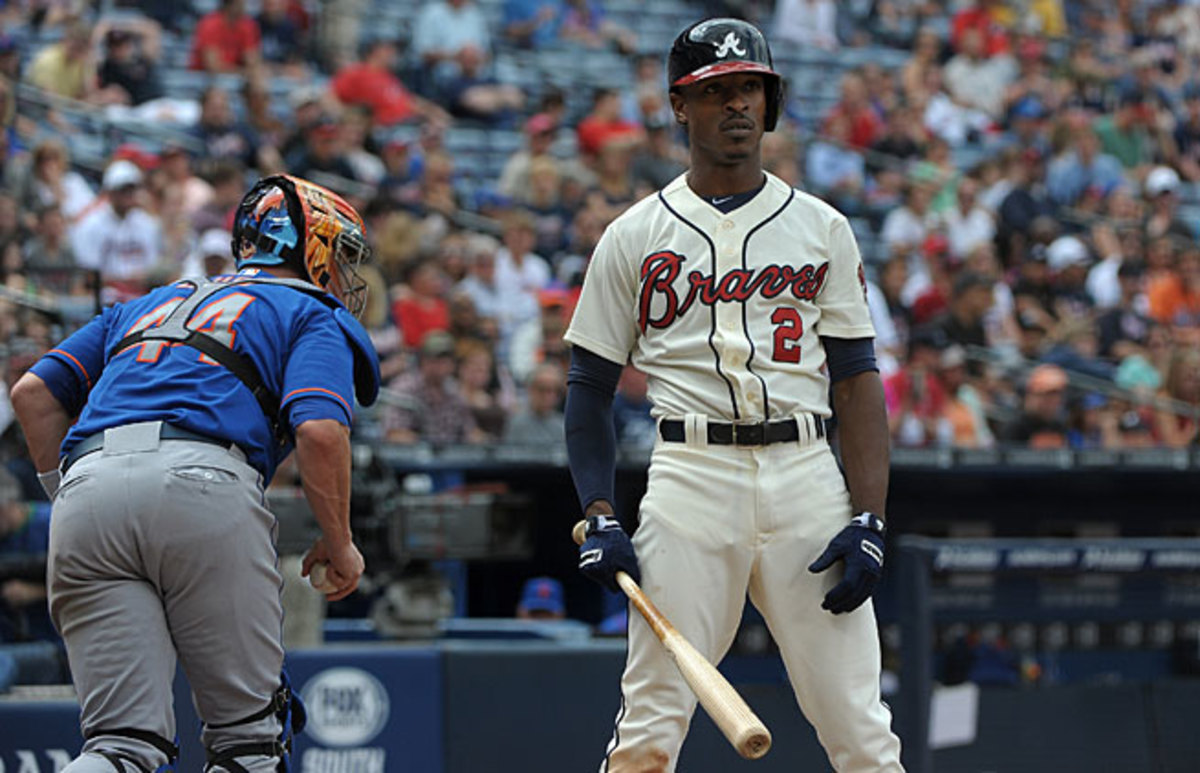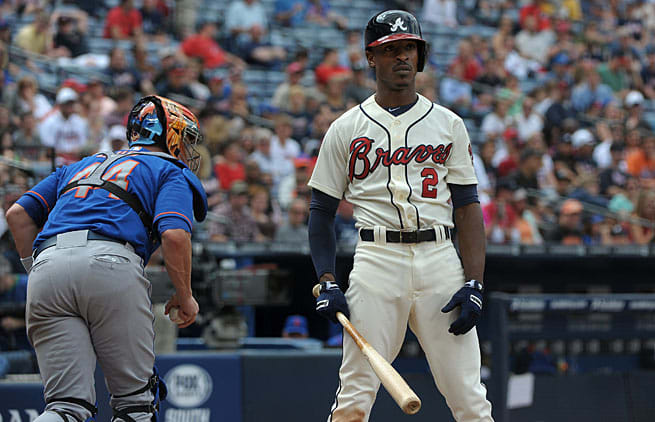 It took a combined $345.25 million for teams to win the services of Zack Greinke, Josh Hamilton and B.J. Upton, the three most expensive free agents who changed teams last winter. Today, Greinke can't pitch for the Dodgers because of a broken left collarbone and Hamilton and Upton can't hit, at least nothing close to what the Angels and Braves, their respective clubs, expected for the money they spent. Among the 186 qualified players this year in OPS, Hamilton ranks 176th (.551) and Upton ranks 180th (.500).
Atlanta manager Fredi Gonzalez put Upton in the leadoff spot last night out of desperation to get him started. Upton went 0-for-4 with four strikeouts and one walk, dropping his average to .148. He has struck out 40 times in 29 games. Hamilton is hitting .208 with two home runs. He has whiffed 38 times in 31 games.
Video: Upton explodes on ump after striking out
For all the overhyped noise of baseball's silly season -- when fans demand teams spend on free agents and owners get emboldened by their TV money -- free agency is becoming a more and more inefficient market. In addition to the troubles of Greinke, Hamilton and Upton, among other top free agents who changed teams Edwin Jackson (0-5, 6.39) has been horrible for the Cubs and Michael Bourn has been hurt for the Indians.
JAFFE: Data shows big-bucks free-agency is a sucker's bet
Kirk Gibson in 1988 became the poster player for the "one player away" philosophy that pervades baseball's winter: sign the right guy and you can win the World Series, which the Dodgers did after Gibson left Detroit for Los Angeles and had an MVP season. More recently, the Yankees spent nearly half a billion dollars on Mark Teixeira, CC Sabathia and A.J. Burnett after New York failed to make the playoffs in 2008. The Yankees did win the World Series the next year, but paid $20 million to make Burnett go away and are paying steep prices for the decline years of Teixeira and Sabathia.
Free agency isn't quite dead, but it's become a used car lot cluttered with lemons and high-mileage models -- with high price tags -- among the rare gems.
Those fancy catered winter press conferences look great for one day when a team puts a cap and jersey on The New Guy for the first time. Thereafter, for many of them it becomes a struggle to play under a new pressure: to justify the contract and the attention for a franchise and fan base where the player has no goodwill in the bank. Hamilton and Upton left comfortable environments in Texas and Tampa Bay, respectively, the same way Albert Pujols left St. Louis last year and Carl Crawford left Tampa Bay the year before that. All of them got off to poor starts in their new cities.
A trend has emerged: teams that "win the winter" with big deals can't win in the regular season, with the Blue Jays, Dodgers and Angels this year following last year's Angels and Marlins, the Red Sox of 2011 and the Mets and Mariners of 2010.
CORCORAN: Winter winners and how they fared the next summer
Over the past four winters, 24 free agents have changed teams with contracts worth $35 million or more. More of those contracts have been failures than they have been good buys. The kicker is that many of them became failures immediately. Teams have been handing out five- to 10-year contracts with the expectation that the end of the deal -- say, the final two or three years -- is something of a writeoff as the cost of acquiring the player. The true value of the deal is supposed to be front-loaded. But deals for players such as Pujols, Jason Bay, John Lackey and Adam Dunn looked bad from the start, as those for Hamilton and Upton threaten to be.
Among the 24 most expensive free agents who changed teams over the past four years, the deals for Prince Fielder, Adrian Beltre and Cliff Lee have held up as the best values for the teams that signed them, but most of the rest are suspect. Here's one way to gauge the inefficiency of free agency: here are the top 24 free agents who changed teams the past four years graded according to the initial impact (not the overall value) they provided their new team:
Of the 17 most expensive free agents from the previous three seasons, only five of them led their team into the playoffs in their first year. This year's group is just approaching the first quarter of their first season, so the grades are far from complete. But slow starts -- or worse -- for big free agents who change teams have been common in recent years.
Remember, too, the industry trends that have made free agency more inefficient. Teams prefer to lock up their best young players to extensions that buy out multiple free agent years. That leaves the free agent market with fewer choices -- choices that generally are older and/or less talented. Players such as Pujols, Hamilton, Dunn and Werth began their new contracts at 31 or older. In today's testing era, the older player is less valuable and more suspect to decline. And with restrictions on draft and international spending, owners are funneling those available dollars into free agency despite the few good choices there.
This winter some of the top free agent choices, with their 2014 playing ages, are Tim Lincecum, 30, Jacoby Ellsbury, 30, Robinson Cano, 31, Shin-Soo Choo, 31, Michael Morse, 32, Justin Morneau, 33, and Chase Utley, 35. Spending habits won't change because the flow of revenues isn't changing. You can be sure the money will be there for them -- and not all of it will be money well spent.