Cabrera, Gomez lead for MVP while stars back from injury regain form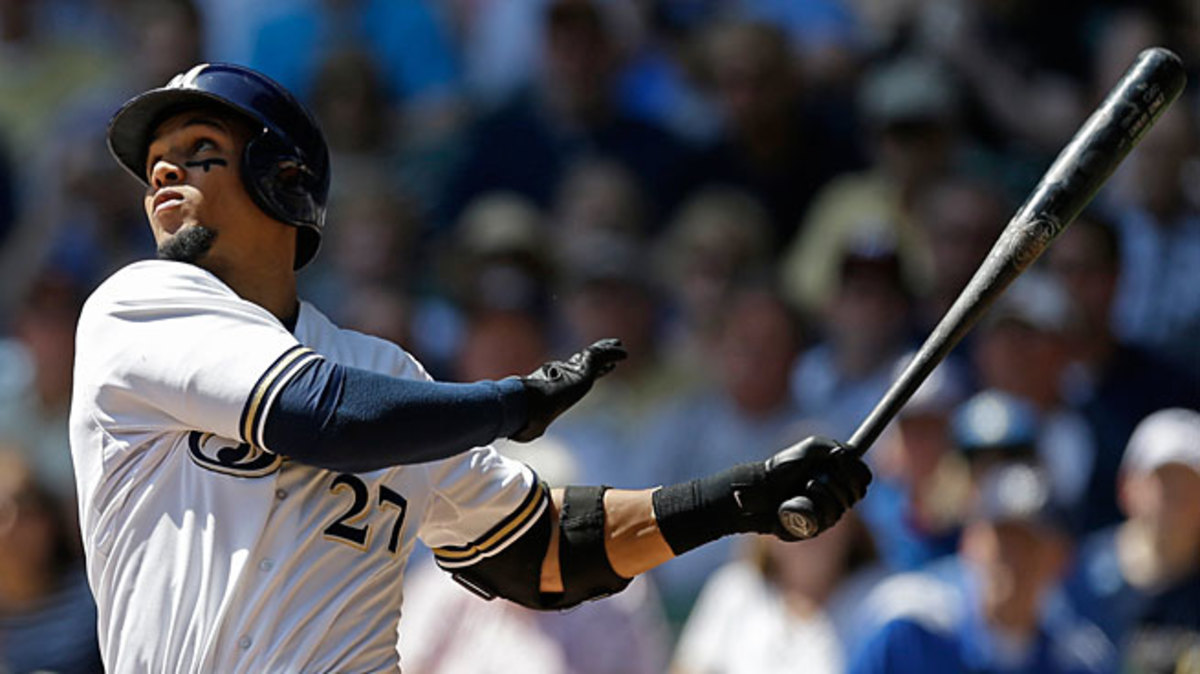 The fourth season of Awards Watch kicked off last week with a quick look at the top three contenders to that point in the season for each of the three major player awards in each league. This week, I take a closer look at the MVP races and who my top five in each league would be if the season ended today. There's already a different leader in each league than there was just one week ago.
Note: All stats are through Wednesday, May 8. League leaders are in bold, major league leaders in bold italics.
American League
1. Miguel Cabrera, 3B, TigersSeason Stats: .381/.459/.603, 6 HR, 37 RBI, 48 H
Cabrera has finished in the top five in the AL MVP voting in each of the last four years, and he tops my list as the AL's most valuable player through the first 38 days of the 2013 season. In the last three years, Cabrera has led the majors in RBIs twice, American League in on-base percentage twice (with one of those being a major league lead), and won the last two AL batting titles. Here he is again, leading the majors in RBIs and on-base percentage and in second place in the AL in batting (four points behind the Rays' James Loney, of all people).
2. Carlos Santana, C, IndiansSeason Stats: .358/.455/.674, 7 HR, 15 RBI
On a per-game basis, Santana has been the most valuable player in the AL thus far. Not only does he have a 71-point advantage over Cabrera in slugging percentage while nearly matching him in on-base percentage, but Santana is putting up those numbers as a catcher. Santana isn't a great defensive catcher -- he's thrown out just 19 percent of opposing basestealers this year, well below the league average of 25 -- but he's no worse behind the plate than Cabrera is at the hot corner.
Both players are being stretched defensively to free up first base and designated hitter for players unable to be similarly stretched, and the mere fact that they can be stretched that way increases their value. Ultimately, Cabrera deserves to be ahead of Santana because of their relative playing time. Santana has come to the plate 112 times compare to Cabrera's 146; that's 30 percent more plate appearances for Cabrera, enough to make the difference.
3. Chris Davis, 1B, OriolesSeason Stats: .309/.415/.636, 9 HR, 30 RBI
Davis sat atop this list a week ago, but he has gone 2-for-15 since and 2-for-18 in May, shedding nearly 40 points of batting average and more than 90 points of slugging since the end of April.
4. Prince Fielder, 1B, TigersSeason Stats: .304/.431/.574, 8 HR, 32 RBI, 25 BB
Fielder is sub-par in the field and on the bases, but he does everything you want a hitter to do (hit for average and great power and get on base), and he hasn't missed a start since Sept. 13, 2010. Since 2007, he has hit .290/.402/.549 and, with the help of opposing managers who have walked him intentionally 131 times over that span, he had more walks than strikeouts in each of the last two years. What he's done thus far this season isn't much different from any of that, but he had three top-four finishes in the MVP voting over the last six years and if the season ended today, he'd deserve another one.
5. Evan Longoria, 3B, RaysSeason Stats: .320/.390/.584, 8 HR, 22 RBI
After hitting .283/.361/.521, winning two Gold Gloves and stealing 31 bases in 36 attempts over his first three major league seasons, Longoria looked like he'd be a perennial MVP candidate. However, a fluky dip in his batting average on balls in play in 2011 and injuries both that season and the next, the latter a hamstring strain that limited him to 74 games last year, temporarily sidetracked that train.
This season, however, Longoria's MVP Express is back on the rails just in time for his age-27 season. He's not stealing bases any more (in fact, he hasn't even attempted one this year after going 5-for-10 in the last two years combined), but his bat and the glove are as good as ever.
National League
1. Carlos Gomez, CF, BrewersSeason Stats:.386/.431/.675, 6 HR, 14 RBI, 22 R, 7 SB
I had Gomez third in the NL last week, but since then he has extended his hitting streak to 14 games capped by a 4-for-4 performance Wednesday night in which he fell a home run shy of the cycle. Over the course of that streak, Gomez has collected multiple hits in nine games and hit a collective .491/.534/.925, while stealing six bases in seven attempts and playing his usual Gold Glove quality centerfield. On the season, Gomez leads the majors in batting average and slugging percentage and is on pace for 30 homers, 46 doubles, 15 triples and 35 steals.
2. Troy Tulowitzki, SS, RockiesSeason Stats: .348/.440/.663, 7 HR, 28 RBI
Like Longoria, Tulowitzki is a young, perennial MVP candidate whose return to health after a season largely lost to a leg injury is a boon to the game in general. However, Tulo's health has thus far been more tenuous than Longo's. Tulowitzki missed four games at the end of April with a sore shoulder and hasn't played since Sunday due to swelling in his left adductor muscle, which is close to the location of the groin injury that limited him to 49 games last season. In his 14 plate appearances in between the two injuries, however, he went 7-for-11 with two doubles, a home run, and six RBIs.
3. Matt Harvey, RHP, MetsSeason Stats: 4-0, 1.28 ERA, 0.69 WHIP, 10.6 K/9, 4.83 K/BB, 7.0 IP/GS, 290 ERA+
Through the first six weeks of the season, the 24-year-old Harvey has gone from being the new "best young pitcher in baseball" to the best pitcher in baseball, period. His average start this season looks like this: 7 IP, 3 H, 1 R, 2 BB, 8 K. His 12-strikeout one-hitter against the struggling White Sox on Tuesday night was not only the best pitching performance of the season but the best imperfect pitching performance in the majors since Brandon Morrow's 17-strikeout one-hitter in August 2010.
Baseball-Reference's Wins Above Replacement lists Harvey as the best player at any position in baseball to this point in the season: his 2.7 bWAR is 0.3 wins above Gomez. It's hard to trust WAR in such small samples, but Harvey certainly belongs in the conversation about the game's most valuable player (and, look, here he is!).
4. Bryce Harper, LF, NationalsSeason Stats: .313/.395/.652, 10 HR, 20 RBI
Harper topped this list a week ago, but he has gone just 3-for-17 since while his competition has been red-hot. Still, the last of those three hits was Harper's 10th home run of the year, which put him in a four-way tie for second place in the majors in that category on what's roughly a 50-homer pace.
Home runs, though, aren't the only part of Harper's game. In fact, the only thing he isn't doing this season is stealing bases (he's just one-for-three on the basepaths after stealing 18 in 24 attempts last year). He is hitting for average, drawing walks almost as often as he strikes out and showing range and one of the majors' best arms in leftfield. Best of all, his batting line above is right in line with his red-hot finish to last season, when he hit .327/.384/.660 over his final 179 plate appearances. Put that performance together with this season and you get .321/.389/.658 with 22 home runs in his last 308 plate appearances, again a 50-homer pace over a 700-plate-appearance season.
This is real production from Harper at the age of 20. Oh my.
5. David Wright, 3B, MetsSeason Stats: .298/.422/.548, 5 HR, 23 RBI, 6 SB
Wright had something of a comeback season last year when, for the first time in four years, he did everything well in the same season, goosing his walk rate, dropping his strikeout rate, getting his batting average back over .300, hitting for power and playing Gold Glove-quality defense. As a result, he finished sixth in the MVP voting, the second-highest result in his career, and landed a new eight-year, $138 million contract extension from the Mets.
This year, the 30-year-old is picking right up where he left off last year with career-highs in walk rate, on-base percentage, isolated power, slugging percentage, a career-low strikeout rate (not counting his partial rookie year), and, fixing his one shortcoming from 2012, inefficient basestealing (he's 6-for-7 in 2013).