After another ump embarrassment, where are MLB's powers that be?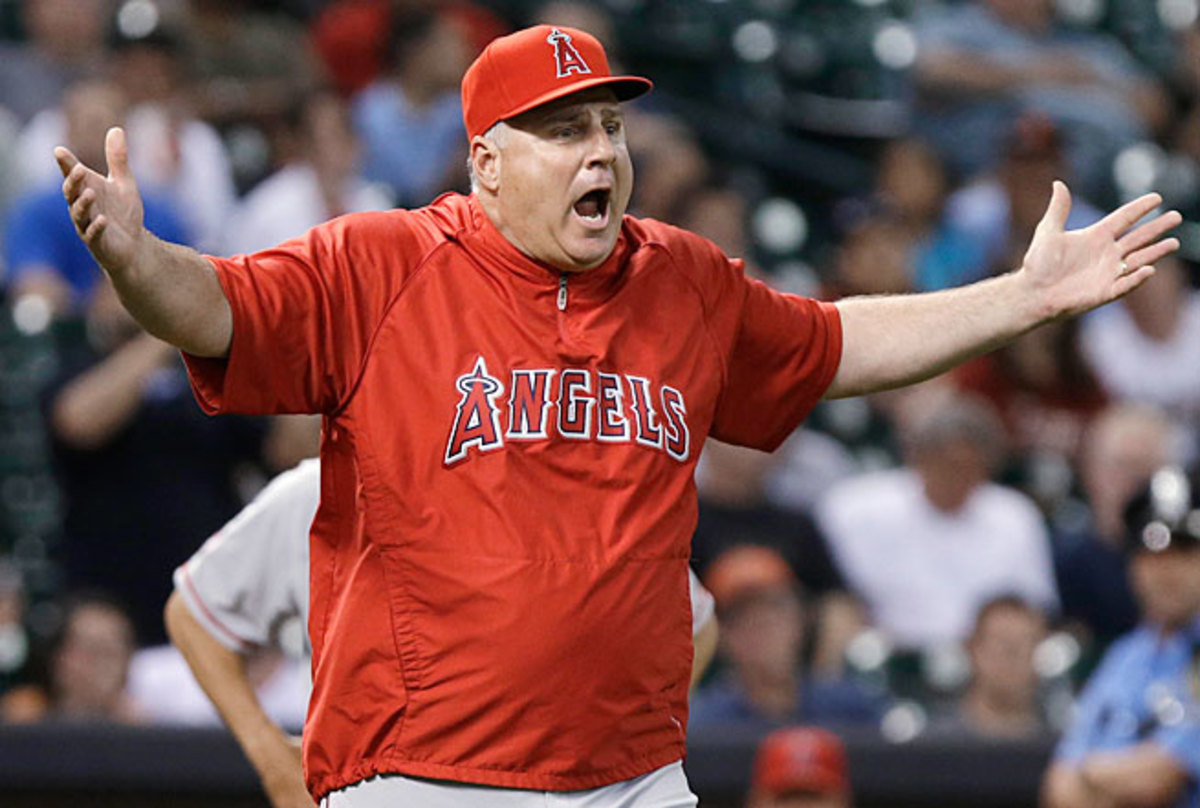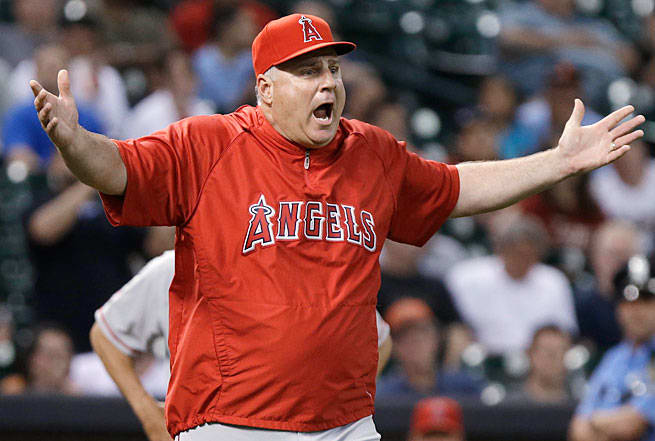 A bad year for umpiring keeps getting worse. The Angel Hernandez fiasco was an embarrassment for baseball. How do you miss a call live and on replay? What is just as bothersome is Hernandez serving as the proxy for umpires' lack of accountability. He's going to tell reporters they can't record his interview? And he's not going to explain what replays he saw? Sorry, that behavior deserves discipline from MLB. Fans have a right to information and explanation, especially with such an obvious blown call. Contrast Hernandez's self-important bullying tactics with the class Jim Joyce showed after blowing the call at first base on Armando Galarraga's imperfect game.
JAFFE: The seven worst things about blown call in A's-Indians game (with video)
"Embarrassment" was the exact word Angels manager Mike Scioscia kept using in the dugout on Thursday night when umpires appeared clueless in Los Angeles' game in Houston -- though Scioscia always used a modifier in front of "embarrassment" that cannot be repeated here.
Somehow umpires let Houston manager Bo Porter bring a relief pitcher into the game in the seventh inning -- Wesley Wright came in from the bullpen, took his place on the mound and warmed up -- and take him out of the game without facing a batter, a clear violation of the rules. (There was no indication Wright was hurt, which would have allowed for the exception of replacing a pitcher without facing a batter.) The umpires huddled at least two times to figure something out. They let Porter get away with it. Scioscia played the game under protest. (Watch the video.)
Porter said after the game the rule was changed last year to allow a manager to remove a pitcher without him facing a batter when the other team counters by sending up a pinch hitter. Are you kidding me? That's the last thing baseball needs. There are too many dead times in a baseball game as it is, and now we're going to allow a pitching change, a warmup, another pitching change and another warmup before a batter even takes a turn at bat? Three pitchers for one spot in the order?
And if you are looking for an explanation about why this was allowed to happen, forget it. That's right: crew chief Fielden Culbreth pulled an Angel Hernandez and "answered" questions with the same response: "All matters concerning protests are handled through the league office, and that's all I can tell you."
Where are you Joe Torre and Bud Selig? Why is baseball continuing to allow umpires to spit in the face of fans? When the situation clearly calls for clarity and explanation, why is baseball allowing umpires to be bullies with no accountability?
We hold ballplayers and managers accountable all the time. The relief pitcher who gives up the winning home run has to account for himself, and if he ducks reporters he is derided as weak. Scioscia must answer for all of his decisions, and in fact is facing questions about losing his job because of his job performance.
So why are umpires allowed to skate, particularly in situations that demand explanation and rules interpretations? Forget the media; it's an insult to fans.
The umpire fiasco in Houston helped make that seventh inning just brutal to watch. It was a representation of everything that is wrong with the pace of baseball these days. Between the confused umpires, mound visits, pitching changes, batters calling time, pickoff throws and step-offs called from the dugout, batters taking pitches, catchers conferring with pitchers on the mound, pitchers walking around and rubbing up baseballs . . . the inning took more than 30 minutes and consisted mostly of men standing around.
There were 44 pitches in the inning, but only six resulted in the ball being put in play. That's one ball put in play every five or six minutes.
And get this: no runs were scored in all that time. The baseball left the infield only three times in the entire inning.
Of course, we are talking about two teams battling for last place, so this wasn't crisp baseball. The game, which the Angels won 6-5, took four hours, 7 minutes. There were 333 pitches, only 56 of which were put in play (one every four and a half minutes). There were 14 walks, including 11 by Houston pitchers, and four to Angels catcher Chris Iannetta, a .195 hitter. The crowd was announced as 13,003. How many were still in the stands when the game ended after 11 p.m. on a school night, and how many are likely to come back? I know this: All of them went home without an explanation from the umpires about what was allowed to happen in that seventh inning, and today they still have no explanation.
2. Why Trout and the Angels are off to a slow start
Mike Trout posted one of the great major league seasons in history last year, becoming the first player to have at least 30 home runs, 45 stolen bases and 125 runs scored. His reward? The Angels took him out of centerfield and out of his leadoff spot at the age of 21. The result, coincidentally or not, is that Trout is less productive and he is running a lot less, as are all of the Angels.
What happened? Los Angeles made two key decisions: general manager Jerry Dipoto wanted to pave an open path of playing time for Peter Bourjos, which required Trout to change positions and for Torii Hunter and Kendry Morales to be sent packing, and he signed free agent outfielder Josh Hamilton.
Now Bourjous, who was playing well, is on the disabled list with a hamstring strain, Hamilton still hasn't gotten untracked and the Angels' lineup is a mess, ranking 11th in the American League in runs per game as it simply sits around and waits for Albert Pujols, Josh Hamilton and Mark Trumbo to hit the home runs that may never come.
With Bourjos out, Scioscia has batted Erick Aybar leadoff -- a guy with a .294 on-base percentage -- for the past nine games. Los Angeles is 3-6 in those games. Trout led off for the first eight games of the season and has been locked in the two-hole every game since. The result has been to diminish one of Trout's great strengths: his running game.
With Pujols and Hamilton behind him, Trout has been much more likely to stay put on the bases than to run. Last year he attempted a stolen base on 22 percent of his opportunities (when he was on first or second with a base open in front of him). This year his run rate is down to 8.4 percent. One of the fastest runners in baseball has been stopped by his own team.
Likewise, the Angels are less aggressive as a team on the bases. Check out how much their offensive profile has changed this year (for the worse):
? They are running 40 percent less often than they did last year; their rate of stolen base attempts per game has declined from 1.03 to 0.62.
? With Trout leading off last year, Los Angeles ranked first out of the leadoff spot in OBP, runs and OPS. This year, with five players in and out of the leadoff spot, the team ranks sixth, eighth and ninth, respectively.
? Last year the Angels ranked second in the league in steals and attempts from the 1-2 spots in the batting order. This year they rank 10th in steals and 11th in attempts from those top two spots.
Lineup construction can be overrated. It's fun to talk about and any small move gains a disproportionate amount of attention relative to the impact. But something clearly isn't working for the Angels, and Trout may be paying for it as much as anybody. He has started 21 games in leftfield and 13 games in centerfield. He has started eight games in the leadoff spot and 26 in the two-hole. And, though still very, very good, he is not quite the same kind of dynamic player he was last year.
3. The real reason for Big Papi's big numbers lately
David Ortiz was peeved to have to defend himself this week against questions about PED use, which seemed to be based on connecting the dots of a 37-year-old hitter getting better with age. It's another awful residue of The Steroid Era; suspicion lurks behind every achievement. The Steroid Era did for baseball players what Watergate did for Washington: an institutional erosion of trust.
But let's look at some facts here about Ortiz besides playing the sometimes dangerous game of connect-the-dots:
? Ortiz is a DH who has missed 90 games the past two years. So you're talking about a guy who doesn't play defense and doesn't play at all 46 percent of the time. The aging issue would seem to be mitigated by not going through the grinds of playing defense and playing every day. There is little wear and tear.
? Ortiz is helped enormously by Fenway Park. He has hit .315 at Fenway in his career and .266 everywhere else. More importantly, as he has aged he has become a better hitter at Fenway. He knows that trying to launch pulled fly balls through the cold air in the early and late months is often fruitless. So he is more likely to bang doubles off The Wall or home runs over it.
Check out by way of his home/road splits how the aging Ortiz has become an even better hitter at Fenway:
If you looked only at Ortiz's numbers on the road the past three years (.275, 51 extra-base hits), you probably wouldn't raise the PED question. The key to Ortiz aging so well over the past three years has been his hitting at Fenway (.350, 81 extra-base hits).
KEITH: Another night, another disaster for the umpires in Angels-Astros game