Clayton Kershaw, Felix Hernandez lead tight Cy Young races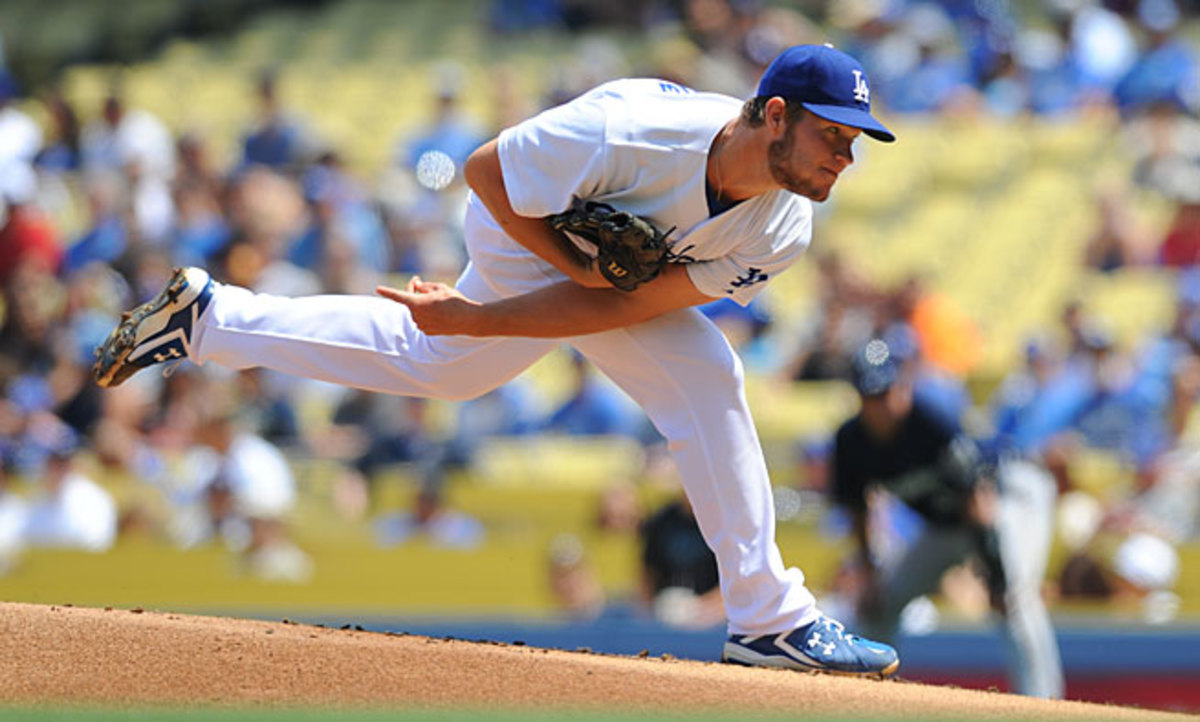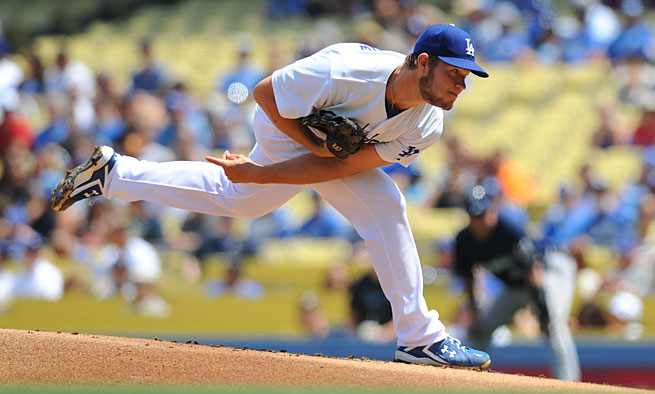 In this week's Awards Watch, I take my first isolated look at the year's Cy Young races and find past winners and perennial contenders for the award leading very competitive fields in both leagues.
Note: All stats are through Wednesday, May 15. League leaders are in bold, major league leaders in bold italics.
National League
1. Clayton Kershaw, LHP, Dodgers
Season Stats: 4-2, 1.40 ERA, 0.87 WHIP, 9.4 K/9, 3.94 K/BB, 7.1 IP/GS, 1 SHO, 263 ERA+
With Justin Verlander experiencing a drop in his velocity and control in the early going this season, it's worth asking if Kershaw is already surpassing him as the best pitcher in baseball. In each of the two seasons prior to this one, Kershaw has led the majors in ERA and finished in the top two in the NL Cy Young voting, winning the award in 2011 and arguably deserving it more in 2012 when he didn't.
Here he is again in 2013, up to what are already old tricks for the 25-year-old lefty. Kershaw, who leads the NL in innings pitched, has completed at least seven innings in seven of his nine starts this season. In six of those seven outings he has allowed one or no runs.
2. Matt Harvey, RHP, Mets
Season Stats: 4-0, 1.44 ERA, 0.73 WHIP, 9.9 K/9, 4.43 K/BB, 7.0 IP/GS, 256 ERA+
Harvey has been every bit as good as Kershaw this season, but has made one less start (his ninth start will come against the Cubs in Chicago on Friday night), which is enough to break a virtual tie here. Note that, while Harvey does not have an official shutout on his record, he did throw nine scoreless innings against the White Sox on May 7 only to see the game continue scoreless into the 10th. Harvey's performance in that game, in which he struck out 12 and allowed just one baserunner on an infield single, remains one of the two most dominant pitching performances of the season (Yu Darvish's near-perfect game on April 2 being the other).
VERDUCCI: After 766 tries, Mets finally have a homegrown ace in Harvey
3. Jordan Zimmermann, RHP, Nationals
Season Stats: 7-1, 1.69 ERA, 0.87 WHIP, 6.0 K/9, 4.33 K/BB, 7.3 IP/GS, 2 CG, 1 SHO, 225 ERA+
Zimmermann has allowed as many as three runs in a game just once this season and has only completed fewer than seven innings one time. In his first outing after that latter start, he threw a one-hit shutout against the defending NL Central champion Reds. You may cock an eyebrow at his low strikeout rate, but his pitch-to-contact approach (which includes just 1.4 walks per nine innings and an increase in groundball outs) has resulted in his being the most efficient pitcher in baseball this season. Zimmermann has thrown a major league-low 13.3 pitches per inning thus far, a rate of efficiency that translates to 7 1/2 innings per 100 pitches.
4. Patrick Corbin, LHP, Diamondbacks
Season Stats: 6-0, 1.52 ERA, 1.07 WHIP, 6.9 K/9, 2.41 K/BB, 6.7 IP/GS, 263 ERA+
If you asked me as recently as this spring which of the lefties acquired by the Diamondbacks from the Angels in the Dan Haren trade would be the first to make an appearance on this list, I'd have said Tyler Skaggs without hesitation. Yet, while Skaggs is nursing a 6.21 ERA in Triple-A, Corbin, a sophomore with a sinker/slider combo, is making his case for a long-term spot in the Arizona rotation. All eight of the 23-year-old's appearances have been quality starts in which he has allowed two of fewer runs and the Diamondbacks have won. In his two no-decisions, he allowed a total of three runs in 14 1/3 combined innings while striking out 14. Since then, he has gone 4-0 with a 1.33 ERA in four starts. The ugliest figure on his game logs is the five walks he issued in his last start, against the Braves, but he allowed just three hits in that game while twirling seven efficient shutout innings.
5. Adam Wainwright, RHP, Cardinals
Season Stats: 5-2, 2.30 ERA, 0.99 WHIP, 8.4 K/9, 13.75 K/BB, 7.3 IP/GS, 2 SHO, 162 ERA+
It's tough to leave Cardinals rookie Shelby Miller off this list until you look at his game logs and realize that he has failed to complete six innings three times and completed seven or more just twice. Wainwright, meanwhile, has had six starts of seven or more innings in his eight turns, as well as three scoreless starts that lasted 8 1/3 innings or more. No pitcher in baseball has gone deeper into his starts than Wainwright (though Zimmermann and Clay Buchholz have gone as far), none have dominated the strike zone to the same degree and Justin Masterson of the Indians is the only other to have recorded two shutouts.
Miller's big advantage over Wainwright is his ERA, which dropped to 1.40 after his short-but-scoreless outing against the Mets on Wednesday night (5 2/3 innings). However, Wainwright's ERA was really spoiled by just one bad start. Take out the five runs he allowed in 5 1/3 innings against the Brewers two turns ago, and Wainwright's ERA in his other seven starts, none of which has seen him allow a home run, has been 1.69. Miller will get his due in the Rookie of the Year rankings next week, but if I had to manage the Cardinals in a Game 7 tonight, I'd want Wainwright on the hill.
American League
1. Felix Hernandez, RHP, Mariners
Season Stats: 5-2, 1.53 ERA, 0.93 WHIP, 8.9 K/9, 6.40 K/BB, 7.2 IP/GS, 244 ERA+
Hernandez's second and third starts of the season were disappointingly ordinary. He allowed four runs in each, failed to complete the seventh inning in either one, walked four, gave up two home runs among his 16 hits allowed and struck out just eight in the 13 combined innings. In his other seven starts, he has allowed just five more runs (one unearned), walked five men, allowed one home run, completed eight full innings four times and allowed just 34 hits against 56 strikeouts in 51 2/3 innings. His aggregate performance in those seven starts yields a 0.70 ERA, 0.77 WHIP and 9.3 K/BB ratio.
2. Clay Buchholz, RHP, Red Sox
Season Stats: 6-0, 1.69 ERA, 1.04 WHIP, 9.2 K/9, 2.86 K/BB, 7.3 IP/GS, 256 ERA+
Buchholz and Hernandez are neck-and-neck for this award right now. King Felix gets the edge this week because he leads the major leagues in innings pitched, having made one more start than Buchholz, who next starts in Minnesota on Friday, and because Hernandez has done a better job of limiting baserunners via walks (1.4 BB/9 to Buchholz's 3.2 BB/9). Hernandez's walk rate is more indicative of quality pitching than Buchholz's lower hit and home run rates, and his advantage over Buchholz in that department is large enough to give Hernandez the superior WHIP despite Buchholz's lower hit-rate. With everything else being so close, Hernandez's raw innings total and lack of walks make the difference.
3. Hisashi Iwakuma, RHP, Mariners
Season Stats: 5-1, 1.84 ERA, 0.78 WHIP, 8.4 K/9, 6.88 K/BB, 6.5 IP/GS, 215- ERA+
In the worst, and only non-quality, start of his nine outings this season, Iwakuma struck out 11 men and allowed just two earned runs. That was his only loss of the year and he was pulled after throwing 93 pitches in five innings.
In his other eight starts, all quality, the 32-year-old righty from Japan has only once allowed more than two runs, and five times allowed one or none. The Mariners have gone 7-1 in those games. Iwakuma and rotation-mate Hernandez are the only pitchers on this AL list to have made their ninth start this season.
4. Anibal Sanchez, RHP, Tigers
Season Stats: 4-3, 2.05 ERA, 1.08 WHIP, 11.3 K/9, 5.50 K/BB, 6.6 IP/GS, 211 ERA+
Sanchez isn't here just because of his 17-strikeout game, though that does remain the highest single-game strikeout total since 2010. Each of Sanchez's last seven starts has been quality, and he has struck out eight or more men in six of them. His only non-quality start of the season saw him throw five scoreless innings in his season debut, though he left after throwing 95 pitches. He has since topped 110 pitches five times in seven turns. The Tigers have lost four of the eight games Sanchez has started, but scored a total of just six runs in those four games.
5. Justin Verlander, RHP, Tigers
Season Stats: 4-3, 1.93 ERA, 1.21 WHIP, 10.0 K/9, 3.17 K/BB, 6.4 IP/GS, 224 ERA+
Verlander's walk rate and WHIP spiked after his last start when he walked five Indians in five innings in his first non-quality start since his Sanchez-like season debut (5 IP, 0 R, 91 pitches). That was also the first of his three losses on the season in which the Tigers scored at all. Still, Verlander allowed just three earned runs in that game and struck out seven. I'm not ready to bump him off this list just yet, though James Shields, Chris Sale and Yu Darvish are all jockeying for his place should he have another poor outing. That adds an extra wrinkle of intrigue to Thursday night's marquee matchup of Verlander and Darvish in Texas.