Darvish ignoring pitch counts to dazzle teammates and opponents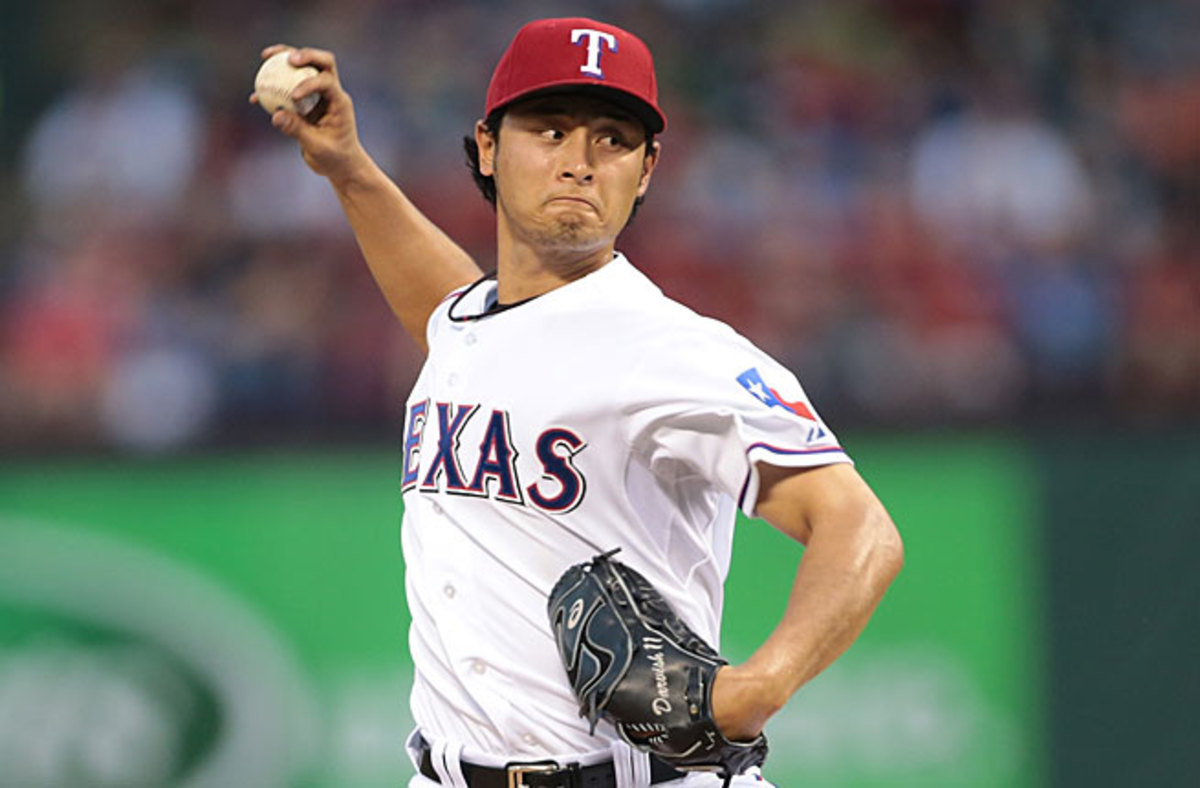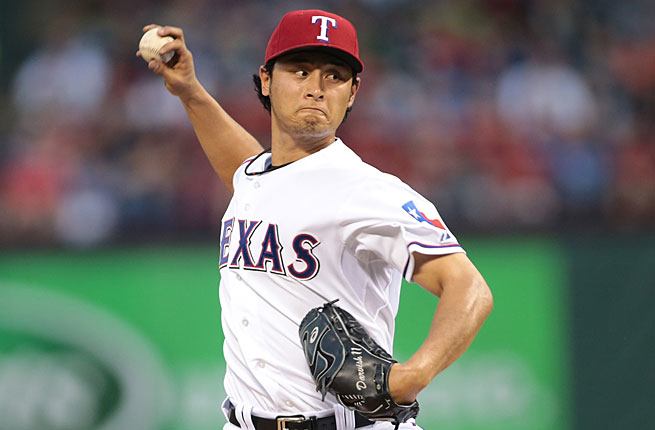 I must have missed the memo about the barnstorming tour of Yu Darvish. The Rangers ace is not only among the best pitchers in baseball, he also is the most entertaining pitcher in the sport. Darvish reproved his mastery and showmanship in beating Detroit on Thursday night. He threw pitches as slow as 62 miles per hour and as fast as 97 while throwing 130 pitches in a 10-4 victory to improve to 7-1.
With the way Darvish stayed in the game, thumbing his nose at the Pitch Count Police like a kid zooming a cherry red sports car through a speed trap, and the way he made the baseball loop and dive and swirl as if it were a remote control device, and the way he and the Detroit hitters smiled at his sleight of hand, you would have thought Darvish had brought back the entertaining barnstorming tours of long ago stars such as Satchel Paige and Bob Feller.
GIF: The wide, wide world of Yu Darvish's many pitches
Both Miguel Cabrera, who waved awkwardly at one of those slow-motion, looping curveballs, and Victor Martinez, who took back-to-back slow curves before asking for another and then blowing a kiss at Darvish, playfully had to smile in the batter's box at what Darvish was serving up to Detroit hitters. It was refreshing, if not downright odd, to see Darvish keep going back out to the mound, first for the seventh and then for the eighth, with a high pitch count and a big lead. He threw 130 pitches or more seven times in 2011 in Japan, so he has experience with carrying such a load (albeit with fewer rest days here).
Rangers manager Ron Washington told a story before the game about how Darvish embraced the challenge of a duel with Jon Lester of Boston earlier this month. He said Darvish kept coming up to him at the end of each inning after the fourth, saying, "I feel strong. Don't pay attention to my pitch count. I'm not coming out." He threw 127 pitches that day.
How unusual was it to see Darvish throw so many pitches in a blowout win Thursday? Over the past five seasons, only one pitcher has thrown 130 pitches in a game with such a big lead: Johan Santana, when he pitched the only no-hitter in Mets history last year. He hasn't been the same since.
CORCORAN: Verlander rocked in matchup with Darvish
Just maybe Darvish is a bit different, the way guys like Nolan Ryan and Randy Johnson were. Maybe pitch counts are not a one-size-fits-all measurement. No one knows for sure what's the right side of the line. But I do know that right now Darvish can make the ball move in more ways at more speeds than anybody else in baseball.
"Nope," Washington said when asked if in his years in baseball he ever came across anyone who could make the ball move like Darvish. "Never seen anything like it."
GALLERY: See where Darvish ranked on last season's list of the top-selling jerseys
2. The high cost of old pitchers
The news that Roy Halladay underwent a significant shoulder procedure should send a shudder through the offices of the Tigers, Giants, Mariners, Yankees, Dodgers and any other club that has seen fit to pay big money to ace pitchers as they age through their mid-30s. Halladay looked to be as rock solid an investment as any pitcher in baseball when the Phillies signed him in December 2009 to a three-year, $60 million deal -- a deal that actually kept short the team's exposure.
It's just more proof about how velocity and health are almost guaranteed to diminish for pitchers just as they get into the really big money.
Think about these pitchers who were All-Stars just four or five years ago: Halladay, Santana, Brandon Webb, Kerry Wood, Carlos Zambrano, Ben Sheets, Josh Beckett, Mark Buehrle and Tim Lincecum. That doesn't include Chris Carpenter. It wasn't all that long ago. All are now out of baseball, hurt or nothing close to All-Star form.
Really, it's an entire generation of pitchers nearing or hitting the end of their effective shelf life. Today there are only two pitchers 35-and-older who are still productive strikeout pitchers: A.J. Burnett and Ryan Dempster. We are in the fourth year of an era of dominant pitching, but it is an era that belongs to young pitchers.
3. A simple strategy for success
Next time someone wants to convince you that strikeouts are just another out, tell them to take a look at the teams that are the best at not giving pitchers strike three. Entering play Thursday, the four best teams at putting the ball in play (the ones with the lowest strikeout percentage) were Texas, San Francisco, Baltimore and Detroit -- all winning teams, with three of them in first place.
Extend it further and you find that nine of the 10 best teams at putting the ball in play had winning records, including five of the six first-place teams.
In a game where strike three never has been so easy to come by, the teams that don't allow it to happen so easily are finding more ways to win games.