Jurickson Profar and the week's biggest prospect debuts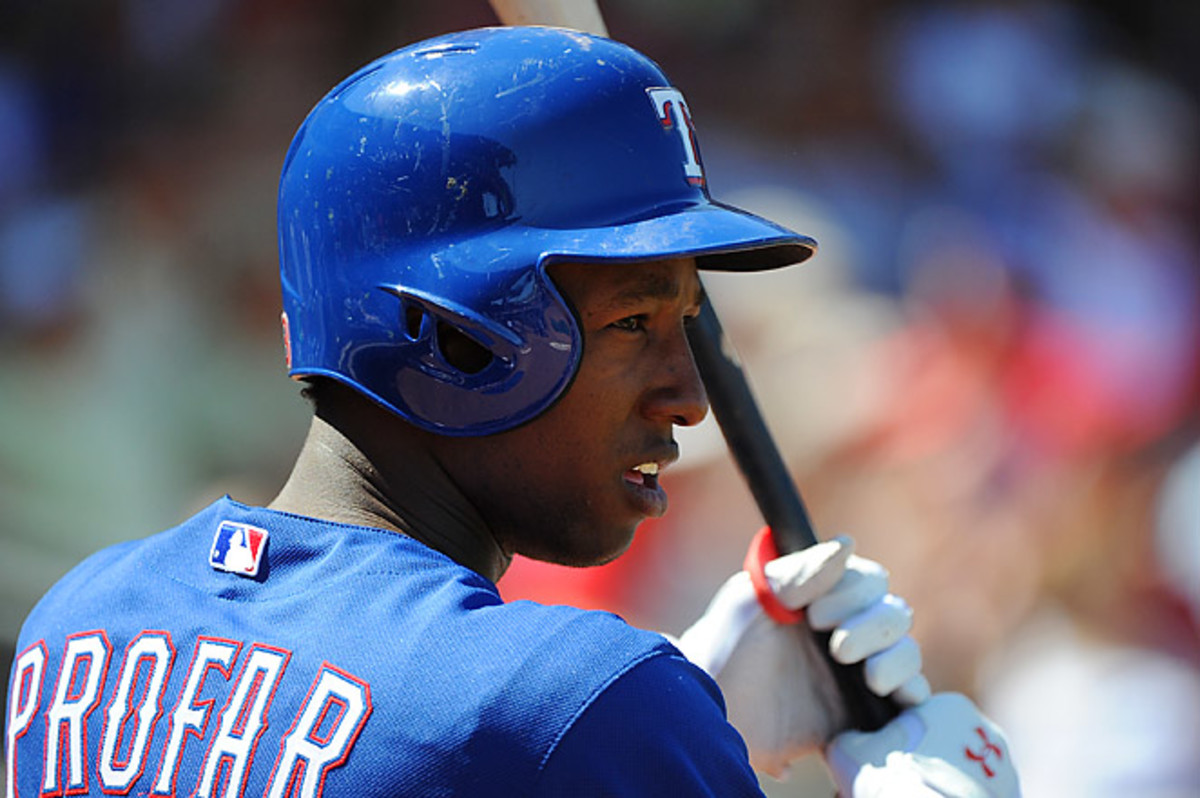 This week is shaping up to be a good one for baseball draftniks and prospect hounds.
Monday will bring with it the Rays debut of 23-year-old Jake Odorizzi. The pitcher, who was acquired as part of the Wil Myers/James Shields trade, has struck out more than a batter an inning in Triple-A and will take the injured David Price's spot in the rotation.
Meanwhile, in St. Louis, the Cardinals announced that starter Jaime Garcia, whose pitching shoulder is hurting again, will be replaced by lefty Tyler Lyons. But Lyons should in short order give way to one of two flamethrowers, current reliever Carlos Martinez or 6-foot-6 2012 first rounder Michael Wacha, the latter of whom is 4-0 with a 1.89 ERA in Memphis.
Most intriguing of all, though, will be the 2013 debut of Jurickson Profar, who is, of course, No. 1 on Baseball America's Top 100 prospects list and No. 1 on MLB.com's Top 100 prospects list. The Rangers said all along that it would likely take an injury for them to call up Profar, and an injury happened, to second baseman Ian Kinsler, who landed on the D.L. with a strained muscle in his ribs.
Profar, who turned 20 in February, will instantly become the majors' youngest player, as he is four months younger than Bryce Harper (the next four youngest: Jose Fernandez, Manny Machado, Martinez and Mike Trout). Everyone agrees that his ceiling approaches that of many of his precocious peers. His talent, though, is one that is less explosively obvious that that of phenoms like Harper and Trout. As Rangers manager Ron Washington told me this spring: "We know he can swing the bat, but it's not that it jumps out at you. We know he can play the field, but it's not that it jumps out at you. He just gets it done. A lot of the little things that it takes time for some players in the game to gather, he already has them."
He is also unlikely to have the immediate impact on the American League that, say, Trout did at 20 last season. Profar has always been one of the youngest players at each of the professional levels at which he has so far played, and he has usually struggled at first. In 2010, as a 17 year-old in short season Low-A, he hit .250 with no home runs and 11 RBI's in June and July combined, then .284 with 3 homers and 12 RBIs in August alone. Last year, as a 19-year-old with Double-A Frisco, he hit .235/.323/.483 in April, then .322/.385/.513 in May. He has repeated the pattern this year in Triple-A: .231, with an OPS of .765, in 21 April games, then .338 with an OPS of .871 in 16 games in May.
Part of the reason Profar is so highly regarded is his ability to adjust to ever higher levels of competition, even if it takes some time. So while he might have a rough first few weeks in Arlington, before long he should be performing to his talent -- which is one befitting of a star, and a star who might have played his last ever game in the minor leagues.