Harper is a shooting star, but he needs to protect himself to last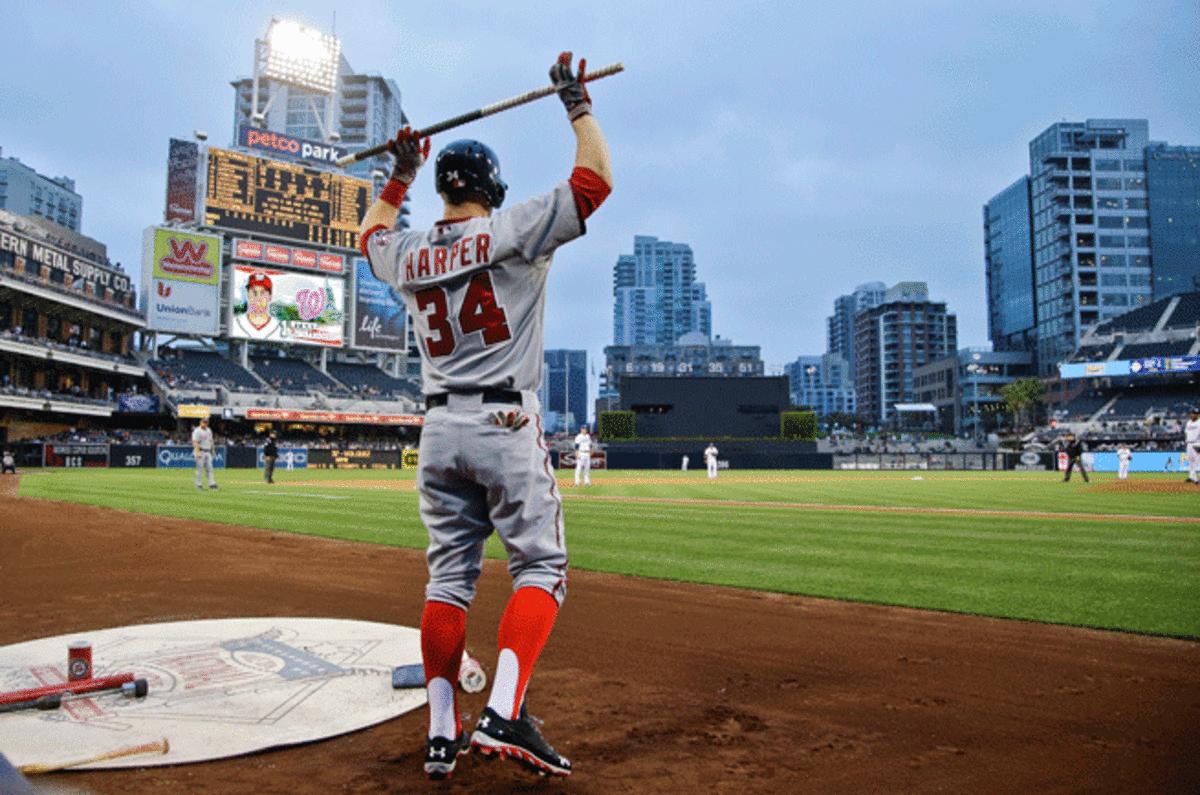 SAN FRANCISCO -- Bryce Harper returned to the Washington Nationals' lineup Monday night, in the best ballpark atmosphere in the world, against the World Series champions. It was a perfect setup for a Harper to do some superhero things, like hit six home runs, or run through the rightfield wall and land in San Francisco Bay, where he would rescue a baby seal. Maybe two.
Alas, baseball doesn't always make room for superheroes. Harper's team lost 8-0. He didn't do much to stop it. A lefthander hit an enormous, looping home run toward the bay beyond right field, but it was the Giants' Brandon Belt, not Harper.
Greatness in baseball is not really about amazing moments. It's about sustained excellence. Every player is capable of producing an amazing moment -- that's what makes October so riveting.
Only a few have a shot at true greatness. Harper is one of those. But sometimes he seems like a shooting star: Mesmerizing to watch, unlikely to last.
Harper ran face-first into a wall last week, injuring his left knee. It should scare him just enough to realize that he needs to protect his body.
CORCORAN: Scary outfield collisions, from Babe Ruth to Bryce Harper
Harper said Monday that "It's something that you don't like doing, run into a wall at 100 miles an hour," but the truth is that Harper's views on running into walls at 100 miles an hour are more nuanced than that. Sure, he doesn't like to do it. But he does it. His inclination is to do it again. As he tweeted shortly after his injury:
I will keep playing this game hard for the rest of my life even if it kills me! Ill never stop! ?#RespectTheGame?
Harper is a rare treat for sports fans, because he combines elite skills and athletic ability with a kid's passion for the game. But that makes him a high-risk player, too. It is not fair to call him injury-prone. He is passion-prone. Last year he whacked a bat in the tunnel after a strikeout; the bat smacked him above the left eye, and he needed 10 stitches.
He is physically tough and absolutely loves baseball, and nobody should criticize him for playing as hard as he does. It is admirable. But the reality is that baseball wears down even the best bodies. The guys who last into their 30s often talk about how they learned to take care of themselves, and this lesson comes in a dozen forms. Drink less. Sleep more. Eat healthier. Work out in the offseason. Brace yourself when you run into an outfield wall.
If Harper needs some reinforcement, he doesn't have to look far. On Sunday, Nationals reliever Ryan Mattheus gave up five runs in one inning in San Diego, then went back to the clubhouse and pounded his glove into his locker. The glove was in his pitching hand. He broke a bone in that hand when he did it.
"He felt real bad about it," Nationals manager Davey Johnson said. "He's going to be out a while."
That seems like a fluky injury, but it isn't. It's what happens when a player forgets to protect his body, even for a moment. Harper could have done the same thing when he slammed that bat last year.
Injuries lurk everywhere in baseball. Monday night's winning pitcher, Ryan Vogelsong, got hit by a pitch and broke a bone in his pitching hand. And of course, the Nationals shut down Harper's fellow phenom, Stephen Strasburg, in the middle of a pennant race last year rather than risk an injury. Strasburg has already undergone Tommy John surgery.
The game knocks out random people at random times, and Harper can't entirely avoid that. But he can lower his risk. His career may depend on it.
And if you love baseball, you have to hope he adjusts. Oh, I know a lot of people don't love Harper. He was booed at AT&T Park Monday night, the kind of reception that always greets those who are young, gifted and anointed -- and play for the opposing team.
Like Pittsburgh Penguins star Sidney Crosby, Harper has been unfairly maligned for the tiniest transgressions. Sometimes I think people want to believe Harper is a punk. He isn't. He has handled nationwide attention remarkably well since he appeared on SI's cover when he was in high school, billed as "Baseball's Chosen One."
Harper is only 20 years old, and won't turn 21 until October. Sometimes we forget how young 20 really is. At 20 years old, Albert Pujols played in three minor leagues. So did Derek Jeter.
For Harper to put up MVP-caliber numbers at age 20 is astounding -- even more amazing, in a way, than what Mike Trout did last year, because power tends to develop later in a career, and Harper already has it.
A lot of 20-year-olds think they are invincible. Some never learn, some learn at a severe price, and most just figure it out. I hope Bryce Harper figures it out. I hope he is around to run into outfield walls in 15 years. And I hope he learns not to do it.