Nationals' Danny Espinosa has been playing through broken wrist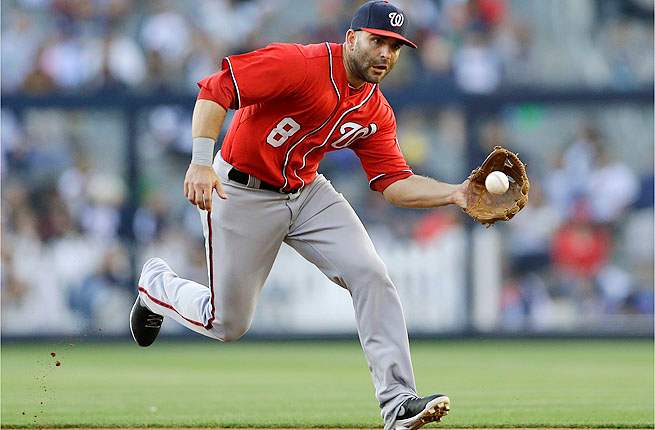 Danny Espinosa's .163 batting average makes a lot more sense. He's been playing with a broken wrist.
Washington Nationals manager Davey Johnson said Friday that his second baseman has a small fracture in the right wrist and will rest a few days to see if it improves.
Espinosa has been playing with discomfort since getting hit by a pitch April 14 against the Atlanta Braves. He also has a bone chip in the wrist, but the main concern is the fracture that needs time to heal.
The Nationals want to avoid putting Espinosa on the disabled list, so they are hoping some rest will be enough.
"Hopefully, it's been able to knit somewhat and repair itself so we get by without putting him down for a long time," Johnson said. "We'll know more as the next few days come along."
The switch-hitting Espinosa complained to Johnson during the recent West Coast road trip that it was painful to bat right-handed.
The manager said he's not upset that Espinosa didn't mention the problem sooner, noting that Espinosa's tolerance for pain was shown last year when he played with a torn rotator cuff.
"I like the heck out of him, but he reminds me too much of me," Johnson said. "He plays in pain."
Steve Lombardozzi will take Espinosa's place in the lineup. Johnson said the Nationals will make a roster move before Saturday's game to send down a reliever and add a position player.
Johnson also said Ross Detwiler will throw a full bullpen session Saturday and remains on pace to return to the rotation Tuesday after skipping one start because of back spasms.
Stephen Strasburg and Gio Gonzalez will each move up a day to give Detwiller more time to return, both pitching on regular rest because of an off day in the schedule.
Meanwhile, Johnson said reliever Ryan Mattheus will need "a couple of months" to recover after the right-handed reliever broke his pitching hand after punching his locker following a rough outing.
Catcher Wilson Ramos, on the DL with a strained left hamstring, isn't expected back until next month, and outfielder Jayson Werth is still at least 10 days away from returning from a strained right hamstring.