Cardinals' Wacha leads list of possible impact call-ups on fast track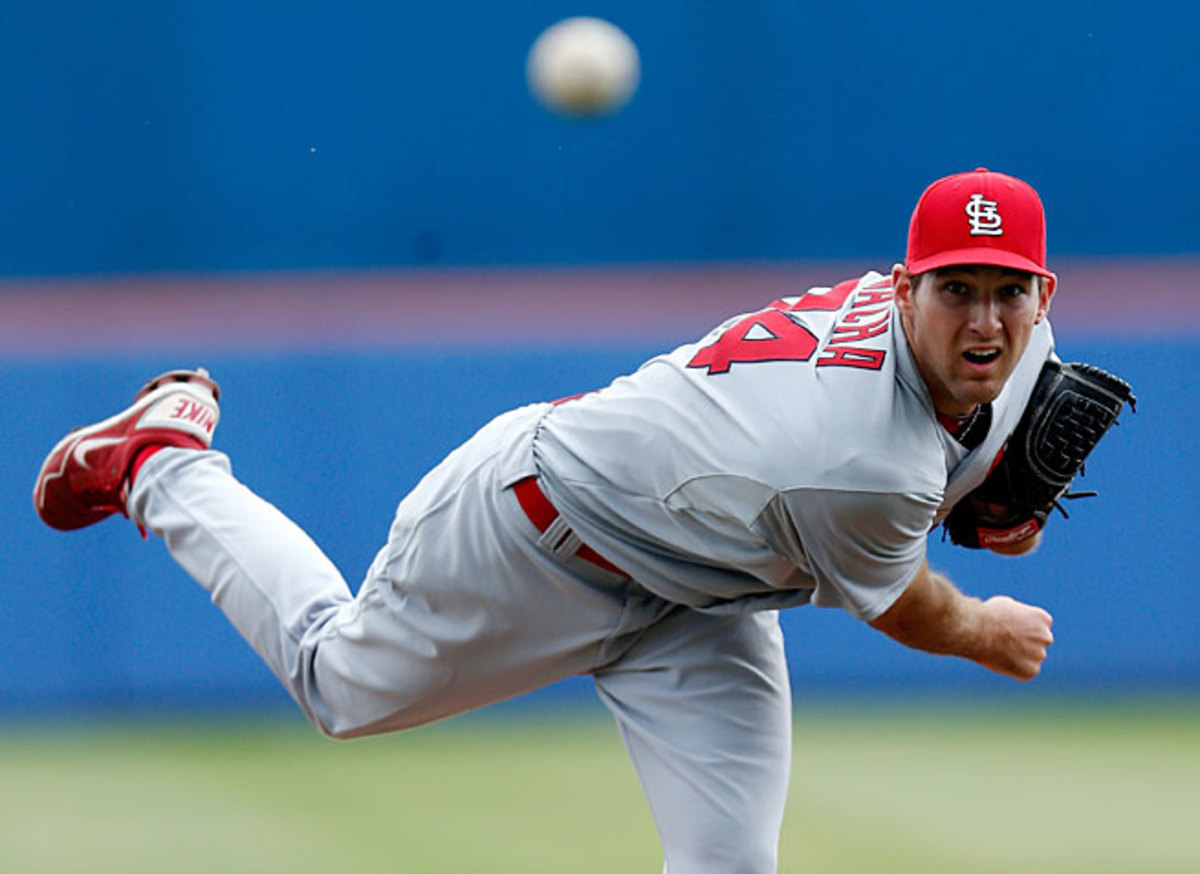 They were prized high school recruits, a pair of Texans with overpowering fastballs and bright futures. Shelby Miller (of Brownwood High in Brownwood, Tex.,) and Michael Wacha (Pleasant Grove High in Texarkana) first crossed paths in 2009, during a recruiting trip for prospective Aggies on the campus of Texas A&M, and when the two met for the first time, Wacha had a question for his fellow recruit:
Dude, what are you doing here?
"Shelby was one of the top pitchers in the state," recalls Wacha. "Everyone knew he was going to be a first-rounder in the draft and was never going to put on that [A&M] uniform. I think he was just dropping by to say hello."
A few months later Miller was chosen by the Cardinals with the 19th overall pick in the 2009 Rule 4 draft and landed a $2.875 million signing bonus; now, four years later, he's a Rookie of the Year candidate and already one of the top pitchers in the league.
CORCORAN: Miller dominating strong class of NL rookies
As for Wacha, "My only option then was to go to A&M," he says. He did not make millions right out of high school. He has yet to throw a pitch in the majors. Though he and Miller are the same age and good friends, Wacha has been in Miller's shadow going back all the way to their Texas high school days -- though that may be about to change.
One after another they keep coming, these talented pitching prospects, from the Marlins' Jose Fernandez to the Reds' Tony Cingrani to the Orioles' Kevin Gausman, who debuted just last week in Toronto. Who's next? It could soon be Wacha time in St. Louis: Only a year ago the 6-foot-6, 210-pound righthander was still pitching in Big 12 stadiums for the Aggies, but his meteoric rise through the Cardinals' system since last June's draft -- the 19th overall pick, Wacha logged only 21 minor league innings in his pro debut season and reached the Double-A level ? has him on the cusp of an early summer call-up.
This year, Wacha has yet to allow more than two runs in an outing at Triple-A Memphis (4-0 with a 2.05 ERA over nine starts); meanwhile, the mighty St. Louis rotation, the best in the league and the cover subject of the current issue of Sports Illustrated, is hurting with Jamie Garcia out for the year and Jake Westbrook on the DL. John Gast and Tyler Lyons have filled in and performed well in spot starts, but neither are long term solutions. If the Cardinals call up Wacha they could ease him into the majors as a reliever -- "We're not opposed to bringing a pitcher up and using him in the bullpen as a nice indoctrination to the major leagues," says Mozeliak -- but Wacha has the stuff (a mid-90s fastball and plus changeup) to be a difference maker down the stretch as a starter.
During spring training Wacha, Miller and pitcher Joe Kelly lived together in a house just a few blocks from the beach in Jupiter, Florida. They split the chores, played lots of video games ("Joe is unbelievable at Call of Duty," says Wacha) and dreamed about the future of the Cardinals, who have an impressive wave of prospects on the way, from Oscar Taveras to Kolten Wong to Ryan Jackson (who's lighting it up at Memphis). "You look at the team right now, and it's a first place team, but the thing is, there's still so much talent in the minors," says Wacha. "It's exciting to think about how good this team could be down the road."
Here are five other intriguing prospects, coming soon to a ballpark near you:
Oscar Taveras, OF, Cardinals (now in Triple-A Memphis)
"The swings Oscar puts on balls are ridiculous," Wacha says of the Cardinals' top hitting prospect. "Guys will have him 0-2 on a count and they think they've got him, but Oscar's just thinking, I've got this guy. He'll drop a bat down on one that's at his ankles and hit it out of the ballpark. It's just crazy to see."
Taveras was starting to make a strong case for the title of Best Prospect in Baseball before he injured his ankle on May 12 (he was hitting .317/.351/.480 with four homers in 31 games, and just starting to heat up). Taveras should return to the Memphis lineup soon, and while it's becoming abundantly clear that he has little left to learn in the minors, the Cardinals, who can't even find at bats for masher Matt Adams, have no place for him at the moment. Then again, do we really expect Carlos Beltran to stay healthy all year?
There also seem to be fewer questions about Taveras' maturity, on and off the field. "Oscar's working really hard at the game," Mozeliak said earlier this spring. "There was a maturity or growing up process that he was dealing with, as well as being faced with being pushed at a very fast track. But he's started to enjoy the game, and he understands that this is something he's really good at. I've seen a big difference in him over the last year."
Zack Wheeler, RHP, Mets (Triple-A Las Vegas)
Remember, it wasn't long ago that Wheeler -- not Matt Harvey -- was the future of the Mets. The Georgian was the more heralded prospect when he arrived from the Giants organization at the 2011 trade deadline, and there are still scouts who believe Wheeler has a higher ceiling than the new prince of Gotham. Before he was sidelined briefly with a sore shoulder, Wheeler was on a roll, with a 2.38 ERA over his last four starts, and a recent New York Post report indicated that Wheeler should be joining the Mets after making two or three more starts at Triple-A. In other words, stash him on your fantasy team now.
VERDUCCI: After 766 tries, Mets have homegrown ace in Harvey
Wil Myers, OF, Rays (Triple-A Durham)
Myers is still a potential difference maker for the Rays in 2013, but here's the thing: Tampa Bay's offense (fifth in the league in runs scored) isn't the problem right now; it's the pitching, with David Price on the DL, Jeremy Hellickson struggling and Fernando Rodney on the verge of losing his job as closer. And Dale Murphy 2.0 isn't exactly setting the world on fire in Durham; he's hitting .259/.343/.420, so don't assume Myers will get the call this summer the moment the Super Two deadline passes.
Gerrit Cole, RHP, Pirates (Triple-A Indianapolis)
The Pirates are 31-19 entering Monday, just 1 ½ games out of first place, a great early season story... but haven't we been here before? Why will 2013 be different? Cole, the No. 1 overall pick in 2011, might be part of the answer. The Pirates' top pitching prospect hasn't been dominant at Indianapolis (3.67 ERA, 39 Ks in 54 innings), but there's a reason why he's been compared to Stephen Strasburg. If he strings together some dominant starts in Triple-A, he could be up by the All-Star break and emerge as difference maker in the NL race.
JAFFE: Explaining the Pirates' hot start
Yasiel Puig, OF, Dodgers (Double-A Chattanooga)
Like fellow Cuban Yoenis Cespedes, Puig has been compared to Bo Jackson, and he is raking at Double-A Chattanooga (.308/.384/.556 with six homers). Dodgers manager Don Mattingly recently floated the possibility of Puig's promotion to inject some life into his team's lineup. With Matt Kemp, Carl Crawford and Andre Ethier in the outfield it's still hard to see how Los Angeles can make room for him -- but then again, these are desperate times in L.A., and the Dodgers might be ready to really shake things up.