Trout joins Cabrera in MVP race, but Davis leads AL; Votto tops NL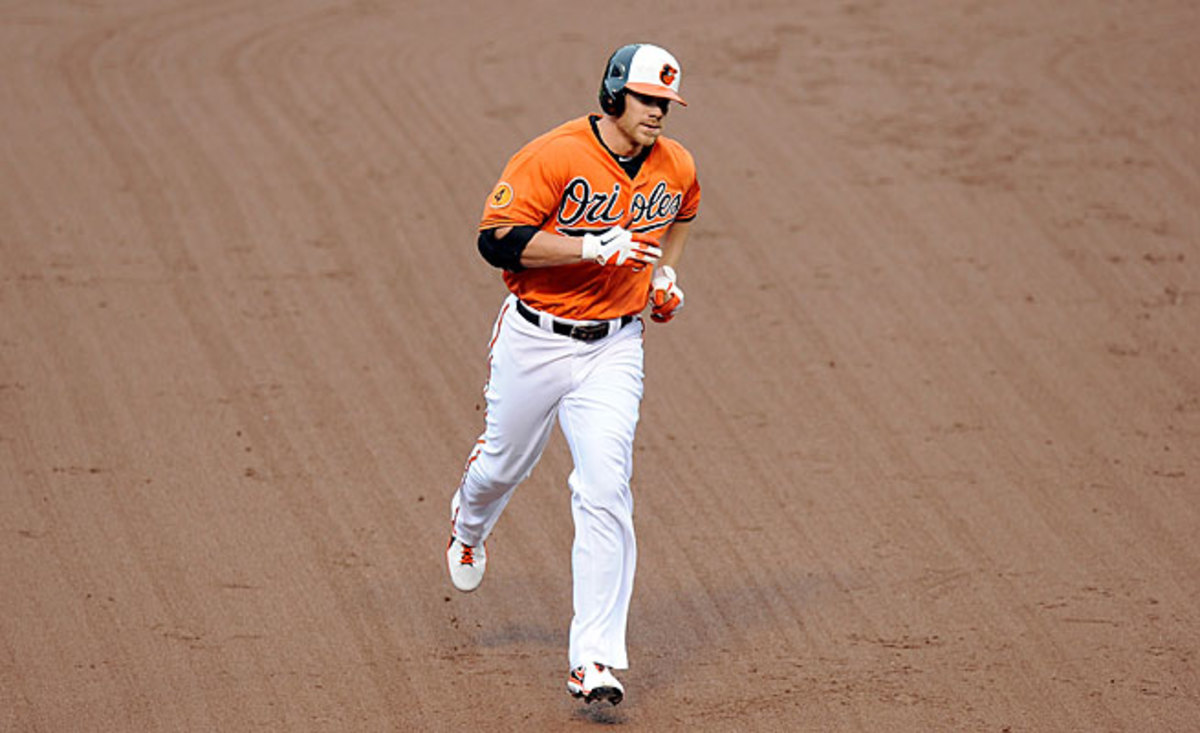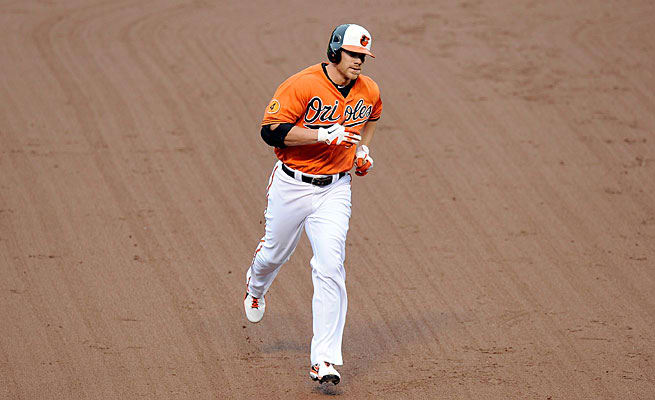 Awards watch returns to the Most Valuable Player races this week to find new leaders in both leagues relative to three weeks ago and just four players out of the 10 below returning from that last set of rankings.
NOTE: All stats are through Wednesday, May 29. League leaders are in bold, major league leaders in bold italics. The number in parentheses after each player's name reflects his rank on the previous list.
American League
1. Chris Davis, 1B, Orioles (3)
Season Stats: .359/.447/.766, 19 HR, 50 RBI Last Three Weeks: .416/.489/.922, 10 HR, 20 RBI
Davis is putting up softball numbers this season. He was supposed to have cooled off by now, but instead, he's heating back up. Davis homered twice Wednesday night in a 4-for-4 performance that was the major league home run leader's first multi-homer game this season. He also extended his current mini-hit-streak to eight games, a span over which he has had five multi-hit games, connected for six home runs, hit .600, and reached base in nearly two-thirds of his plate appearances.
This isn't just Davis having a hot run of power-hitting, either. His strikeouts are down, his walks are up -- even without his league-leading seven intentional passes -- and his .381 batting average on balls in play, while high, isn't wildly out of line with his previous career figure of .335. He will cool off at some point in the next four months, but perhaps not as much as we might have previously expected.
2. Miguel Cabrera, 3B, Tigers (2)
Season Stats:.368/.444/.656, 15 HR, 59 RBI, 43 RLast Three Weeks: .349/.419/.735, 9 HR, 22 RBI
Cabrera is on pace for 187 RBIs, 244 hits, 137 runs scored, 47 home runs and 422 total bases, yet he trails Davis in the last two categories and by more than 100 points of slugging. That should tell you just how productive Davis has been, because Cabrera has been unbelievable at the plate.
CORCORAN: Cabrera may be headed for best post-Triple Crown season ever
Incidentally, while only Brandon Phillips and the man who bats after Cabrera, Prince Fielder, have come to the plate with more runners on base than Cabrera this season, among hitters with 100 or more plate appearances, only two (the Braves' Freddie Freeman and Rays' Kelly Johnson) have driven in a higher percentage of the runners on base during their plate appearances than Cabrera's 24.4 percent.
3. Josh Donaldson, 3B, A's
Season Stats: .332/.404/.556, 8 HR, 33 RBI Last Three Weeks: .400/.456/.714, 5 HR, 10 RBI
Donaldson had a circuitous route to this point. A supplemental-round pick by the Cubs in 2007, he was traded to the A's a year later in the deal that sent Rich Harden to Chicago, climbed the minor league ladder as a catcher with some power and patience but inconsistent batting averages and got a cup of coffee in 2010. He spent all of 2011 back in Triple-A, however, posting solid but unexciting numbers. In the 2012 Baseball Prospectus annual, he was given just a single-sentence comment: "Josh Donaldson profiles as a backup catcher in the bigs, with good catch-and-throw skills, some on-base ability, and occasional power."
Then Scott Sizemore blew out his ACL that spring and Donaldson, who had some exposure at the hot corner in the minors, was forced into a job share with Eric Sogard. Donaldson struggled, hitting just .153/.160/.235 through his mid-June demotion. He figured something out in his two months back in the minors, however, because after he returned in August, he hit .290/.354/.477 the rest of the way, including the postseason. This year, he's obviously cranked things up even further, but if you go back to last August, when he was recalled to replace an injured Brandon Inge at third base, Donaldson has hit .310/.379/.518 across 430 plate appearances, which suggests the 27-year-old's presence on this list isn't as fluky as it might seem.
4. Mike Trout, LF/CF, Angels
Season Stats: .298/.371/.558, 10 RH, 37 RBI, 12 SB, 6 3B, 42 R Last Three Weeks: .329/.416/.645, 5 HR, 11 RBI, 7 SB, 3 3B, 22 R
Trout didn't make his debut last season until April 28 but was so good thereafter that many, myself included thought he deserved to be the AL MVP over Triple Crown winner Cabrera. This year, Trout was the Angels' Opening Day leftfielder, but he didn't really find his 2012 form until he shifted to center on April 30 to replace the injured Peter Bourjos. Trout hit .252/.322/.402 with two home runs and one triple in 25 starts in leftfield in April and has hit .343/.419/.713 with eight home runs and five triples in 28 starts in center since. Accordingly, the Angels went 9-16 with Trout starting in left and have gone 15-13, echoing their turnaround after his call-up last year. Whether or not the position switch triggered the breakout one could never say with certainty, but the game is richer with the Superman version of Trout around. It's good to have him back.
5. Jose Bautista, RF, Blue Jays
Season Stats: .292/.405/.571, 12 HR, 28 RBI Last Three Weeks: .382/.482/.676, 5 HR, 13 RBI
Bautista gives hope to players like Donaldson, Davis and Gomez, all of whom are having breakout seasons at the age of 27, that those leaps in performance can be sustained into their 30s. Bautista came out of nowhere to hit 54 home runs in his age-29 season in 2010 and he hasn't stopped hitting since, not even after a wrist injury wiped out the last two and a half months of his 2012 season.
That said, unlike the last two years, Bautista has been doing the bulk of his hitting at home, posting a .386/.509/.675 line with more walks than strikeouts at Rogers Centre and a mere .200/.293/.471 mark with nearly twice as many strikeouts as walks on the road. Those splits will likely even out as the season progresses, but they bear watching.
Off the list:Carlos Santana, Prince Fielder, Evan Longoria
National League
1. Joey Votto, 1B, Reds
Season Stats: .352/.474/.563, 10 HR, 27 RBI, 44 R, 44 BBLast Three Weeks: .420/.518/.710, 6 HR, 14 RBI, 20 R
At its most basic level, baseball is a game in which your ability to score is inversely proportional to the rate at which you make outs. If you only make outs, you'll never score. If you never make outs, you'll never stop scoring. No one in baseball makes outs less often than Votto. Amazingly, this has made him the target of some criticism for supposedly passing the buck to his teammates, but that's exactly how baseball works: keep the line moving. Here's a visual approximation of a team composed entirely of Joey Vottos:
Skeptics need look no further than his lead-leading runs-scored total or the league-leading RBI total of the man who follows him in the order, Brandon Phillips, who has driven in Votto and Cincinnati leadoff hitter Shin-Soo Coo (.449 on-base percentage) a total of 18 times. Of course, if all Votto did was get on base, he wouldn't be number one on this list. He also hits for average (which contributes to that high on-base percentage) and power (he has six home runs in his last 12 games), is a fine fielder and sets the tone for his team in the clubhouse and on the field.
2. Troy Tulowitzki, SS, Rockies (2)
Season Stats: .337/.404/.633, 12 HR, 43 RBILast Three Weeks: .325/.357/.600, 5 HR, 15 RBI
Tulowitzki tied Phillips for the league lead in RBIs with a big night on Wednesday in which he went 3-for-4 with a double, two home runs, a walk and three runs driven in. He's not only one of the league's most productive hitters, leading the league in slugging while boasting an on-base percentage over .400, but he's also one of its best defensive shortstops. What more can be said?
3. Carlos Gomez, CF, Brewers (1)
Season Stats: .330/.372/.600, 10 HR, 25 RBI, 10 SB
Last Three Weeks: .280/.313/.547, 4 HR, 11 RBI, 3 SB
Speaking of all-around contributors, Gomez is one of the best fielders in all of baseball, has stolen his 10 bases at an 83 percent success rate and continues to knock the cover off the ball. With a pair of two-homer games, Gomez hit more home runs over Memorial Day weekend than he did in 349 plate appearances in his final season with the Twins in 2009, arresting a mid-May slump in the process. In his last six games, he has gone 8-for-22 (.364) with six of those hits going for extra bases, four of them home runs.
4. Jean Segura, SS, Brewers
Season Stats: .360/.397/.560, 8 HR, 22 RBI, 14 SB, 5 3BLast Three Weeks: .407/.429/.630, 4 HR, 9 RBI, 6 SB
Segura has made headlines this season with some adventurous baserunning in late April, and a six-hit game on Tuesday night. The latter helped him into his current position as the league leader in batting average, but, as SI.com's Jay Jaffe wrote on Wednesday in The Strike Zone blog, his is hardly an empty batting average. Segura doesn't walk much (just once every 23 plate appearances if you take out his one intentional pass) but he has heaped a league-leading five triples on top of his eight homers. Another all-around contributor, Segura has proven to be a solid shortstop despite his late conversion to the position in the fall of 2010 and has thus far been the NL's best basestealer this season, ranking second in total steals, but first in stolen base percentage with an outstanding 87.5 percent success rate.
5. Paul Goldschmidt, 1B, Diamondbacks
Season Stats: .324/.407/.593, 12 HR, 40 RBI Last Three Weeks: .333/.394/.600, 3 HR, 10 RBI
I criticized many of the Diamondbacks' moves this past offseason, but one they hit out of the park was signing the 25-year-old Goldschmidt to a five-year, $32 million extension that kicks in next year with a $1 million salary and has an option for 2019, his age-31 season.
Goldschmidt has not only been the Diamondbacks' best hitter this season, but one of the best in the league, and he's done it in large part by mashing against his fellow righties and away from hitter-friendly Chase Field. Goldschmidt has hit .344/.436/.592 against righthanders this season and a whopping .356/.439/.722 with nine of his dozen home runs on the road. Goldschmidt has also hit exactly half of his home runs this season in Arizona's six games against the Dodgers. The Diamondbacks travel to Dodger Stadium again for a three game set on June 10. I'm guessing Goldschmidt has that one circled on his calendar.
Off the list:Matt Harvey, Bryce Harper, David Wright