Can the MLB All-Star Game be saved? Plus, more on LeBron's decision
Fox Sports president Eric Shanks knows the question is coming because it comes every year. And there is good reason for the question.
Viewership for the All-Star Game is hemorrhaging and in more unpleasant news for Fox Sports, the All-Star Game viewers are also getting older. A brief snapshot of the downward trend: The game drew 28.2 million viewers in 1985. Twelve years later, the first time Fox aired the game, viewership dropped to 16.7 million viewers. The audience fell to 12.3 million in 2005 and last year the game drew 11.0 million viewers, up slightly (10.9 million) from 2012. Last year's viewership increase stopped a three-year decline in viewership but the game concluded as the third-least watched MLB All-Star Game in history.
Perhaps most disturbing: Sports Business Daily reported the average age for last year's All-Star telecast was 53, the highest mark yet for the game. Given the 18-to-49 adult demo is the money demo for sports broadcasting, this is not a good trend.  
So Shanks gets this question every year and he got it again last week. How confident is Fox Sports management, in the middle of a long-term agreement with MLB, that the All-Star Game still has growth potential as a property?
"Long story short – high confidence," said Shanks, who gets paid a lot of Rupert Murdoch's money to project such optimism.
"We look at the context of the television landscape, entertainment landscape and sports landscape and put events into context. It's a year by year thing but the thing that has not changed is the All-Star Game throughout the summer is -- and will continue to be  -- one of the highlights of the summer, if not the leading sporting event of the summer consistently. It does have its ebbs and flows depending on stories and geography but there is no doubt people love the All-Star Game."
That's an optimistic take, and understandably so from a network executive. But the numbers say something different. Plenty of columns have offered solutions for baseball to stem the viewership bleeding, and frankly, I don't have many solutions. I think viewership will keep dropping unless baseball fundamentally shifts its marketing to individual players rather than teams. But that's a hard sell regionally because baseball at its core is a regional game. Most importantly, the uniqueness of the All-Star Game has taken a huge hit given interleague play. There is nothing distinct about the best of the A.L. playing the best of the N.L. because it happens every year during the regular season. The home field advantage angle is also long played out. Maybe they should place all the selected players in a hat and mix the sides so you can have teammates facing teammates. I'd suggest that would raise the viewership at least one year. Moving the game to Sunday night would also increase viewership but that would require a massive schedule shift.
Against other All-Star games, baseball loses to the Pro Bowl (11.7 million viewers in 2013) in viewers and beats the also-in-season NBA All-Star Game (7.5 million viewers on TNT in 2014). But the 2014 NBA All Star Game out-rated MLB last year among adults 18-49 and the NBA game has not dropped viewership nearly at the rate of MLB.
The one suggestion I have for Fox is to add tonnage to its auxiliary programming around the game. They need to approach the MLB All-Star Game the way ESPN does with its mega-events. The network is on the right track this year with 20-plus hours of programming around the game on Fox Sports 1 as well as what is essentially a three-hour pregame (4:30 p.m.-7:30 p.m.) under the banner of FS1's America's Pregame show. The Monday night edition of Fox Sports Live will have a live panel from Minneapolis'Target Field and Fox Sports Live will also have a presence at Target Field after the All-Star Game. Unlike the self-absorbed trap SportsCenter has too often fallen into, hopefully FS1 will go heavy on the players talking as opposed to bludgeoning the audience with hot takes from 15 different analysts. Of course, Fox Sports 1 doesn't have a lot of viewers but you have to start somewhere.
Fox will be helped this year by streaming the game for the first time on Fox Sports GO. The app will feature two separate live streams of the All-Star Game: the Fox telecast in English and the Fox Deportes telecast in Spanish.
THE NOISE REPORT
SI.com examines some of the more notable sports media stories of the past week: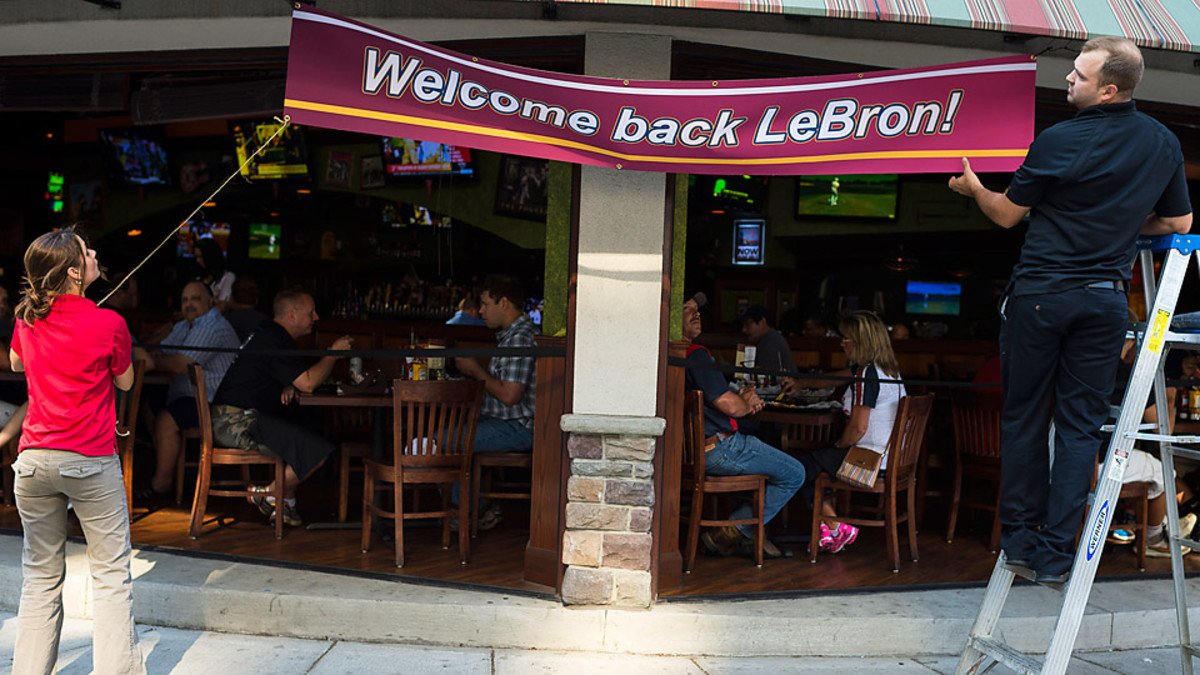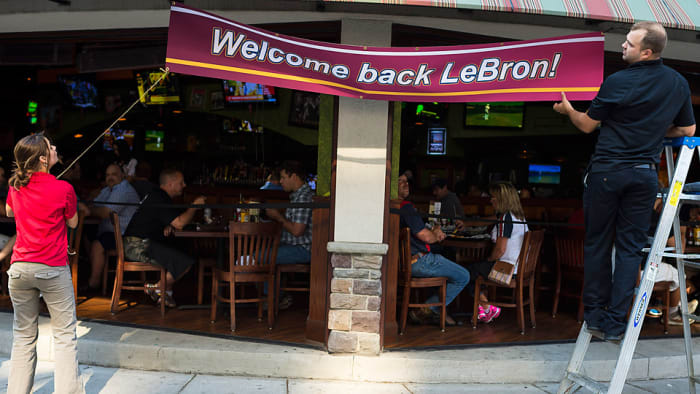 ​
1.The economic and psychological boost from LeBron James' return to Cleveland obviously extends to those media outlets who cover the Cavaliers. On Saturday I exchanged emails with Christopher Quinn, the vice president for content of the Northeast Ohio Media Group (which includes The Plain Dealer and cleveland.com) to estimate what James's return would be worth to his company's web traffic. 
"I can't begin to estimate that, as his stature continues to grow, but the number of page views clearly is millions," Quinn said. "And a good bit of that is local, which is our province."
Here's something crazy to think about: NEOMG is actively looking for a lead NBA/Cavs writer with the departure of Mary Schmitt Boyer, a respected voice who left the paper this month after 18 years. With James' arrival, that job becomes one of the best in the country for a sports writer.
LeBron: I'm coming back to Cleveland
​"With the LeBron James return, we're going to sit down again for some more brainstorming," Quinn said. "The audience appetite for any news about LeBron is unlimited and dedicating resources to covering him would overcome, at least a bit, the tight control that LeBron and his coterie have on information about him. LeBron's team keeps reporters at arm's length -- with long arms. Part of my interest obviously is about traffic -- we've always had monster traffic with coverage of LeBron and did again last week -- but it's also about responsibility. We're the biggest local news team in Northeast Ohio, so it falls to us to responsibly provide as much information as we can about the biggest sports star/celebrity/newsmaker to rise in the region in recent history. This does remain a resource issue. If I do decide to dedicate someone full-time to covering LeBron, I'll have to adjust elsewhere. Even the little things require time. When he was here the first time, we produced the King James Bible, an online compendium of all LeBron James statistics. Maintaining that anew requires effort.
"The one thing of which I am certain is that we will not be writing traditional game stories. We have been experimenting all summer with different approaches to Indians coverage, with Zack Meisel at Northeast Ohio Media Group and Dennis Manoloff at The Plain Dealer providing fascinating insights in alternative story forms, and the community appears to like the accessible approach."
Quinn said he has already been contacted by several candidates outside of his area for the NBA job, and several people in-house are interested. How soon will the hire happen?
"As fast as we can, but the quality of the choice trumps the speed, obviously," Quinn said. "Getting someone who already is well-sourced would ease the pressure on moving quickly. We need someone in place long before the season starts. This is a plum assignment, Covering the Cavs now, with the radically different coach, the changing makeup of the team, the first-round pick and, now, the return of LeBron James, makes this about the best NBA beat going at the moment."
1b. Josh Crutchmer, the design and graphics editor at The Plain Dealer, wrote a post on how the newspaper created its very cool LeBron front page.
1c. The Cleveland-based sports-talk station 92.3 The Fan experienced 10 times the streaming traffic above normal on the day the James news broke.
2. Fox Sports MLB gamecaller Joe Buck showered his new partners -- analysts Harold Reynolds and Tom Verducci (who works for SI) – with serious love last week during a conference call for the All-Star Game.
"I can tell you this has been the most enjoyable first half of a season that I can remember," Buck said. "I can't wait to get to the ballpark. I leave with a smile on my face. This is the best broadcast I've been a part of for a lot of different reasons but it has to do with the two analysts. What I hoped would happen has happened and that is the chemistry developed quickly, we're able to laugh, and we give each other trouble. But the different ways Tom and Harold see the game, that's what makes this three-man booth work. Three men in any booth can be too much but the voices are distinct, you know who is talking and they just see different things. It's been a blast."
2a. Boston Globe writer Chad Finn says Reynolds has done little to counter the perception that he was an uninspired choice.
2b. Newsday's Neil Best profiled Tom Verducci's career arc from Newsday sports writer to Fox Sports MLB analyst.
2c. Shanks called Target Field an excellent facility for broadcasting. "Target Field has one of the best lighting grids in all of baseball," he said. "The lighting is perfect for television and to show our new technology, it is probably one of the better places that you could try to implement some of these new features."
Is Tim Howard's long-term future in soccer broadcasting?
and ABC had averaged 4,289,000 viewers, an increase of 43 percent over 2010 (vs. 2,989,000 in 2010) and 108 percent (2,060,000 in 2006) over 2006.
3a. ESPN's top-rated local markets through the end of the World Cup semifinals were as followed: 1. Washington, DC; 2. New York; 3. San Francisco; 4. Los Angeles; T5. San Diego and Hartford-New Haven; T7. Miami/Ft. Lauderdale and Orlando. T10. Richmond-Petersburg and West Palm Beach. 
3b. Univision said it averaged 5.6 million viewers for its two World Cup semifinal matches, up 34 percent in total viewers from 2010. The network said it had more viewers than ESPN in Chicago, L.A., Miami, Houston, Dallas and Phoenix for semifinals.
3c. ESPN drew 6,823,000 viewers for the Netherlands-Argentina semifinal, slightly topping the Brazil-Germany game (6,643,000 viewers).
On Top of the World: Germany tops Argentina, claims 4th World Cup title
​4. Last week I spoke with Artie Bulgrin, ESPN's senior vice president, global research and analytics, to get a deeper dive on the viewership numbers for the World Cup. Bulgrin said one of the areas where ESPN/ABC/ESPN2 has seen great increases are with women viewers. Through the quarterfinals, World Cup women viewers 18 and over had increased 59 percent over 2010. Women viewers 18-to-49 were up 39 percent. Bulgrin said all of the major race and ethnicity groups were also showing double digit growth from 2010. He said Hispanic World Cup viewership was up 66 percent across all ESPN networks and non-Hispanics were 58 percent. "You are seeing level increases across all ethnic groups," Bulgrin said.
As for Fox matching ESPNs viewership in 2018, given the time difference for games in Russia, Bulgrin said it's going to be tough. "There are going to be a significant amount of fans that will watch the match but knowing results ahead of time is going to be a bit of an issue," Bulgrin said.
5. Fox has hired ESPN announcer Joe Davis for its college football and college basketball coverage. Davis joined ESPN in 2012 as a 24-year-old broadcaster, a very young age to do play-by-play work at a national network. Last year he called the ESPNU late Saturday college football game with David Diaz-Infante. He'll call Pac-12 and Big 12 games for FS1 and will also do some MLB regional games. His first two FS1 assignments are MLB games on August 9 and August 17.
6. There was understandably a ton of interest in how Sports Illustrated and SI.com ended up publishing the LeBron James first-person essay that revealed he was heading back to Cleveland. Among the pieces worth reading that examine the back story: The Wall Street Journal, Ad Age, Deadspin and the Plain Dealer.
Regarding analysis: The New York Times sports business reporter Richard Sandomir wrote that SI was "more as a public-relations ally of James than as the strong journalistic standard-bearer it has been for decades." NBC Sports baseball columnist Craig Calcaterra countered by saying the first-person piece served readers. I recommend viewing both.
Most of the people reading already know this, but I do not cover Sports Illustrated. There are plenty of outlets that do (some referenced above, and many more) and I'm glad they do because it means we are relevant and newsworthy. From time to time I have weighed in on SI stuff (both here and on Twitter) and over the years I've hosted many podcasts where I've asked our writers pointed questions on stories. I shall do so again with SI senior writer Lee Jenkins (the writer on the James piece) this week for our IPad edition.
But I've worked at SI since graduate school and I'll always have a certain orthodoxy on SI-related issues when it comes to my employer. There's no way getting around that. In my opinion, you should want others covering SI and SI.com, not people employed by them. Same goes for CBS Sports, ESPN, Fox Sports, NBC Sports etc…Sometimes you have to cover yourself; rarely does it turn out great. No doubt there are journalists who disagree with me, which is totally fine. 
Personally, I thought Sandomir asked a very fair question about SI's role in the James story. How does a media outlet built on credibility, authenticity and sports journalism work within the framework of what will be (in part) a PR exercise for the subject (James)? My biggest problem with his piece (and I consider him a professional friend and a fantastic reporter) is it doesn't give enough credit to SI readers. You don't turn down an opportunity to break a story this big simply because you can't write it your way. Last September the New York Times ran an op-ed from Vladimir V. Putin, the president of Russia. The page views were enormous. Within New York Times Public Editor Margaret Sullivan's accounting of the piece, the paper's editorial page editor, Andrew Rosenthal, said there was no way of knowing whether Mr. Putin himself wrote the article – "with a public official you can never know." The piece still ran, as it absolutely should have given the news value of a Putin op-ed. Here, we know who wrote the piece: Lee Jenkins, as distilled through LeBron James. When Rams rookie Michael Sam wanted to choose an outlet to tell his story, his PR team picked the Times and determined the release schedule. They also ran a first-person video from Sam. You make choices on stories every day. Again, in that situation, the Times chose well given the Sam news value.
SI is running a magazine-length piece from Jenkins this week that will examine everything that happened over the last couple of days including the Jenkins interview with LeBron. To me, that's the best of both worlds. I'll interview Jenkins for a podcast on Monday and do my best to press him on everything important.
7. Sports pieces of note:
•Ken Early for Slate on why Brazil lost.
•The MMQB's Robert Klemko on Dante Stallworth telling his story so others don't follow in his path.
•Buffalo News columnist Bucky Gleason on former Bills quarterback Jim Kelly's battle with cancer.
•Esquire's John H. Richardson on Lance Armstrong in purgatory.
•The mystery of the vanishing screwball.
•ESPN.com's Wright Thompson on the Rio his network didn't show.
Non-sports pieces of note:
•Via Walt Bogdanich of the New York Times: How one college (Hobart and William Smith) handled a sexual assault. Reading this will make you furious.
• The New Yorker on the ordeal of the Chilean miners.
• A really important read by Pulitzer Prize winner Sonia Nazario: The Children Of The Drug Wars.
•Does a retweetreflect on your employer?
•This Julie Buntin piece for The Atlantic is beautiful and poignant -- especially for those under-35. On Facebook and death.
8.Golfweek Magazine reported that Holly Sonders had left the Golf Channel for a Fox Sports NFL and golf gig. Look for the official Fox announcement this week.
9. ESPN Radio's Colin Cowherd, who enjoys favorite nation status with ESPN management and ESPN PR, debuts a new 30-minute daily show this week called "You Herd Me." The show features segments from Cowherd's ESPN Radio broadcast and will air weekdays at 4:30 p.m. ET on ESPN2. Cowherd's radio show -- The Herd With Colin Cowherd -- will continue to be broadcast Monday through Friday from 10 a.m. – 1 p.m. on ESPN Radio. Additionally, "Colin's Football Show" will return for its second year on ESPN2 on Sept. 7 at 9 a.m. That show goes heavy on picking NFL games against the spread.
10. No rest for the weary: ESPN World Cup analysts Alexi Lalas and Taylor Twellman will fly directly from Brazil to Philadelphia to work the ESPN2 MLS broadcast of Philadelphia-New York on Wednesday. ESPN2 will also air Seattle vs. Tottenham (the current and previous employers of Clint Dempsey) on July 19 at 4 p.m.
10a. The Open Championship (British Open) is the only golf event that ESPN covers where it is responsible for all four rounds. The network's production team discussed those challenges here.
10b.SiriusXM has hired former Alabama and NFL quarterback Greg McElroy as one of the hosts on SiriusXM College Sports Nation (channel 91).
McElroy and Taylor Zarzour will host "The First Team" every weekday from 7:00-10:00 am ET throughout the year.
10c. Here's how the LeBron James news sounded on Cleveland's 92.3 The Fan.