Why 2-3 Tommy John surgeries could be new reality for some pitchers
Pitcher mechanics, not pitcher usage, are primarily to blame for the rash of Tommy John surgeries, with some pitchers potentially in line for multiple elbow operations in their careers.
Another ulnar collateral ligament blew out last week, this one belonging to Chase Whitley of the Yankees, who will become the 16th major league pitcher this year to undergo Tommy John surgery—roughly one a week since spring training began. The casualties mount almost without notice by now. Whitley is a former college pitcher and, primarily, a reliever who is 25 years old and in six professional seasons has thrown just 423 2/3 innings. He never has thrown 100 pitches in a game.
Whitley, then, didn't blow his elbow out because of overuse. He went down because of the way he throws the baseball. Like many pitchers, including teammate Masahiro Tanaka, he was an accident waiting to happen.
Baseball clubs have spent a generation scaling back on the workload of pitchers. On this date 15 years ago, in the 2000 season, pitchers had thrown 120 pitches in a game 93 times. Ten years ago it was 23. Today it is just four. Moreover, today the majority of starts are made with extra rest (more than four days).
​Pitchers work less and break down more. While teams have fixated on workload as the most preventable and root cause of blown elbow ligaments, they have missed the more frequent problem: poor mechanics.
Where does Kluber's 18-strikeout game rank among best all-time?
Of the 16 pitchers who have blown out their elbow this year, half of them, including Whitley, raise their throwing elbow higher than the shoulder before rotating the ball to the loaded position. This position is a red flag that can add tension and timing problems to the delivery. A pitcher may get away with this flaw if he has superb enough timing to get the baseball to the loaded position (hand raised, as the upper arm and forearm form an angle less than 90 degrees) as his front foot hits the ground. The Indians' Corey Kluber and the White Sox' Chris Sale, for instance, pitch right on this dangerous edge. The extreme risk, however, is when the raised elbow is linked to another flaw: misaligned shoulders, known as "crossing the acromial line." Whitley and Tanaka, for instance, both suffer from this mechanical "double whammy."
The acromion is the bony prominence at the top of each shoulder blade. Imagine a straight line between those points. In a clean delivery, the pitcher maintains this imaginary straight line through his arm swing. But pitchers like Whitley sling their arm laterally behind them, pulling back their upper arm—crossing the imaginary acromial line.
Tanaka's delivery is especially risky because of the extreme height of his elbow before he brings the ball up. But what should the Yankees do about it? They had a conversation with Tanaka about his elbow height when he joined the club from Japan last year, but Tanaka, who was hardly aware of it, dismissed any concern about what to him was a natural throwing motion.
"By the time guys get to this level, it's almost too late to change," Yankees pitching coach Larry Rothschild said about pitchers with this mechanical flaw. "They've had success, and this is the way that they throw. To make that big of a change with a major league pitcher would be a major adjustment. You're probably talking about a year or more to even start to get comfortable. And everything in a delivery is linked. If you do change that one component of the delivery, you're going to affect the timing of everything else. It's just not that simple to just say, 'Change that.'"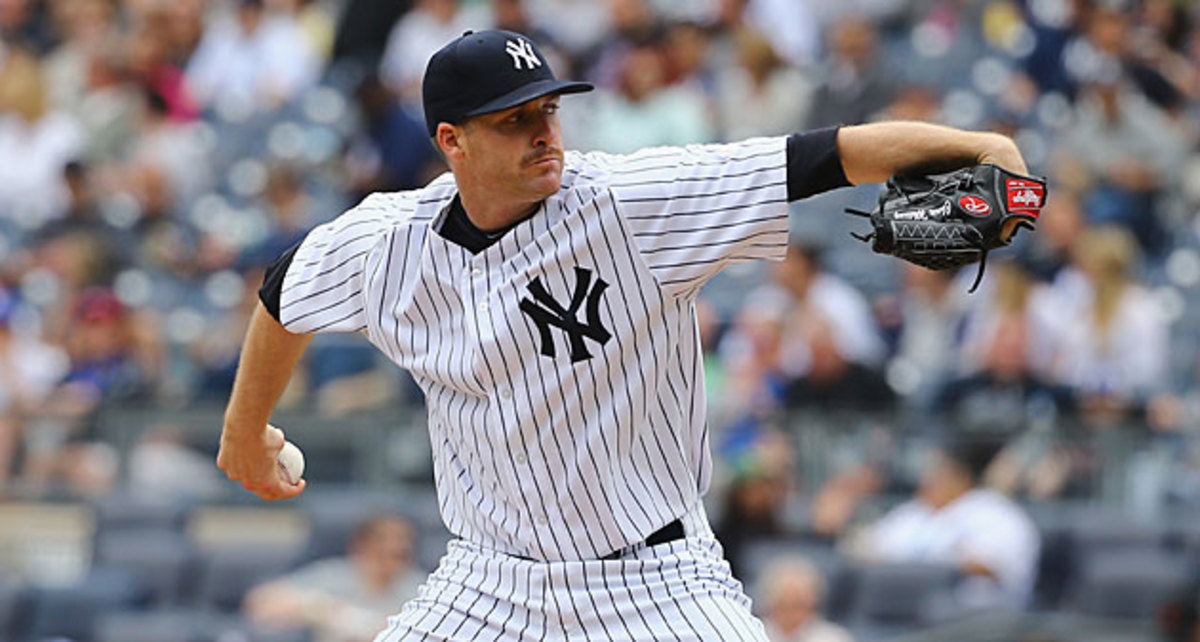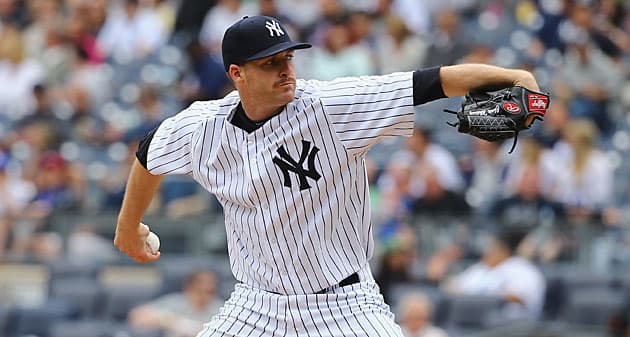 In addition to Whitley, other pitchers who already have had Tommy John surgery this year who elevate their elbow and/or cross the acromial line include Aaron Crow, Alex Cobb, Josh Edgin, Joel Hanrahan, Mario Hollands, Brandon McCarthy and Zack Wheeler. That list does not include the many pitchers with the same flaw who previously underwent Tommy John surgery, most notably Stephen Strasburg.
When I e-mailed Ron Wolforth, a pitching guru and major league consultant who runs the Texas Pitching Ranch, about Whitley being symptomatic of the mechanical issues behind blown UCLs, he replied, "You are 100% correct. Workload is I believe [about] 25% of the equation … it's not unimportant … but certainly not what many are assigning it. Until we grasp this you are going to see multiple repeat surgeries … That's the new normal: 2-3 Tommy Johns."
Power Rankings: Dodgers overtake Cardinals for first, Marlins plummet
Can major league pitchers significantly change the way they throw? Yes, but it may be difficult to convince them as a preventative measure. The Athletics' Scott Kazmir changed his mechanics under Wolforth's tutelage, but only when he hit rock bottom after getting released and winding up in independent ball. Barry Zito, a former AL Cy Young winner now in the minors, changed his mechanics only after a year out of the game, whence he moved to suburban Houston to train with Wolforth for five months.
Former Braves star John Smoltz, who raised his throwing elbow and crossed the acromial line, also changed his mechanics—but only after he underwent Tommy John surgery at age 32, and it took an entire offseason of drilling hundreds of a times a day. He practiced pulling the ball from the glove and into the loaded position while standing with his back against a wall so that it was impossible to cross the acromial line. Smoltz pitched nine more seasons. This summer, he will become the first pitcher who underwent Tommy John surgery to be enshrined in the Hall of Fame. With more pitchers getting the surgery at an early age and getting repeat surgeries, he might be the last for a very long time. And having pitchers work less won't change that dynamic the way clubs believe it will.
*****
On the last day of last season, the Marlins extended the contract of manager Mike Redmond for two years, through 2017, with this now precious quote from Miami president David Samson: "You talk about continuity and you talk about stability, and that's something [owner Jeffrey Loria] really wants for this franchise. The feeling that we have is the team is going in the right direction, and this is the right step for continuing that growth."
The Marlins' hiring Monday of Dan Jennings as manager invites ridicule on so many levels, including:
• The importance of the manager. Jennings may be a good baseball man, but he hasn't worn a uniform in more than three decades. Nothing is more important in running a major league game today than bullpen usage. Jennings' experience with using pitchers—when to match up, when to get guys up, when to give them days off, etc.—is zip.
But at least he has a wise old bench coach to show him the way—what's that? His bench coach is a 49-year-old buddy who last coached in the big leagues eight years ago? Mike Goff did manage in the minor leagues, but do you really want a manager and his bench coach both learning how to run a big league game on the fly?
Hit and Run: Marlins confound with Jennings hire; Miller time in Atlanta
• The importance of the front office. So Jennings leaves his role as general manager—at least somewhat. The Marlins said Jennings still will be looped into trade discussions and minor league player personnel matters. The job of a big league manager has become an exhaustive, time-consuming job. The First-Year Player Draft will be held in a matter of weeks. There's no way Jennings, regarded as a keen talent evaluator, can be as deeply invested in that process while managing a big league team. And that's just one of a gazillion items a general manager faces on a daily basis.
But hey, Jennings was already under contract, so at least Loria avoided having to pay three managers at the same time (he's still paying Redmond and Ozzie Guillen, who spent one disastrous season in Miami back in 2012).
• Loria's own evaluation skills. The owner gave Redmond that two-year contract extension on Sept 29. Redmond, at least in Loria's estimation, turned out to be so bad that Loria canned him 38 games later.
• "Continuity and stability." Please spare us, Samson. He should no more proselytize on team continuity and stability than Kim Kardashian should on modesty or Floyd Mayweather on humility.
With 400th home run, Miguel Cabrera on pace to be one of all-time greats
We get it: Florida is a tough go when it comes to baseball. (Anybody notice that for four games against the Yankees, the Rays averaged 11,234 fans, or just 1,851 more than Triple A Sacramento?) We know Loria will spend and cut on a moment's notice—he changes managers the way we should batteries in our smoke detectors. Just tell us, "In this market, we can't value staying the course. We're playing by different rules." Don't sell us about "continuity and stability" like you're the Cardinals.
•​ Giancarlo Stanton. That opt-out clause? You have five more seasons after this one until it kicks in. You have 11 home runs and everybody else on the roster combined has 13. Your starting pitchers strike out fewer batters than every team in the league except Colorado. Your bullpen ranks ninth in ERA. And now your manager is a guy who hasn't worn a uniform since he went to spring training with the 1984 Class A Greensboro Hornets and didn't make the club. And you're just 38 games into the richest contract in sports history.
*****
Clayton Kershaw won his 100th career game last Friday in career start No. 217. In 1964, Sandy Koufax won his 100th career game in career start No. 216. How closely is Kershaw following in the footsteps of his esteemed Dodgers predecessor? Note these similarities between the two southpaws:
| | | | | |
| --- | --- | --- | --- | --- |
| Pitcher | W-L | Starts | Strikeouts | Team REcord |
| Kershaw | 100–51 | 217 | 1,511 | 135–82 |
| Koufax | 100–69 | 216 | 1,560 | 134–82 |
*****
It was a good week if you owned figurative stock in the Cubs:
Monday: Won 4–3 when Kris Bryant hit the first home run into the re-opened leftfield bleachers.
Tuesday: Won 6–1 when Mets pitchers walked more batters (seven) than they had all year.
Wednesday: Won on a walkoff walk, 2–1, for the first time in three years and only the fifth time in the past 30 years.
Thursday: Won 6–5 on a passed ball after trailing 5–1.
Friday: Won 11–10 on a walkoff pratfall: the rightfielder fell down on a routine pop-up in the 12th inning. It was the first time in 11 years the Cubs won a game while giving up at least 10 runs and eight walks.
Saturday: Won 4–1 using five pitchers to get the final seven outs, capped by Travis Wood getting his first save in 11 professional seasons.
Oh, and while all of that kismet was going on? Infielder Javier Baez, 22, got hot in Triple A (.313/.389/.453); catcher Kyle Schwarber, 22, continued to tear up Double A (.333/.444/.618); and outfielder Billy McKinney, 20, was promoted to Double A (.339/.425/.554). The stock hasn't come close to peaking.