Report: Notebook pages show Pete Rose bet on baseball as player
Pages from a long-hidden notebook published on Monday show Pete Rose bet on baseball as a player, contradicting his long-standing claim that he bet only as a manager.
Pages from a long-hidden notebook published on Monday by ESPN's Outside the Lines show Pete Rose bet on baseball as a player, contradicting his long-standing claim that he bet only as a manager.
Rose, a 17-time All-Star for the Cincinnati Reds and later the team's manager, admitted in 2004 that he had placed bets on baseball as a manager. That admission came after nearly 15 years of denials. As recently as April, Rose—Major League Baseball's all-time hits leader with 4,256—repeated that he never bet as a player in a radio interview with ESPN New York.
The documents obtained by Outside the Lines reveal more information than what was presented in the 1989 report by John Dowd, the former federal prosecutor who led the MLB investigation that eventually led to Rose's banishment from the sport in August 1989.
The documents are copies of notebook pages seized from the home of Michael Bertolini, a former Rose associate, by the U.S. Postal Inspection Service in October 1989. The notebook has remained sealed by a court order and is currently stored in the National Archives office in New York.
The pages show that Rose bet on at least one MLB team on 30 different days, and on 21 of those days it is clear that he bet on baseball and on the Reds, including on games in which he played.
Dowd had been unable to obtain Bertolini's notebook during his 1989 investigation, although Rose eventually agreed to his permanent ban under MLB Rule 21, which reads, "Any player, umpire, or club or league official or employee, who shall bet any sum whatsoever upon any baseball game in connection with which the bettor has a duty to perform shall be declared permanently ineligible."
Dowd told Outside the Lines the notebook shows Rose placed bets with mob-connected bookies through Bertolini.
"Bertolini nails down the connection to organized crime on Long Island and New York. And that is a very powerful problem," Dowd said. "[Ohio bookie] Ron Peters is a golf pro, so he's got other occupations. But the boys in New York are about breaking arms and knees.

"The implications for baseball are terrible. [The mob] had a mortgage on Pete while he was a player and manager."
In March, Rose, now 73, applied for reinstatement under new MLB commissioner Rob Manfred. Outside the Lines reported that Dowd has met with John McHale Jr., the MLB CIO and executive vice president of administration who is handling the review of Rose's reinstatement request.
Rare Photos of Pete Rose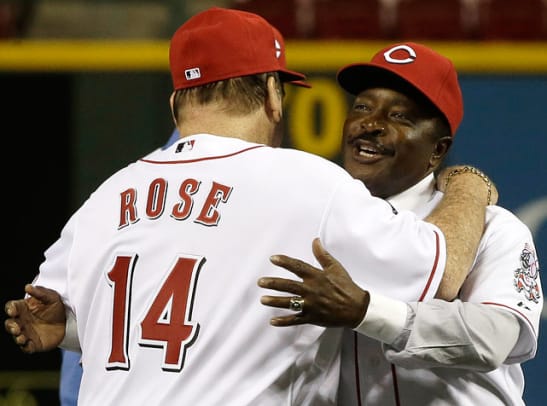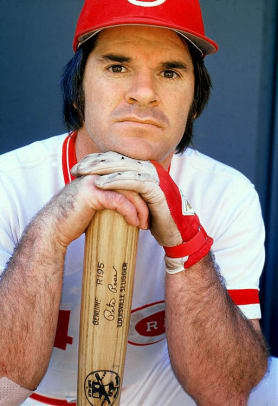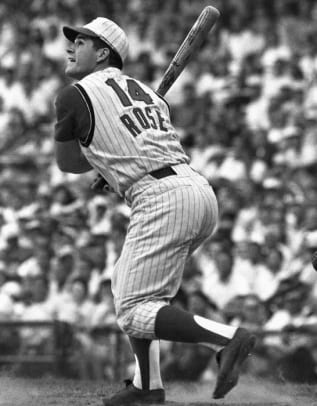 Shortly after Rose asked Manfred for reinstatement, Dowd said in an interview that his lifetime ban should remain upheld.
"This [gambling] is just such a terrible business... it really does infect the game," Dowd told the Cincinnati Enquirer.
"Pete committed the capital crime of baseball. But this is bigger than just Pete Rose. There is a reason we haven't had another gambling case in 26 years. This case wasn't about Pete—this case was about protecting the integrity of the game."
In April, Manfred said Rose would be allowed to participate in some activities during the All-Star break in Cincinnati. The All-Star Game will be played July 14 at the Reds' Great American Ball Park.
- Mike Fiammetta