Vin Scully returning for a 67th season with Dodgers is worth celebrating
Baseball fans, rejoice. Los Angeles Dodgers legend Vin Scully will return for a 67th season in the broadcasting booth.
Rest easy, baseball fans. Vin Scully is not hanging up his microphone just yet. During Friday night's game against the Cubs, the Dodgers announced that the legendary broadcaster will return in 2016, for his 67th season of calling games. I say thisevery time: this is the happiest day of the year, because no single figure in all of baseball is as capable of bringing so many people—fans of not just of the Dodgers, but of the game and its rhythms—so much comfort and joy. 
Here's how the Dodgers announced Scully's return in Dodger Stadium during Los Angeles's 4–1 victory against the Chicago Cubs:
Here's the 87-year-old Scully, telling viewers of his decision:
Via Dodgers Insider, here's a further statement from Scully:
"I talked it over with my wife, Sandi, and my family and we've decided to do it again in 2016," Scully said. "There's no place like home and Dodger Stadium and we look forward to being a part of it with all of our friends."
• SI VAULT: Robert Creamer on baseball's 'Transitor Kid' Vin Scully (5.04.64)
Last year, Scully announced his return in late July. He delayed his decision this year in part due to a cold, which caused him to forego his early-innings simulcasts on radio. In the hours before Friday's game, rumor that he would make an announcement circulated when Cubs manager Joe Maddon met with Scully pre-game and then told ESPN Chicago's Jesse Rogers that the moment of truth was forthcoming. The Orange County Register'sMark Whicker reported that Maddon tipped the venerable broadcaster's hand, saying, "I was happy about what he said." So was the Dodger Stadium crowd, which greeted the announcement with a standing ovation as the stadium PA played "Dancing in the Streets." 
Vin Scully on life and lessons from his rookie year with the 1950 Dodgers
A protégé of the great Red Barber, Scully has been calling Dodger games since 1950, when the team was still based in Brooklyn and had yet to win a World Series (for more on Scully's early years, see Robert Creamer's 1964 profile of "The Transistor Kid", and David J. Halberstam's more recent feature). During an illustrious career that has also included stints at CBS and NBC, and forays into coverage of the NFL, golf and tennis, he has called 25 World Series, 12 All-Star Games and 19 no-hitters. Those no-hitters include all four of Sandy Koufax's, Clayton Kershaw's last June 18, and Don Larsen's perfect game in the 1956 World Series. Among his other signature moments are calling the Dodgers' first championship in '55, Hank Aaron's 715th home run in '74, Bill Buckner's critical error in Game 6 of the 1986 World Series and Kirk Gibson's pinch-homer in Game 1 of the 1988 World Series. In '82—almost half a career ago—the National Baseball Hall of Fame presented Scully with the Ford C. Frick Award, which is the highest honor for baseball broadcasters.
Scully is the Dodger organization's remaining link to the days of Jackie Robinson, and so he is in particularly fine form when baseball celebrates its annual day in recognition of Robinson breaking major league baseball's color line every April 15. No matter how many times you've heard Scully tell the story of outfielder Gene Hermanski suggesting to his teammates that every Dodger wear number 42 to confuse a potential sniper—thereby turning the modern-day of wearing Robinson's uniform number into an act of defiance—or his tale of racing Robinson on ice skates, it's worth hearing again. To this ear, which first encountered Scully calling Don Sutton's 50th career shutout during a car ride to California in the summer of '79, he's about more than just calling the big moments. His continued presence underscores the comforts of the game's day-to-day familiarity. 
• SI VAULT: Steve Rushin column on Scully and his magical voice (4.18.12)
In recent years, Scully has dialed back his workload such that he no longer works the team's regular season road games outside of California, a small concession to the grind of travel on a man in his ninth decade. Alas, a dispute between Time Warner Cable and DirecTV over the carriage fees of the team's SportsNet LA channel, which launched in 2014, has prevented Dodgers games from being available to about two-thirds of the region. A potential Time Warner-Comcast merger that could have helped break the impasse fell apart in April. Since then, a pending merger between Charter Communications and Time Warner has brought SNLA to another 300,000 subscribers while offering hope that a deal to reach the rest of the region could be in place for '16.
That's a problem for another day. For the moment, it's enough to celebrate Scully's return for a 67th season! 
GALLERY: Classic photos of Dodgers legend Vin Scully
Rare Photos of Vin Scully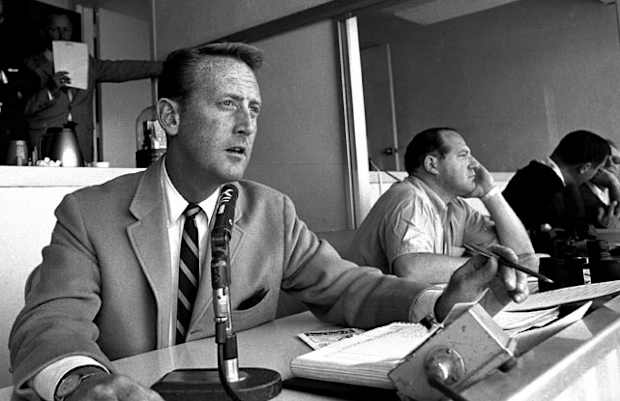 ​